Nella puntata odierna di È Sempre Mezzogiorno, l'ospite speciale è stata Milly Carlucci, che ha svelato alcune novità sull'edizione 2023 de 'Il cantante mascherato'. Non tutti, sui social, hanno gradito la sua ospitata.
L'ultima puntata settimanale di È Sempre Mezzogiorno ha visto ospite, come ogni venerdì, Giovanna Civitillo. La moglie di Amadeus ha elencato numerose sagre che si terranno questo fine settimana in Italia, da Nord a Sud, passando per le isole. Subito dopo, si è passati alle ricette:  lasagne bicolore alle erbette, un piatto molto originale perfetto per questo periodo di fine inverno in cui ci troviamo. La protagonista della seconda metà della puntata è stata Milly Carlucci, che dopo una breve pausa tornerà in televisione con 'Il cantante mascherato'.
La conduttrice non era presente fisicamente nello studio di È Sempre Mezzogiorno, ma collegata dagli studi in cui viene registrato il talent che avrà inizio domani. La Carlucci ha fatto i complimenti ad Antonella Clerici per il successo di The Voice e The Voice Kids, i programmi che hanno 'occupato' il sabato sera di Rai 1 dopo la fine di Ballando con le Stelle. Dal giorno 18, toccherà di nuovo alla Carlucci e al suo show delle maschere. "Ormai The Voice Senior e Kids è il futuro, tutto quello che fai è un grande successo". La Clerici ringrazia e chiede di parlare del Cantante Mascherato: "La giuria è diventata più grande, ha cinque personaggi: Serena Bortone, Iva Zanicchi, Christian De Sica e poi i nostri classici Flavio Insinna e Francesco Facchinetti. Rossella Erra e Sara Di Vaira saranno i capipopolo".
Le critiche alla Carlucci
Su Twitter, c'è chi ha notato come Milly Carlucci abbia cambiato acconciatura, tornando ai capelli mossi, dopo un breve periodo da 'liscia'. Ecco il tweet di Cinguetterai, sempre attentissimo alla vicende della tv pubblica: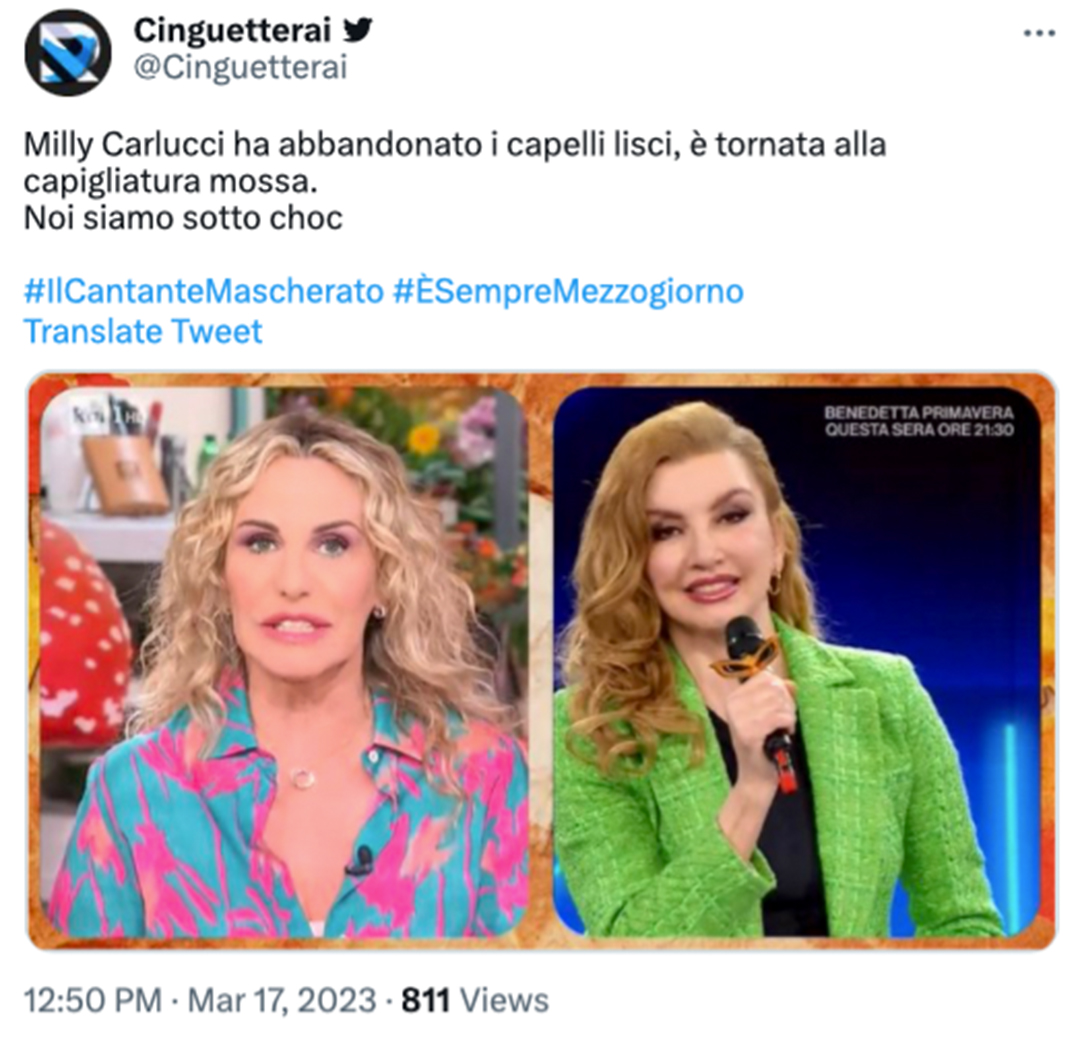 Qualcun altro non gradisce l'ospitata di Milly Carlucci, giudicandola "un insulto all'intelligenza dei telespettatori".

Altri ancora non hanno gradito la presenza di Giovanna Civitillo, che comunque da diverse settimane è presenza fissa a È Sempre Mezzogiorno:

Twitter rappresenta il paese reale: ci sono persone che la pensano così e che si sfogano sui social senza freni inibitori. Dopo l'intervista a Milly Carlucci, in studio è arrivato Sal De Riso, che ha creato una zeppola di San Giuseppe a modo suo, a forma di ciambella ma con gli stessi ingredienti di quella tradizionale. Dopo di lei, è stato il turno di Diletta Secco, che ha cambiato totalmente tipologia di pietanza, preparando un hamburger di ceci.
LEGGI ANCHE: "Che incoerenza!": Geppi Cucciari e Antonella Clerici nella bufera per il siparietto a 'È sempre mezzogiorno'