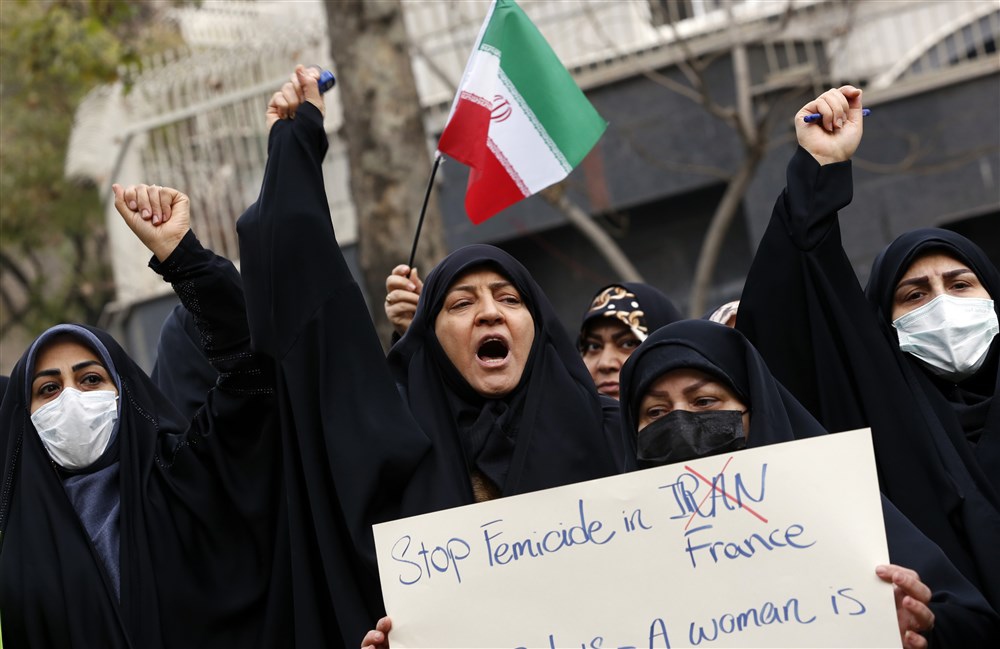 2022 has been a year where high-profile international cases of violence against women, such as in Iran, Ukraine, and Afghanistan, have made headlines, but this is just part of a trend that permeates every aspect of society, according to United Nations (UN) officials interviewed by EURACTIV.
UN Women Brussels Director Dagmar Schumacher and the UN's Director in Brussels Camilla Bruckner sat down with EURACTIV to discuss progress in Europe and the situation for women outside of the Union following the 16 Days of Activism against Gender-Based Violence.
"It's important that we acknowledge it is a phenomenon that doesn't happen in one country or in one region or in one economic sphere, but that it is a phenomenon that we see everywhere…It is something that can be eliminated, that we could stop tomorrow if, particularly, men would change their behaviour," said Bruckner.
This year was tough on women both in Europe and further afield. Following Russia's invasion of Ukraine in February 2022, women were forced to flee while also dealing with a lack of access to reproductive healthcare and exposure to sexual and gender-based violence.
In Iran, women took to the streets to protest the death of Mahsa Amini at the hands of morality police and were met with violent resistance, while in Afghanistan, the Taliban removed the academic, working and social rights of women, most recently banning women from universities.
But the issue of domestic violence persists closer to home, even in countries not at war or under oppressive regimes.
"One in every three women has experienced psychological or sexual violence, and every 11 minutes, a woman is killed due to gender-based violence," said Bruckner.
A recent report from the European Institute for Gender Equality found that almost one in two women in the EU has experienced coercive control or psychological violence, both falling under the umbrella of domestic violence.
"I don't think people always realise the extent of the problem, and it's always somewhere else. But in fact, it's everywhere," said Buckner.
Fighting for freedom in Iran
In Iran, the UN is working to support women fighting back against repression and their fundamental freedoms.
"Our colleagues on the ground are providing insight and intelligence to know the dynamics and how can we now try to come in and support them without exposing them even further," said Bruckner.
The EU has since imposed human rights sanctions against the morality police and 11 officials, including Iran's telecommunications minister, accusing them of involvement in repressing the protests, but there is more to be done.
"The EU has to show clear determination to support those who are fighting for freedom both within and from exile of Iran," MEP and vice-chair of the FEMM Committee Radka Maxova told EURACTIV, adding that further sanctions on the Iranian regime need to be delivered.
Iran has since claimed it has disbanded the controversial security force, but even if this is the case, there are many other ways for the government to monitor, control, and punish them for dissent.
Furthermore, on 14 December, the 54-member UN Economic and Social Council (ECOSOC) adopted a resolution to remove Iran from the Commission on the Status of Women (CSW) for the remainder of its four-year term ending in 2026, sparking protests from government supporters in Tehran.
Women under Taliban rule
In Afghanistan, the Taliban have increased restrictions since they seized control of the country on 15 August 2021. According to UN Women, there is a fine line between helping women on the ground and ensuring no support is given to the Taliban.
According to Schumacher, the employment rate of women in Afghanistan has fallen by 28%.
"We need to continue to really support the women in their access to services, in their opportunities about economic employment opportunities, because that will also help and protect them, but to also engage with them to hear what their real needs are, and not that we decide what are the needs of women in Afghanistan," she said.
FEMM's Maxova told EURACTIV that the EU needs to continue its pressure on the Taliban to reinstate "at least the basic rights for all women – education, adequate healthcare, labour rights and freedom of movement without a chaperone."
Consequences of war in Ukraine 
Since the start of Russia's invasion, 8.3 million Ukrainians, of which 80% are women, have been forcibly displaced. Women are being exposed to the use of sexual and gender-based violence as a weapon of war, MEP and Vice-Chair of the FEMM Committee María Eugenia Rodríguez Palop told EURACTIV.
Palop added that MEPs have called on member states and the EU "to quickly identify and prosecute trafficking networks that profit from the sexual exploitation of refugee women and to ensure their safe transportation."
"We are trying to really organise seminars for women to be trained to get increased capacity on how to respond in a situation of crisis," added Schumacher. 
But MEP and Chair of the FEMM Committee Robert Biedroń told EURACTIV that one of the most crucial aspects in this situation is for women, both inside and outside of Ukraine, to continue to have access to essential sexual health services. "Unfortunately, this is not the case. In Poland – the EU country with the highest proportion of refugees – access to legal abortion is negligible." 
"It is absolutely unacceptable that Ukrainian women are forced to continue pregnancies that result from brutal rapes," he added.
The UN Women's latest report on the gender analysis of the regional humanitarian response to the war in Ukraine recommends a list of efforts to ensure long-term and systematic barriers are addressed and remain in place, including placing a larger emphasis on women's participation and leadership and understanding gender-based violence. 
What is being done in the EU
The FEMM Committee and the European Parliament have monitored the situation in Afghan, Iranian and Ukrainian women by listening to the testimonies of those on the front line, following developments, and adopting Parliament resolutions condemning the aggressions against them.
On 24 November, the European Commission established a common EU helpline number for women who experience violence. "I see this as an extremely important and very positive development," Buckner said. 
Both Buckner and Schumacher agreed that the next steps in combatting violence against women include more men advocating for these issues and addressing the negative social norms and stereotypes that prevail.
While there is concerted efforts from some European countries, women and girls are also becoming more aware.
"We are also moving into new generations with women and girls who are more confident and no longer play by the old rules," Buckner added.
[Edited by Alice Taylor]