Entrano a far parte del team di Loredana Berté a The Voice Senior i due cantanti Diego Vilardo e Lisa Manosperti: lacrime ed emozione.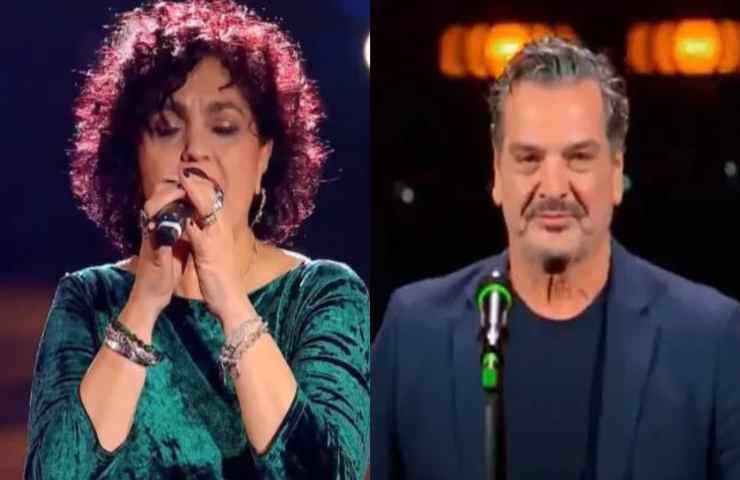 Il 13 gennaio è iniziata la terza edizione di The Voice Senior, con Angelo e Angela dei Ricchi e Poveri a fare da new entry tra i coach. Senza dubbio, anche in questa edizione, tante sono le aspettative per quanto riguarda Loredana Berté, già scelta da tre concorrenti. La sorella di Mia Martini, nel corso della trasmissione, si è anche lasciata andare alle lacrime.
L'emozione è legata all'interpretazione di Almeno tu nell'universo, brano della sorella, da parte di una delle concorrenti di questa edizione del talent show, ovvero Lisa Manosperti. Lei, insieme a Diego Vilardo, è entrata a far parte del team della cantante di origini calabresi. Il terzo nome che ha scelto la Bertè è quello di Stefano Peli.
Dove avete già visto Diego Vilardo e Lisa Manosperti?
Non ha nascosto di aver partecipato al talent show proprio per Loredana Berté il parmense Diego Vilardo: sul palco ha portato Purple Rain di Prince e la cantante si è girata sulla fiducia. Lui ha ricambiato la fiducia e non solo, infatti ha detto di aver scritto una canzone per Loredana Berté e le ha consegnato il testo. Un'attesa della fama che pare sia durata quarant'anni per lui, uno dei "famosi" di questa edizione.
Noto come Diego Vilar, infatti, il cantante che ha preso parte a The Voice Senior ha tentato di partecipare al Festival di Sanremo nel 1983 con il brano 'Giorno dopo giorno'. Non riuscì comunque ad accedere alla fase finale del festival, la cui edizione fu segnata dal clamoroso gesto del microfono in tasca di Vasco Rossi, in gara con Vita spericolata. Diego Vilardo ha però sempre inseguito la sua passione per la musica e inciso diversi LP e singoli negli anni Settanta e Ottanta.
LEGGI ANCHE –> The Voice Senior, Sebastiano Procida: dove lo avete visto
Una storia straordinaria anche quella di Lisa Manosperti, cantante barese molto nota nel panorama jazzistico italiano. Nella sua carriera, infatti, la cantante ha realizzato degli omaggi a Edith Piaf e Astor Piazzolla, inoltre ha avuto la possibilità di collaborare con grandi nomi del mondo del jazz del nostro Paese, da Gianluca Petrella a Paolo Fresu, poi ancora Paolo Damiani, Fabrizio Bosso e Roberto Ottaviano.
LEGGI ANCHE –> The Voice Senior, Team Gigi D'Alessio: Annalisa Beretta e Marco Rancati
A livello internazionale, ha suonato con Tony Scott, Michel Godard e Charlie Hoellering, inoltre è vocalist di Apulia Jazz Orchestra. Si è esibita a The Voice Senior con Almeno tu nell'universo, brano che ha voluto dedicare al figlio, venuto a mancare due anni fa. Non sono mancate le lacrime, sia della Berté che della Clerici durante l'esibizione.