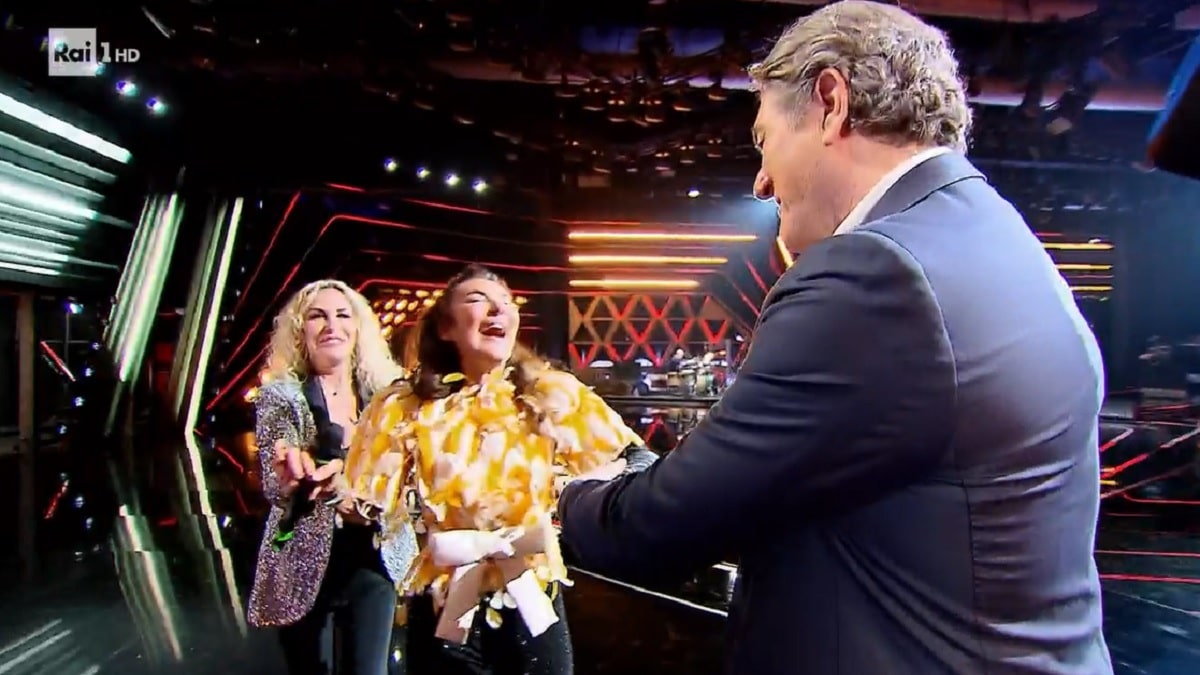 Sfiorato un incidente: una concorrente ha rischiato di cadere scendendo dal palco
Caduta sfiorata nel corso della quinta puntata di The Voice Senior, andata in onda questa sera, venerdì 17 febbraio 2023, come sempre a partire dalle 21.20 su Rai1. La protagonista della 'quasi' caduta è stata Patrizia, una concorrente di 61 anni, tra le più brave della serata, tant'è che ha ricevuto non pochi complimenti da Loredana Bertè che l'ha presa nel suo team. Dopo l'esibizione, scendendo dal palco per avviarsi verso l'uscita dello studio, Patrizia non ha visto il gradino sul pavimento scuro, rischiando quindi di cadere in avanti. Corsa in suo aiuto, Antonella Clerici ha ammesso: "Lo sapevo! Non ho fatto in tempo a dirti di fare attenzione".
Antonella Clerici scherza con la concorrente dopo la caduta sfiorata: "Succede a tutti"
"Qui cadono tutti" ha detto subito dopo, ridendo, la conduttrice di The Voice Senior alla concorrente, anche lei scoppiata a ridere, nel frattempo raggiunta da un familiare. "Sei stata bravissima" ha detto inoltre Antonella a Patrizia che, come anticipato nel primo paragrafo, è entrata nel team di Loredana Bertè, l'unica a girarsi nonostante la sua bravura: ad ingannare, forse, gli altri coach, è stata la somiglianza della sua voce con quella di Giusy Ferreri, non a caso ha cantato "Non ti scordar mai di me", famoso brano della Ferreri, ma in vari momenti, durante l'esecuzione della canzone, i coach sono sembrati un po' perplessi e qualcuno ha anche sospettato che ci fosse Giusy Ferreri in persona sul palco o qualcuna che facesse la sua imitazione. E Loredana ha ammesso proprio questo, dicendo alla concorrente: "Mi sono girata solo io, in realtà pensavo fossi Giusy venuta come ospite".
Sei bravissima, hai un timbro pazzesco, e a me Giusy piace molto
ha detto inoltre la Bertè alla concorrente.
The Voice Senior, scoppiata in lacrime la concorrente: "Quando mia mamma si è ammalata…"
Nella clip di presentazione, mandata in onda prima dell'ingresso in studio, Patrizia si è invece commossa, raccontando la sua storia, rivelando ad Antonella Clerici di aver vissuto all'estero per tanto tempo, in passato, ma di essere stata costretta a rientrare in Italia quando la madre, purtroppo, si è ammalata gravemente. Proprio ricordando la mamma, la cantante non ce l'ha fatta a trattenere le lacrime, facendo commuovere anche la conduttrice. E' stato sicuramente uno dei momenti più emozionanti della quinta puntata che, come Antonella ha anticipato ieri a La vita in diretta, è stata l'ultima con le Blind Auditions.