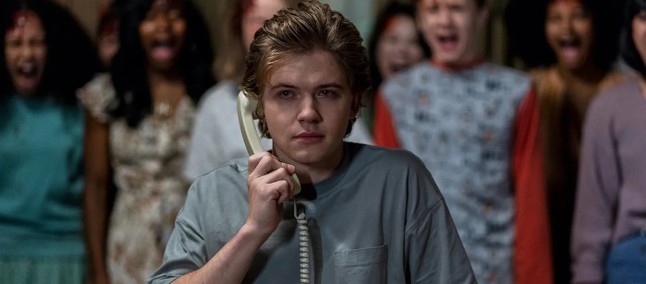 Netflix ha rilasciato il trailer ufficiale della nuova serie horror di Mike Flanagan. Si intitola The Midnight Club, e se avete amato le precedenti serie realizzate sul medesimo servizio streaming, non potete perdervi i dettagli idi questa nuova produzione. Per chi non se lo ricordasse, Mike Flanagan è il produttore di The Haunting of Hill House e di Midnight Mass. The Midnight Club esordirà il 7 ottobre.
Basata sull'omonimo romanzo di Christopher Pike, la serie horror composta da 10 episodi seguirà un gruppo di malati terminali nella casa di Rotterdam che si riuniscono a mezzanotte per condividere storie spaventose. Durante una di quelle occasioni Il gruppo farà un patto, secondo il quale nel caso uno di loro dovesse morire, gli altri proveranno a contattarlo dall'oltretomba.
In una struttura per giovani malati terminali, otto pazienti che si riuniscono ogni notte a mezzanotte per raccontarsi storie stringono un patto: il prossimo di loro a morire darà al gruppo un segno dall'aldilà. The Midnight Club è tratta dall'omonimo romanzo del 1994 e da altre opere di Christopher Pike.
La serie è interpretata da Adia, Igby Rigney, Ruth Codd, Aya Furukawa, Annarah Shephard, William Chris Sumpter e Sauriyan Sapkota, con Heather Langenkamp nei panni dell'enigmatica dottoressa che presiede Rotterdam Home.
La serie è stata creata da Flanagan e dalla scrittrice di "The Haunting of Bly Manor" Leah Fong. Flanagan è il produttore esecutivo di Intrepid Pictures insieme a Trevor Macy e Adam Fasullo, vicepresidente televisivo di Intrepid Pictures. Fong è anche produttore esecutivo con Julia Bicknell e l'autore di "The Midnight Club", Pike. Elan Gale, James Flanagan e Chinaka Hodge scrivono sulla serie, con Flanagan che dirigerà i primi due episodi.
In attesa della sua imminente uscita, il 7 ottobre, vi lasciamo al trailer ufficiale.
TRAILER