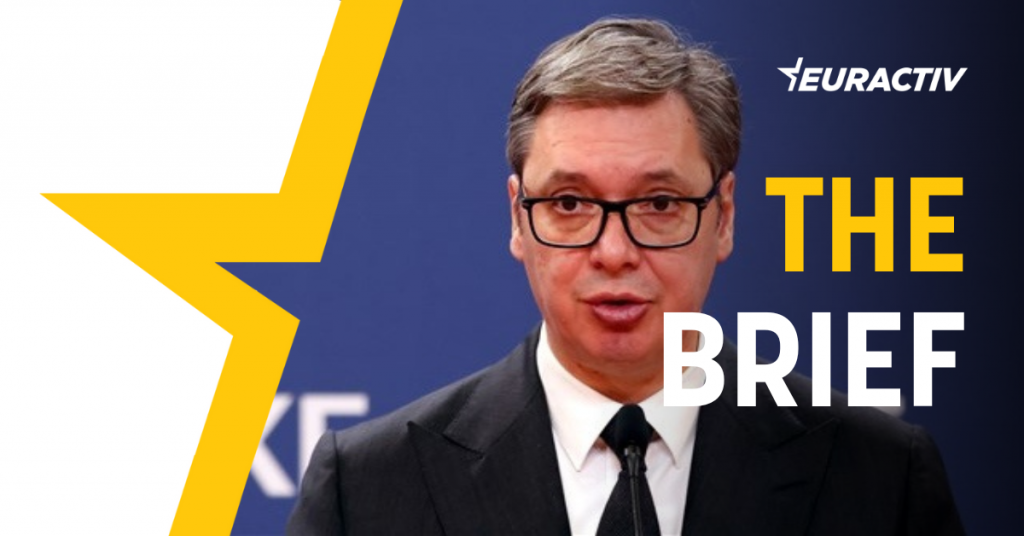 Serbia, an EU candidate country, is increasingly misaligned with EU foreign policy and provides a haven to Russia in the context of Moscow's war of aggression against Ukraine. What should the EU do with Serbia, then? It's a tricky question.
EU diplomats who need to deal with Serbia have a tough job.
On the one hand, they have a duty to be firm and push Belgrade to join the bloc's mainstream in terms of EU foreign policy, which also means abiding by the successive sanctions packages against Russia, and not allowing tensions with Kosovo to escalate at a time when this only benefits the Kremlin.
On the other, the EU cannot lean too hard on Serbia's strongman, President Aleksandar Vučić, because the result could be counterproductive and – God forbid – irreversible.
According to fresh reports in the Serbian press, Vučić said he was ready to step down if "somebody smarter" could lead the country, which is under ever-growing pressure to align with the West and recognise Kosovo.
Pink, a TV station close to Vučić, said the president informed the leadership of his Serbian Progressive Party (SNS), the ruling force in the country, about the West's pressures on Belgrade regarding Kosovo and then dramatically left the gathering.
"We learn that some party officials tried to play smart, saying that we [Serbia] absolutely shouldn't accept further negotiations with the European Union and the US," Pink wrote on their website.
Citing unnamed sources, Pink reported that Vučić "patiently listened to everything and then said he will withdraw if someone thinks they can do better and that they know better".
The Serbian president is not only under EU pressure. He also has to deal with his domestic hardliners, some of whom are both tougher and more pro-Putin than him, to name only Ivica Dačić, the first deputy prime minister and foreign minister, or Aleksandar Vulin, head of the national intelligence agency.
Those who have been to Serbia, especially those who spent time there during the 1999 NATO bombing against Belgrade, launched to halt the Serbian persecution of Kosovo Albanians (as was this writer of this Brief),  know that the scars have not healed.
Officially, Serbia wants to join the EU, but unlike any other EU hopeful, it categorically rejects the idea of joining join NATO. Since 1999, too many people in Serbia see NATO as the enemy and Russia (a traditional patron) as Serbia's only strong ally in this war – and beyond.
It makes no sense for the EU to allow the creation of another Russian enclave in its territory on top of the already tricky Kaliningrad. EU relations with Serbia will be difficult, that much is clear, but a divorce is out of the question. That would be too big a present for  Putin.
To deal with Serbia means walking on eggshells for the EU and also for Russia. An article in an influential Russian military blog today uses basically the same arguments, only in the reverse perspective: Moscow should not press Vučić too hard because burning bridges would be a gift for the West.
"By mindlessly blaming our friends, we help our enemies," the article said, criticising those in Russia who put pressure on Vučić to recognise Crimea and the four Ukrainian provinces Moscow hastily annexed last September, although Russia is unable to control any of them entirely.
For Vučić and the Serbs, recognising Crimea or any other territory would deal a fatal blow to the policy of non-recognition of Kosovo. Russia doesn't care that with its adventure in Ukraine, it is destroying Serbia's narrative on Kosovo.
Vučić – and perhaps others in Belgrade, too – understand that Serbia no longer owes Russia anything and that it has very little to expect from Moscow except trouble.
Vučić's enemy is not exactly the Serbian public opinion but the Serbian press, which he largely controls. Most of it consists of nationalist tabloids and private TV broadcasters, which continue to churn out pro-Russian narratives to the extent of harming him.
Vučić may have some important messages to deliver, possibly as early as tomorrow. He is known for making dramatic U-turns in his policies many times, which he not only survived politically but became even stronger.
"In Serbia, they say that only donkeys do not change their minds," Vučić once said in response to criticism that he was a turncoat.
The EU probably finds Vučić unpalatable and difficult to work with, but it is quite possible that many assume he is not the worst at this point in time.
---
The Roundup
The German transport and environment ministries clashed again over the use of crop-based biofuels such as biodiesel and bioethanol, as debates over the best use of arable land intensify.
Ukrainian President Volodymyr Zelenskyy, via video message at a conference in Berlin on Saturday (21 January), called on 70 national agriculture ministers to support his country in exporting grain as they also unanimously condemned Russia's war of aggression.
One year after the tragic unrest and crackdown of January 2022, which resulted in 200 deaths, Kazakhstan's Deputy Foreign Minister Roman Vassilenko told EURACTIV that the country has changed significantly.
The European Commission launched its European Cancer Imaging Initiative on Monday, which aims to create a common digital infrastructure across the EU to facilitate data sharing on the disease.
Last but not least, don't miss this week's Agrifood podcast: Banned pesticides, soaring inflation and German protests.
Look out for…
European Commissioner for Competition Margrethe Vestager meets Norwegian Finance Minister Trygve Slagsvold Vedum.
Commission President Ursula von der Leyen participates in the King of Belgium New Year's reception.
Commissioner for Financial Services, Financial Stability and Capital Markets Union Mairead McGuinness meets with European Data Protection Supervisor Wojciech Wiewiórowski.
European Commissioner for Economy Paolo Gentiloni participates in the conference "Croatia, the 20th member of the euro area" in Zagreb.
Committee on Employment and Social Affairs on Tuesday.
[Edited by Zoran Radosavljevic/Alice Taylor]