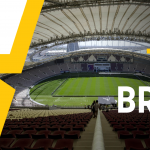 We need some cheer as Europe faces a bleak mid-winter. With Russia's war in Ukraine still raging on and Europeans set for months of struggles to pay ever-higher food and heating bills, we are certainly entitled to a bit of light relief.
The World Cup in Qatar, which kicks off on Sunday, appears well-timed to help many of us get through the next six weeks. But for those who love football, it is impossible not to feel distinctly queasy about the tournament and, specifically, where it is hosted.  
The numerous and well-documented allegations that multi-million dollar bribes were paid to members of FIFA's executive committee in exchange for votes – though Qatar's bid team deny any impropriety – are just the tip of a larger iceberg.
Qatar is not the first country to have bought the right to host a World Cup. Decades of endemic corruption within football's governing body, FIFA, made kickbacks an established method of obtaining the sport's biggest and most lucrative prize.  
Nor is Qatar the first autocratic state to engage in sports washing to give the false impression of an open, progressive and welcoming country. History is littered with examples of dictatorships using the World Cup, the Olympics and other events to burnish their image on the world stage.
Four years ago, Putin's Russia – which like the Emirati state, also has an appalling record on LGBT and human rights – hosted the competition. 
The largely unreformed 'kafala' system, which applies to around 90% of the over two million foreign workers from the likes of Nepal, Bangladesh and India, and Africa, who massively outnumber Qatari citizens, amounts to little more than modern slavery.
Similarly, the deaths of migrant workers killed on the job and estimated by civil society groups at over 6,000 cannot simply be wished away by the Qatari spin team, their apologists and the government's denials.
The competition is too precious and too lucrative for any team to have seriously entertained the idea of boycotting it, though a sizeable minority of fans will not watch the games.
Several teams, including Germany, England, Denmark, the Netherlands and the US, plan to demonstrate their support for LGBT rights. A number of EU leaders have indicated that they will only attend if their country's team reaches the final. This is little more than token resistance though it will, at least, make a PR point. 
Hopefully, FIFA and other sports authorities will get the message. 
As Pele said, football is a beautiful game. The question is, how ugly can its backdrop get before football fans are put off?
---
Today's edition is powered by Save the Children
For Child Health Week 2022, we ask EU policymakers: is there anything more important than helping save a child's life?
The EU wields enormous power to help children across the world be healthy and happy, safe from harm and hunger.
---
The Roundup
Luxembourg has decided to withdraw from the Energy Charter Treaty following in the footsteps of Germany, France, the Netherlands and others who have recently announced their exit from the controversial 1990s charter.
As the automotive industry shifts from combustion engine vehicles to cleaner technology, regional governments warn of increased competition between automotive regions for a decreasing number of jobs. To prevent this, they are calling for greater collaboration.
Several thousand people rallied in Montenegro's capital on Thursday (17 November) calling for a snap election and the withdrawal of a controversial law that curbed presidential powers amid a deep political crisis in the Balkan nation.
Sales of antibiotics used for animal use have almost halved between 2011-2021, according to a new report issued by the European Medicines Agency (EMA), putting the EU on track to attain its ambitions, but with a warning that the sector should not become complacent.
While technically allowed in some cases, abortion in Poland may as well be forbidden, putting women's lives at risk, said Robert Biedron, EU lawmaker and leader of the Polish opposition party Nowa Lewica on Thursday.
Digital education must be broader than hard digital skills and break free of the online-offline divide, those working in digital wellbeing have said.
A new satellite constellation, intended to provide secure communications for government services, will launch after an agreement between MEPs and diplomats was reached on Thursday evening.
The negative attitude of the Netherlands and similar stance from Sweden could result in the de-coupling of Bulgaria and Romania in terms of their Schengen membership, EURACTIV Bulgaria learned from sources in Sofia and European institutions.
Last but not least, check out our Agrifood and Tech Briefs.
Look out for…
High Representative Josep Borrell in Samarkand, Uzbekistan, on Saturday.
Commission Vice-President Margaritis Schinas in Doha, Qatar, for a series of high-level meetings on Sunday.
European Parliament's plenary in Strasbourg, Monday-Thursday.
Views are the author's.
[Edited by Nathalie Weatherald/Alice Taylor]