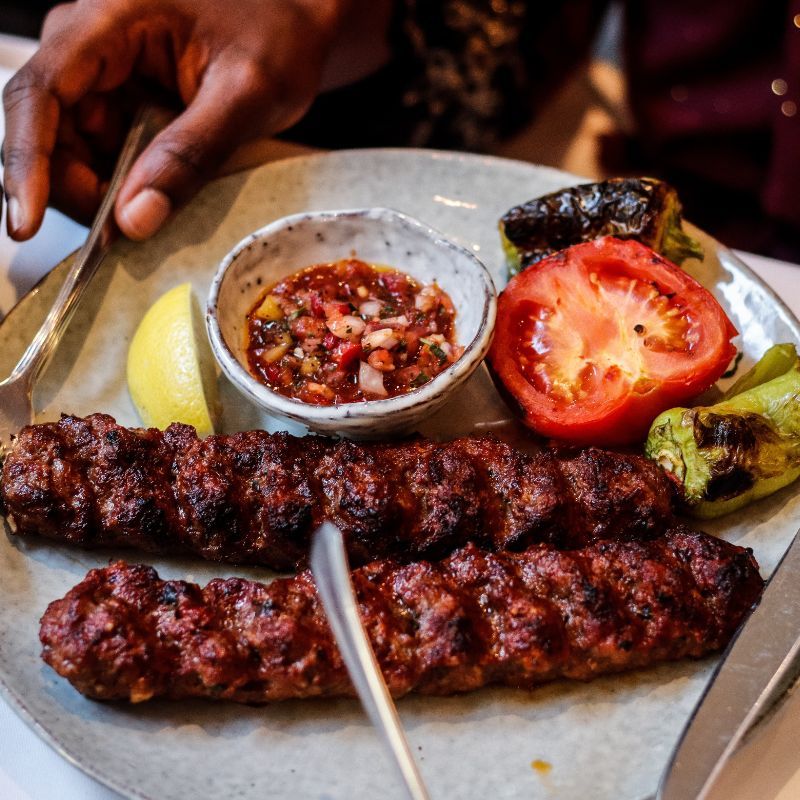 From melt-in-the-mouth galouti kebabs to scrumptious seekh kebabs, Delhi's diverse repertoire of meaty delicacies will have your tastebuds singing. We round up a list of the best spots to head to for a quick bite.
The culinary world has a large array of kebabs on offer, with reports listing out as many as 150 varieties of the indulgent treat. Each kebab has its own unique origin story and method of preparation. For instance, the popular seekh kebab was believed to have been invented by Turkish soldiers who hunted for meat and skewered it on their swords before roasting it over a fire. Meanwhile, galouti kebabs were said to have been created for an ageing Nawab Wajid Ali Shah of Lucknow who enjoyed consuming meat but had weak teeth.
While the recipe for seekh kebabs involves grilling meat over hot coals and the kebabs have a distinct, smokey flavour, galouti involves tenderising the meat with gram flour, eggs, and spices before it's fried in a pan with ghee. Besides these, popular options across Delhi include kakori, burrah, and shami kebabs. Every establishment offers its spin on these delicacies and while some have recently cropped up, others have been taking locals on a gastronomical adventure for decades. We've put together a list of the best, bucket-list-worthy places in the city to add to your kebab food trail.
These are the best spots for delicious kebabs in Delhi
This quaint corner in the bustling lanes of Nizamuddin serves up the city's most scrumptious mutton shammi kebab. Besides this, the galouti kebabs, chicken tikka, seekh kebabs, nihari, and phirni come highly recommended. The prices here are affordable, and the place gets packed and busy once dusk settles, so be sure to head there early.
Image: Courtesy @lifechangingfoodreviews/Instagram

Address
Shop 57, Ghalib Road, Near Lal Mahal, Nizamuddin, New Delhi
Phone
+91 98107 86479
This popular spot in Chanakyapuri has been offering kebabs cooked to perfection. Made with fresh ingredients, the menu here features biriyani, chicken korma, malai tikka, vargi paratha, galouti kebab, Afghan chicken, phirni, and a delicious range of Mughlai delicacies. Their most recommended kebabs are the kakori kebabs, kaleja shahi tikka, and burrah. Vegetarians have malai tikkas, chaaps, and grilled paneer options to choose from as well.
Image: Courtesy @food_gambler/Instagram
Address
Kautilya Marg, Kriti Nagar, Block 10 Chanakyapuri, New Delhi
Phone
+91 90154 87786
One of the best spots to grab galouti kebabs in Delhi, this restaurant always has heaping plates of succulent meaty fare on offer. They reportedly own a bank of several closely-guarded recipes that have been passed down through generations. Most popular on the menu, apart from the range of kebabs, are the jalebi, dal, and kulfi. There are several outlets peppered across the city, including Noida and Mahipalpur so be sure to pop by on an evening with a large appetite.
Image: Courtesy @delhi.tales/Instagram
Address
Delhi Airport, National Highway 8, Near IGI Airport, Mahipalpur, New Delhi
Phone
+91 72900 01428
Another popular spot for melt-in-the-mouth galouti kebabs and kakoris, Alkakori Alkauser has several outlets across the city. The menu's most recommended dishes include warqi paratha, Afghan chicken, phirni, and roomali roti. The mutton burrah and mutton shahi tukda are also a must-try. Most people enjoy their kebabs in the form of a roll, and it's common for locals to order in or dig into the kebabs in their car.
Image: Courtesy @dillifoodjunkie/Instagram
Address
30, Vasant Place Market, Near Malai Temple, R K Puram, New Delhi
Phone
+91 98915 74786
Of the many kebab spots lined up around Jama Masjid is this popular spot that's always got something crackling on the fire. Locals line up for a bite of the boti kebabs and seekh kebabs here. Soft in the centre and charred on the outside, the kebabs are a must try and don't need additional butter (often served alongside the kebabs) to go with them. Other popular options on the menu are tikkas, chicken reshmi, and biryani.
Image: Courtesy @delhi_food_menu/Instagram
Address
Opposite Gate 1, Jama Masjid, New Delhi
Phone
+91 93113 84885
Another unassuming spot with scrumptious seekh kebabs and chicken tikkas, Khan Chaha in Khan Market always has people lined up in front of it. The place has been around since 1972 and has an extensive menu of rolls like hariyali roll, chicken roll, mutton kakori, chicken kebab, and aloo. Their tikka rolls also come highly recommended. Be sure to head here early so you can grab a seat and dig into your kebab at your own leisure.
Image: Courtesy @sharathpoikayil/Instagram
Address
Shop 50, 1st Floor, Middle Lane, Khan Market, New Delhi
Phone
+91 11246 33242
This well-lit spot in Safdarjung has all the makings of a traditional dhaba, albeit in a modern space. The kebabs here are well spiced and tender, with popular options being galouti kebabs and mutton burra. Other popular options on their menu include chicken kalmi, satay chicken, achari chicken, makhmali fish, and vegetarian malai tikka. There's also a range of curries and biryanis to choose from.
Image: Courtesy @dudegotfood/Instagram
Address
AB 14, Safdarjung Enclave Market, Safdarjung, New Delhi
Phone
+91 99900 33229
This iconic joint near Jama Masjid is popular throughout the year but particularly lights up during Ramadan with a whole range of meaty delicacies on offer. The reshmi mutton seekh kebab and the succulent shammi kebab are a must-try here. Other recommended items on the menu are the chicken jahangir, mutton korma, mutton jahangiri, badam pasanda, and mutton paya. Despite the range of joints peppered across the city, this old city joint remains the most popular. If you're in the area, be sure to pop by.
Image: Courtesy @vjslifestyle/Instagram

Address
16, Gali Kababian, Jama Masjid, New Delhi
Phone
+91 11232 64981
This spot in Nizamuddin, come dusk, is marked by the aroma of sizzling kebabs. The best part? They're offered at affordable rates. Must-try dishes here are the mutton burra, Afghani chicken, and mutton kakori kebab. There are also chicken tangri, fish tikka, and chicken roast to choose from. You could opt to have your kebabs in a roomali roti or a paratha as well. Locals rave about the melt-in-the-mouth fare and their stellar reviews speak for themselves.
Image: Courtesy @spiceitupwithsam/Instagram
Address
Usha Niketan, DDA Market, SDA, New Delhi
Phone
+91 98189 89786
Serving up some of the best Iranian food in town, Nooshe Joon is known for its punchy flavours and large (think ginormous) portion sizes. Popular here are the kebab platters with options like kabuli, uzbek, chicken, and vegetarian kebabs. Every dish is tender and served alongside pita and dips.
The space, perhaps, is best known for its one-metre long kebab platter, loaded with Uzbeki mutton tikka, lamb koobideh, jujeh kebabs, Kabuli pulao, saffron rice, grilled tomatoes, chillies, dips, pickles, and more! They've also recently launched a one diameter platter that serves at least 8 people. Head here with a large appetite and a bunch of fellow kebab enthusiasts.
Image: Courtesy @rootless.global.nomad/Instagram
Address
I-83, 1st Floor, Block I, Lajpat Nagar 2, New Delhi
Phone
+91 99997 97342
The post Taste indulgence in every bite at Delhi's most popular kebab spots appeared first on Lifestyle Asia India.