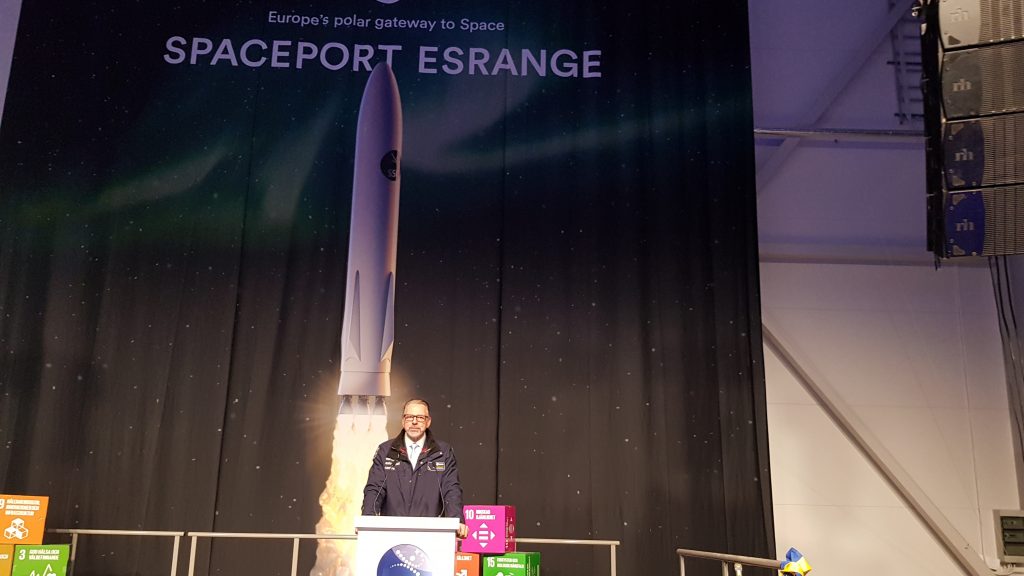 Swedish and EU officials cut the ribbon of a future space rocket centre at Esrange, in Sweden's deep north, on Friday (13 December), voicing hope that European rockets would start launching satellites from Swedish soil already next year.
King Carl XVI Gustaf, together with European Commission President Ursula von der Leyen and Swedish Prime Minister Ulf Kristersson, inaugurated what was presented as a new spaceport that would significantly reshape the European space landscape.
The ceremony coincided with the inauguration of the Swedish presidency of the Council of the EU, which took place in Kiruna, Sweden's northernmost city, located 145 km north of the Arctic circle.
Esrange, some 40 km east of Kiruna, has been the base for scientific research with high-altitude balloons, investigation of the aurora borealis, sounding rocket launches, and satellite tracking, among other things.
The EU has a rocket launching centre in Kourou, French Guiana, and therefore the future centre of Esrange was presented as "Mainland Europe's first satellite launch complex". The centre takes advantage of an area of 5,200 square kilometres, which the host said was twice the territory of EU member Luxembourg.
Although Esrange is in pole position as the first European mainland orbital launch facility to be completed, there do not seem to be many companies queuing to start operations from the facility.
Reportedly, ArianeGroup is the only company currently planning to launch from the Esrange. The European rocket builder will reportedly complete the first hop tests of its Themis reusable booster demonstrator there.
"It is a big moment for Europe. It is a big moment for Europe's space industry. […] This spaceport offers an independent European gateway to space. It is exactly the infrastructure we need, not only to continue to innovate but also to further explore the final frontier", von der Leyen said in her speech.
Some 60 Brussels-based journalists invited for the Swedish presidency's inauguration press trip saw an empty hangar where an exhibition was set up. However, there was little evidence of upcoming space launches.
More than 600 suborbital rockets have already been launched from Esrange. While these rockets are capable of reaching space at altitudes of 260 kilometres, so far they have not been able to orbit Earth.
Against the background of the Russian aggression against Ukraine, the importance of Europe's own capacity to launch rockets and satellites has become a priority.
Esrange is not alone in the race. Other European locations such as Portugal's Azores archipelago, Norway's Andoya island, Spain's Andalusia, and Britain, among others, are all vying to be Europe's gate to space.
"We have big plans for this year, but we don't want to disclose them, the Director General of the European Space Agency Josef Aschbacher told the press. He hinted that more information would be disclosed on 23 January, mentioning another space summit in Seville in November.
Stefan Gustafsson, the chief strategist of Swedish Space Corporation, talked to reporters about cybersecurity as an increasingly important element of the EU's critical infrastructure.
In light of Russian cyberattacks on 24 February against a satellite communication system run by Viasat, which disrupted communications in Ukraine just as Russian troops invaded, Gustafsson argued that the war had become an eye-opener for the EU to realise how important space is.
He explained that current technology, allowing anyone to buy online satellite imagery, had been a game changer in warfare because, in his words, only "superpowers" previously had access to such information.
He said the EU had to fill the gap because previously 20 to 30 of the European satellites were launched thanks to Russian technology and launchers. As far as his own company, SSC, is concerned, he said it was not really affected because it did not have direct relations with Russia.
[Edited by Zoran Radosavljevic]