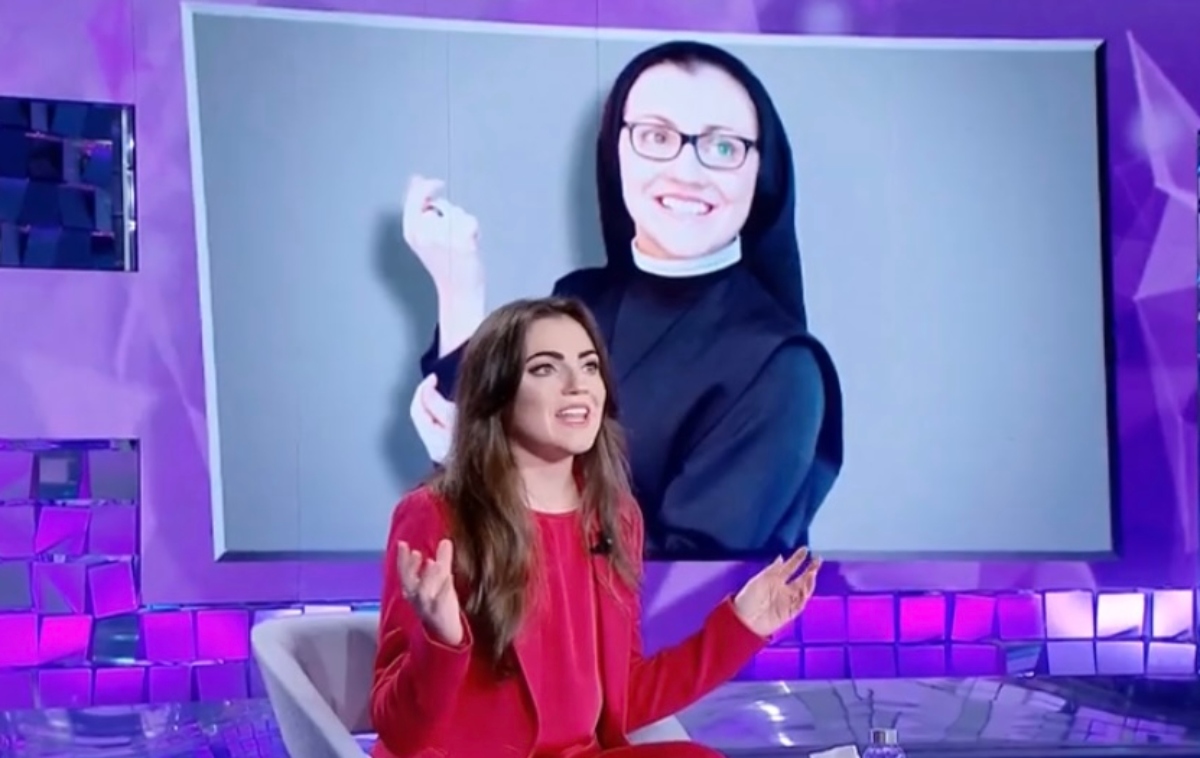 Suor Cristina, pseudonimo di Cristina Scuccia, è diventata nota al pubblico televisivo dopo aver vinto la celebre competizione canora di The Voice nel 2014. Con la sua magnifica voce aveva stregato non solo i giudici ma il mondo intero diventando un vero e proprio fenomeno. A distanza di otto anni, Suor Cristina ha deciso di togliere il velo e iniziare una nuova vita in una nuova veste, rimanendo però sempre la stessa: "Vorrei rassicurare le persone che sì ho cambiato l'abito, ma l'essenza è sempre quella" ha detto questo pomeriggio a Verissimo.
LEGGI ANCHE > Marco Mingardi, tutto sul vincitore di Tú sí que vales 2022
Suor Cristina oggi: "The Voice ha dato il via a un percorso di cambiamento"
Intervistata questo pomeriggio da Silvia Toffanin, Suor Cristina ha mostrato al pubblico la sua trasformazione, a dir poco scioccante. I suoi fan, infatti, sono sempre stati abituati a vederla con l'abito da monaca. Oggi, invece, ha sfoggiato un tailleur rosso fuoco, un trucco e una piega impeccabili e addirittura un piercing al naso. "Non è stato il successo a mettere in crisi la mia vocazione. Ho avuto una sorta di cambiamento interiore. Essere esposta in tutto il mondo come testimone di Dio mi ha fatto fare una serie di riflessioni" ha raccontato.
LEGGI ANCHE > Com'è Sebastian Melo Taveira oggi? Da Amici a Magic Mike-The Last Dance
Suor Cristina ha ripercorso l'inizio del suo successo come cantante, a partire da quella chiamata arrivata dalla redazione di The Voice: "Andare a The Voice è stata una decisione che ho preso insieme alla mie sorelle. Quando è arrivata la telefonata ero in montagna con la febbre a 40″. E poi: "Ciò che è successo (si riferisce all'aver sciolto i voti) non è un evento, è un percorso iniziato con The Voice che ha aperto in me una fase di cambiamento".
LEGGI ANCHE > Soleil Sorge presenta a Verissimo il suo primo libro: "È un sogno che si realizza"
Suor Cristina Verissimo: "Credo sempre nell'amore"
La consapevolezza della volontà di una nuova vita è arrivata per Suor Cristina durante il periodo del Covid in cui si ha iniziato davvero a riflettuto sulla sua vita. "Il Covid mi ha fermata e mi ha obbligata a guardarmi allo specchio. Inizialmente avevo paura di deludere le persone con la mia scelta, ma alla fine sono sempre io, anche senza il velo" ha affermato. Oggi Cristina è felice e la vora come cameriera e vive in Spagna. Per quanto riguarda l'amore ha detto: "Credo sempre nell'amore, non è una cosa che sto considerando adesso però. Non ti nego che qualcuno si sia avvicinato, ma adesso non è la mio proprietà. Al momento sono innamorata della vita e di me stessa. Bisogna amare se stessi per riuscire ad amare gli altri".