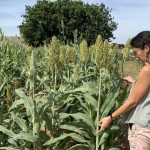 Smart and innovative solutions must shape our future given the colossal nature and urgency of the issues at stake, writes Eli Hadzhieva.
Eli Hadzhieva is the founder and director of the Brussels-based think tank Dialogue for Europe
Another year, another disappointing COP summit. The European Commission president Ursula von der Leyen expressed her impressions regarding the outcome of this year's meeting in Egypt, admitting that "We have treated some of the symptoms but not cured the patient from its fever." Negotiations were dominated by loss and damage funding, a new agenda item pushed by the G77, a group of more than 130 developing countries and China – but little substance was achieved.
Loss and damage refer to the negative impact of climate change that can be neither mitigated nor adapted to. Extreme weather events, such as storms, floods and heatwaves, and slow-onset events, including sea level rise, ocean acidification, loss of biodiversity and diversification, could lead to economic and non-economic consequences for vulnerable countries, particularly small island states and the least developed group of countries.
However, the concept is vague, difficult to quantify and not well defined in climate policy, while the Paris Agreement does not establish it as a legally binding obligation.
The EU was initially opposed to this idea fearing unlimited liability and time constraints, and instead emphasised the existing mechanisms, such as the Warsaw International Mechanism for loss and damage, the Santiago Network, the Glasgow Dialogue or the German-led Global Shield, which aim at facilitating dialogue and providing technical assistance.
While a deal was struck in the end, it came at the expense of fossil fuel reduction goals and opened the door to arduous follow-up negotiations to hammer out the details.
Despite the fact that Brussels has pledged more stringent CO2-reduction goals during the summit, the numerous pledges that form the bulk of COP27's conclusions will not suffice to effectively tackle the enormous challenges posed by climate change in a world that has just reached eight billion inhabitants – many of whom struggle with growing food insecurity, only exacerbated against the background of the Ukraine-Russia war.
Indeed, one of the crises that fell by the wayside at this year's COP is whether we will be able to feed the growing world population. According to the United Nations Convention to Combat Desertification, the impact of soil degradation could amount to 23 trillion dollars in lost food ecosystem services and income worldwide by 2050.
Worse, UN reports highlight that soil erosion could reduce crop yields by up to 10% by 2050. In light of this and because managing losses and damages may be more challenging for locations with unsustainable development patterns, inequity, marginalisation and high levels of climate-sensitive livelihoods, the need for a focus on systemic and innovative solutions is an obvious priority.
Adapting modern, less resource-intensive farming techniques is thus a low-hanging fruit of the global food ecosystem. This is especially the case given that the agricultural sector is expected to be highly affected by the sea level rise and extreme weather conditions while also contributing to a quarter of global greenhouse gas emissions and consuming nearly three-quarters of the world's fresh water.
As such, the combination of climate, geopolitical and demographic pressures has created an urgent need to redirect the focus on actionable results and to fundamentally rethink current unsustainable practices characterising intensive farming, namely overgrazing, deforestation, the use of heavy machinery, decline in organic matter in soil, and soil contamination, to address pressing issues linked to climate change and food security.
But unlike the contentious issue of phasing out fossil fuels worldwide, a solution does exist to square the circle between restoring the ecosystem while also boosting yields and cutting key inputs (like water and fertiliser): regenerative agriculture.
A farmer that uses regenerative methods – crop rotation, managed livestock grazing, and low-to-no tilling – mitigate climate change effects by building organic matter and increasing the soil's water-holding capacity. In parallel, regenerative agriculture helps farmers deal with climate change impacts by making them resilient to flooding and drought while tapping into the sector's mitigation potential via carbon capture (due to conservation tillage), avoiding disease and pest problems and providing nutrients for the plant.
This leads to wider positive knock-on effects as it contributes to biodiversity as well. For instance, agroforestry enabled the rediscovery of Faidherbia, a nitrogen-fixing tree that facilitates crop growth thanks to reverse phenology. In other words, regenerative agriculture works with the environment surrounding it.
Aside from its climate and food security benefits, regenerative agriculture could generate 70 billion dollars for African farmers along with five million jobs by 2040, according to the International Union for Conversation of Nature and Vivid Economics.
At the same time, such innovations apply to developed and developing countries, including the EU, where climate losses and damages have also been mounting. It is also noteworthy to mention that a group of 102 CEOs of global companies wrote an open letter in the run-up to COP27 calling on governments to use regenerative agriculture practices to increase climate adaptation and resilience.
If there is one lesson to be drawn from COP27, it is that smart and innovative solutions must shape our future given the colossal nature and urgency of the issues at stake in a world whose population is slated to keep growing for decades to come and in which one crisis follows another in a global domino effect.