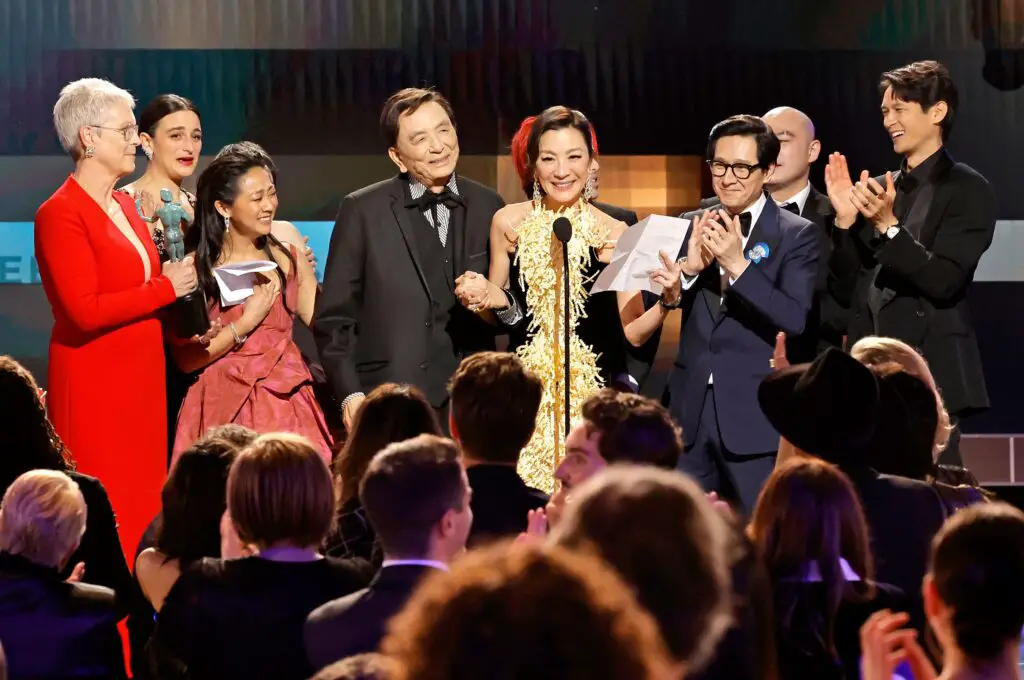 Si è conclusa da poco la cerimonia di premiazione dei SAG Awards 2023, che si è svolta nella notte tra il 26 ed il 27 febbraio. Ecco tutti i vincitori degli Screen Actors Guild Awards 2023
La cerimonia di premiazione dei SAG Awards 2023 si è svolta al Fairmont Century Plaza di Los Angeles, ed ha visto dominare per il cinema il film Everything Everywhere All at Once, diretto da Daniel Kwan e Daniel Scheinert. La pellicola ha vinto infatti in quattro delle cinque categorie in cui era stata nominata: miglior cast corale; miglior attrice protagonista (Michelle Yeoh) e non protagonista (Jamie Lee Curtis) e miglior attore non protagonista (Ke Huy Quan). Brendan Fraser ha vinto per la sua interpretazione in The Whale, mentre le migliori controfigure sono state quelle di Top Gun: Maverick.
Potrebbe interessarti anche
Per quanto invece riguarda le produzioni televisive, Jason Bateman ha vinto il SAG Awards 2023 come miglior attore drammatico per Ozark, mentre Jennifer Coolidge come attrice drammatica per The White Lotus. Jeremy Allen White ha ricevuto il SAG Awards 2023 per il miglior attore protagonista in una serie commedia, con The Bear, e Jean Smart quello come miglior attrice con Hacks. A Sam Elliott per 1883 e a Jessica Chastain per George and Tammy sono andati i premi per i migliori attori in una serie limitata. Ecco l'elenco completo dei vincitori.
SAG Awards 2023, i premiati per il cinema
Miglior cast di un film
Everything Everywhere All at Once
Miglior attrice protagonista
Michelle Yeoh (Everything Everywhere All at Once) 
Miglior attore protagonista
Brendan Fraser (The Whale) 
Miglior attrice non protagonista
Jamie Lee Curtis (Everything Everywhere All at Once
Miglior attore non protagonista
Ke Huy Quan (Everything Everywhere All at Once)
SAG Awards 2023, i premi per la televisione
Miglior cast in una serie drammatica
The White Lotus
Miglior attrice protagonista in una serie drammatica
Jennifer Coolidge (The White Lotus)
Miglior attore protagonista in una serie drammatica
Jason Bateman (Ozark) 
Miglior serie comedy
Abbott Elementary 
Miglior attrice protagonista in una serie comedy
Jean Smart (Hacks)
Miglior attore protagonista in una serie comedy
Jeremy Allen White (The Bear)
Miglior attrice protagonista in un film TV
Jessica Chastain (George & Tammy)
Miglior attore protagonista in un film TV
Sam Elliott (1883) 
Miglior cast di controfigure in una serie TV
Stranger Things
Miglior cast di controfigure in un film per il cinema
Top Gun: Maverick