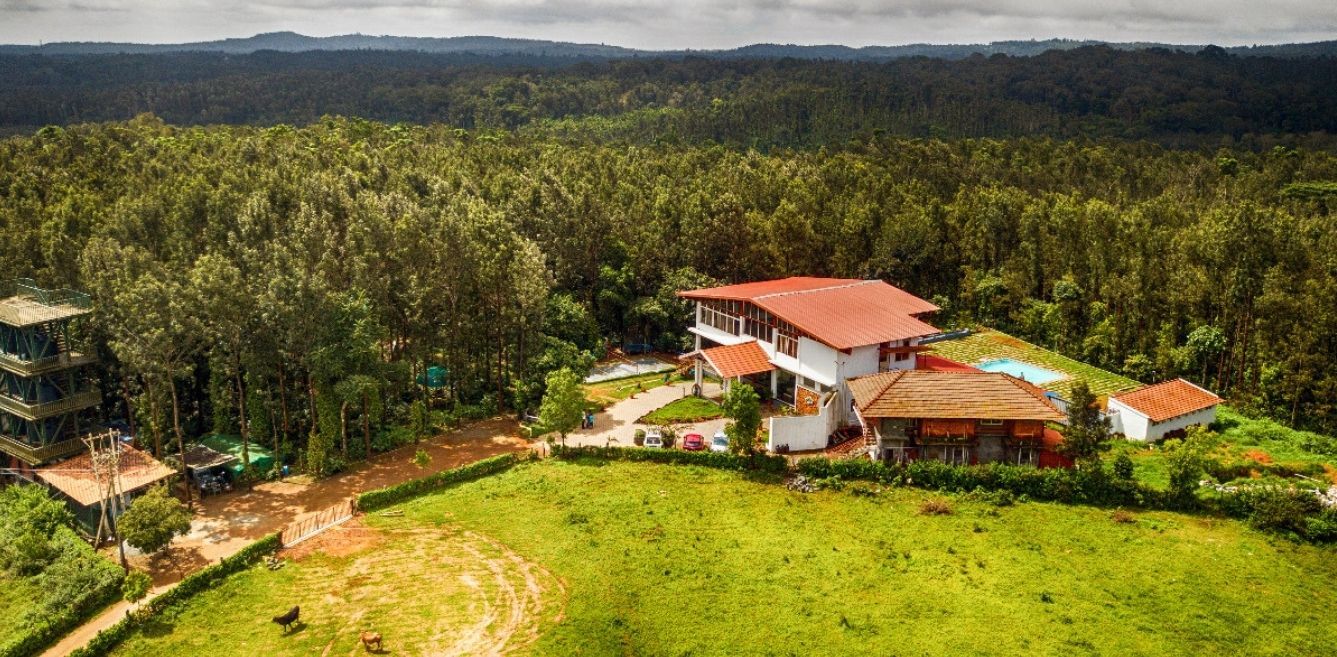 If you have already started to look for ways to beat the rising heat, a wildlife holiday is always a great idea. Karnataka is home to some of India's best wildlife destinations like Nagarhole and Bandipur. Luxuriating in the wilderness could be a nice way to unwind from the daily city grind. We've shortlisted some of the best jungle resorts and lodges near Bengaluru for you.
10 jungle resorts and lodges near Bengaluru for your next wildlife excursion
Situated amidst the tranquil and restorative environs of the Nagarhole National Park, Kabini River Lodge is a favourite among frequent wildlife lovers who visit Kabini. The resort boasts large grassy lawns, bushy surroundings, and vintage-styled luxurious and rustic rooms.
Spread across river Kabini's edge, the resort exudes old-world charm with its vintage rooms that are decorated with rare antiquities. You would feel like staying at an erstwhile hunting lodge from the Raj era. On offer here for the discerning traveller are four Maharaja Cottages. If you are not in a mood for too much luxury, you may choose from the 10 cottages, 14 rooms, and six tents.
Image courtesy: Kabini River Lodge
With no TV, Wi-Fi, and mobile connectivity, The Windflower promises an unparalleled experience in the wilderness of Bandipur. Get woken up by soothing bird songs, take leisurely strolls in their meandering greens, enjoy a flavourful breakfast in your luxury cottage, or spot a big cat from the safety of your safari, there's never a dull moment at The Windflower.
They offer open-air buffet meals too. When here, you can relax at their expansive infinity pool, light a campfire, or unwind at their award-winning spa Emerge. The spa offers over 20 different Ayurvedic and other treatments. The resort provides three types of accommodation. These include suites, villas, and studios. The in-house restaurant serves mouth-watering local and Indian fare.
Image courtesy: The Windflower
Situated on the periphery of the Bandipur National Park, The Serai Bandipur offers decadent accommodation options set against the beautiful Nilgiri Hills. The jungle resort effortlessly captures the essence of the surrounding wilderness in its living spaces with a careful interplay of natural tones and textures.
Each of the cottages and residences at the resort overlooks the verdant hills while making generous use of dark wood to create a setting so charming, you would hardly want to venture out. Allow the resort's staff to entertain you with candid stories of surprise wildlife encounters in and around the property. The resort offers nature walks around the property's protected forest, where an experienced naturalist shares wildlife trivia.
Image courtesy: The Serai, Bandipur
Beautifully tucked away in the middle of a large coffee estate, Machaan Wilderness Lodge is located at Nagarhole Churicad in K Badaga village, Srimangala. The resort offers tastefully designed rooms that have been constructed with a minimum ecological footprint. The rooms here offer stunning views of the surrounding coffee plantation. You can choose from 12 rooms in a choice of twin cottages.
The rooms boast rustic interiors and come with ensuite bathrooms. The multilevel cabin rooms have separate entrances and lovely sit-outs. Their in-house restaurant Vana serves sumptuous Kodava and south Indian dishes. Dining here is enhanced by a 360-degree view of the coffee plantation. There's a Library lounge too, which comes with a fireplace. You can also stay at the palatial Churicad Bungalow at the property.
Image courtesy: Machaan Wilderness Lodge
Dedicated to responsible hospitality, Red Earth Kabini is a tranquil resort set on the backwaters of the Kabini dam. It offers 20 beautiful eco-friendly cottages made out of red mud, an organic restaurant, and a cafe overlooking the backwaters. The peaceful resort takes pride in simplicity and follows a community-first approach. Nearly 95 percent of the staff belongs from local villages and they use locally-sourced produce in their kitchen.
The floors of the resort feature handcrafted Athangudi tiles sourced from local artisans. Red Earth Kabini is more than just a jungle resort. They are also involved in charitable initiatives and fund an NGO called Sambramma that helps sustain folk art and tribal forms of music and dance. The property also runs a school, a hospital, and an ambulance for tribes living in remote areas.
Image courtesy: Red Earth, Kabini
One of the most beautiful jungle resorts near Bengaluru, Chikkamagaluru's Coffee Grove Resort offers a dreamy vacation right in the middle of the dense coffee forests. The property has been built and promoted by ecologically sensible engineers. The vision behind building the resort was to create an Ec0-tourist destination with a minimal impact on the natural landscape of the coffee estates it is encompassed by.
Only locally available materials have been used to build the resort, to reduce carbon footprints. The resort stands as a testament to the bliss and tranquility that the idyllic coffee town of Chikkamagaluru offers. Built on an expanse of 30 acres, the resort offers 20 cottages that are embellished with Varli wall paintings.
Image courtesy: Coffee Grove Resort
Sequestered in the deep valleys and majestic hills of Coorg, this jungle resort is the fourth luxury property of Paul John Resorts and Hotels. The resort offers European-styled opulent rooms and palatial suites spread across picturesque nooks and corners of sprawling hills and enchanting valleys.
Their Grove View suites feature plush spacious interiors and serve as elegant chalets tucked away in the midst of dense woods. With large bay windows and private balconies, every suite is non-air-conditioned and cozily warmed with traditionally designed electric fireplaces. Their in-house restaurant Vembanad offers a wide array of delectable coastal specialties of Coorg and Kerala.
Image courtesy: Coorg Wilderness Resort, Madikeri
Nestled deep in the forest at Veeranahosahalli, Hunsur Taluk, JLR King's Sanctuary is set in a 40-acre mango orchard. The eco-friendly resort offers a mix of air-conditioned luxury suites and adobe-style cottage clusters spread across green lawns. Every suite comes with an attached verandah, chic bedrooms fitted out with woven furniture sourced from Thailand and Indonesia, a peaceful courtyard, and open-to-sky bathrooms.
Lagoon suites are lined around a 6-acre lake, with islands of mango trees. The multi-cuisine restaurant at the resort serves delicious local Mysuru delicacies, Indian, Chinese, and Continental. Besides jungle safaris, you can indulge in a range of activities such as ziplining, paintball, jumarring, board games, swimming, and cycling.
Image courtesy: JLR King's Sanctuary
A swift drive by the Kabini river takes you to Serai Kabini through charming village roads. With many a bird trilling atop soaring groves of sandalwood, teak, and rosewood, deer roaming free, and langurs letting out warning cries as big cats prowl the bordering forests, the resort plays a gateway to wildlife adventures—it sits between the protected parks of Bandipur and Nagarhole.
A four-hour drive from Bengaluru, The Serai Kabini is where you should go if your adventurous soul fancies a few days in the woods. Choose from among the eight Waterfront Verandahs, 11 Waterfront Villas, and one stand-alone private villa called The Residence. Go on a nature walk at the crack of dawn, spend your time bird-watching, take a safari, rejuvenate your body and spirit at the holistic spa, experience the thrill of kayaking, or gaze at millions of glistening stars by a bonfire—the wilderness is your home here.
Image courtesy: The Serai, Kabini
A stay at Evolve Back's Kabini property introduces you to the lifestyle of the Kadu Kuruba tribe. The luxury huts here draw their design from the houses of the Hadis or tribal villages. The resort is bordered on two sides by the Kabini river and promises a memorable staycation amidst the wilderness. There are three categories of huts here: pool reserves, pool huts, and safari huts.
The pool reserve is a charming hut with spacious living and dining rooms, a lavish bedroom, an indulgent bathroom, and a private pool. Then there are the opulent pool huts, which also come with a personal swimming arena. And lastly, the safari huts offer sumptuously appointed living spaces and comfortable bedrooms, but you are most likely to spend a large part of your time at the water-jet pool.
Image courtesy: Evolve Back Kuruba Safari Lodge, Kabini
The post Reconnect with nature at these jungle resorts and lodges near Bengaluru appeared first on Lifestyle Asia India.