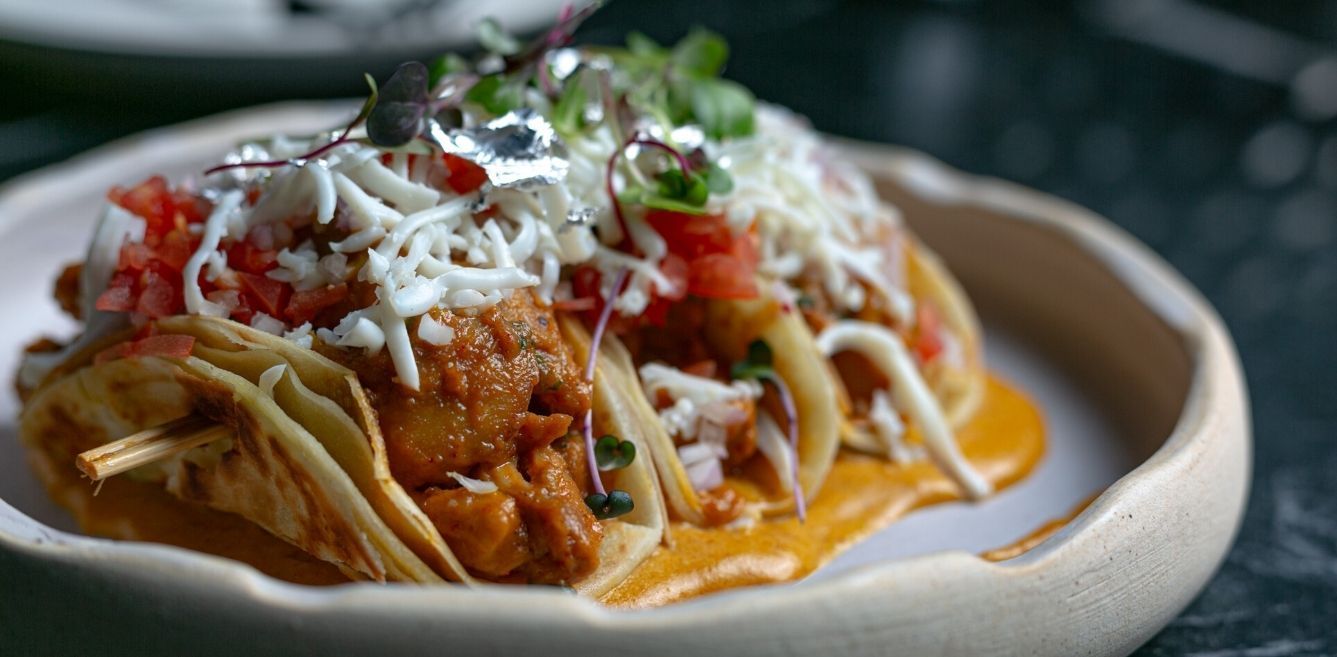 Dining out is a fun experience, especially at our favourite restaurants. But everyone experiences food lulls once in a while, which is why restaurants keep refreshing their menu with new elements, be it seasonal or festive, to keep the customers intrigued and have them coming back for more. If you're interested in trying new menus at some of your favourite restaurants in India, we've curated the perfect list.
New menus in India that offer delectable treats for you
One of Delhi's favourite restaurants, AnnaMaya at Andaz Delhi is treating its customers to an all-new menu. The place promotes wholesome meals that are delicious, fresh, healthy, and sustainable, and their new menu is an ode to the same. Choose from refreshing soups such as pumpkin soup, clear vegetable soup or indulge in a crunchy salad. Their Asian section has something for everyone, be it prawns, dim sums or baos, and their Indian menu consists of much-loved delights that are wholesome, hearty and healthy.
Time: 6:30 am – 11:00 pm
Address: AnnaMaya Food Hall, Andaz Delhi, Ground Floor, Asset No.1, Aerocity, New Delhi, Delhi 110037
Image: Courtesy of Andaz Delhi
SAGA, Gurugram has created a new menu for its customers, inspired by the global representation of Indian cuisines along with regional exploration by Chef Atul Kochhar throughout his travels. The menu includes flavourful tapas and mains with a variety of desserts. Indulge in their Chicken Tikka Pie, Nadru Ki Chaat, Mutton Shapta, Kundan Qualia, Butter Chicken Ball, Murgh Mussallam Tacos, Chocolate Delice, and more.
Time: 12:30 pm – 1:30 am
Address: Vatika Atrium, Golf Course Road, Sector-53, Gurugram
Cost: INR 3,500 ++ (for two)
Call: +91 99991 44286 / +91 99530 06787
Image: Courtesy of SAGA, Gurugram
The quaintly cosy ambience of Yazu is an aesthetic setting amid the bustle of Mumbai. And their menu, serving some of the most delectable Asian delights, is an amalgamation of tradition and modernity, including tender meats and exotic veggies. Indulge in their offerings such as Hamachi and Tuna Ceviche, Miso Thai Aubergine, Tuna Tartare, Kinoko no Mori Tempura, Yakuza Roll, and many more.
Address: 9 Raheja classic, next to OPTIONS – The Fashion Mall, Mumbai
Contact: 080 47483137
Image: Courtesy of Yazu, Mumbai
The much-loved restaurant chain Farzi Cafe recently launched a new menu at their Bengaluru outlet. The place, known for its fun, gastronomical twists to desi Indian cuisine, is a must-visit for those looking for something new. And the new menu, including kebabs, mains and more, is sure to be a treat for your senses!
Address: 2nd UB City, M G Rd, KG Halli, Shanthala Nagar, Ashok Nagar, Bengaluru
Image: Courtesy of @farzicafe/Instagram
Chin Chin Chu adds to its delight with newer items on its existing expansive menu, which covers cuisines and cultures from the whole of Asia. Indulge in the restaurant's dim sums, such as Spicy Chicken and Seafood Wontons floating in light soya, Asparagus & Water Chestnut and Crispy Korean Pork Cheung Fun. Their new baos include Bao Buns with Mushroom & Smoked Cheese, Chili Basil Chicken, and Taiwanese Pork Belly. Enjoy yummy sushi such as Truffle Mushroom & Tuna Salmon Bonbon along with the Blue Pea Sushi Rice with Chilean Sea Bass.
Some of their appetising starters that you must try are the Eggplant with Chili Bean, Cottage Cheese & Jalapeno, Lotus-wrapped Steamed Chicken, Smoked Duck in Yellow Bean & Steamed Whole Indian Salmon and Pork Ribs. Curries, rice, ramen and more will keep you full, while the Instagrammable desserts on this new menu, such as Forbidden Fruit (Chocolate Mousse) and the ChinChinMisu (Tiramisu) are sure to make their way to your heart.
Call: +91 73049 47801/02 (for reservations)
Image: Courtesy of Chin Chin Chu, Mumbai
Juniper Bar, India's first gin bar at Andaz Delhi, has launched 12 new cocktails, each inspired by the Chinese Zodiac. Each of the twelve recipes pays homage to the twelve signs of the Chinese Zodiac. Legend has it that these animals were chosen by the Jade Emperor himself as they all raced for a seat at his meeting table on the far side of the river, but only twelve of the animals made it. The names of all twelve cocktails are inspired by their zodiac animals, like Cardinal for the rat, Yellow Emperor for the ox, Chariot for the horse and Sun Born Ruler for the hen.
Time: 12:00 pm – 11:00 pm
Address: Juniper Bar, Andaz Delhi, Aerocity
Price: INR 1,250 plus taxes
Image: Courtesy of Juniper Bar, Andaz Delhi
Remember the good old school days, when pocket monies were spent on purchasing imli, kairi, starfruit and more outside schools, from those hand-pulled carts? Poco Loco Tapas and Bar's new cocktail menu pays homage to the same with their 'Back To School' theme – an ode to the carts outside school.
Choose from a range of delicious cocktails like Kokum Gaseosa (kokum-flavoured fizzy drink with the seasonal favourite rum prepared using homemade fresh shrubs), Mango Verde Y Jalapeño (made using a combination of in-house favourite flavours of raw mango and jalapeño to give that spicy and tangy taste to your regular vodka), Tamarindo Chile (tamarind and chilly combined with whiskey to take you back on a sour punk trip!), Fruta Estrella (starfruit and gin with some banana puree to balance the sourness) and B'nB (Bore and Bacardi). Pair these with some delectable offerings from their menu, inspired by Latin American and Mexican tapas, and reminisce about the good old days.
Dates: March 23, 2022 – July 2022
Contact: + 91 93241 91366
Image: Courtesy of Poco Loco Tapas and Bar, Mumbai
Café Noir is welcoming summers with a range of cocktails based on wine and sangrias, perfect to beat the heat. Pick from special concoctions such as Sangria Au Vin Rouge, Sangria Au Vin Blanc, Sangria Au Vin Rose or mixologist special wine-based cocktails like Dimanche, French Afternoons, The Cello Artist and Weekends in Paris. The bartenders are mixing the wines right for a summer day to be refreshing.
Address: World Crest, Unit no.1A & 1B, Lodha, Upper Worli, Lower Parel, Mumbai
Time: 10:00 am – 11:00 pm (Monday to Friday); 8:00 am – 11:00 pm (Saturday and Sunday)
Call: +91 97304 27206 (for reservations)
Image: Courtesy of Cafe Noir
Summers are here, and so is the heat. Whether it be early morning meetings or late-night soirees, the heat is set to get to you, and to make the weather enjoyable, Keventers, the iconic Milkshake and Desserts brand, is adding three new delicious cold coffee flavours to their menu – Hazelnut, Cinnamon, and Caramel. These flavours have been curated by understanding how important coffee is when it comes to kick-starting your day, offering some delectable flavours for you to indulge in whenever you need a pick-me-up.
Price: Starts at INR 169
Image: Courtesy of Keventers
The post New menus in India: 9 restaurants to visit now to try something different appeared first on Lifestyle Asia India.