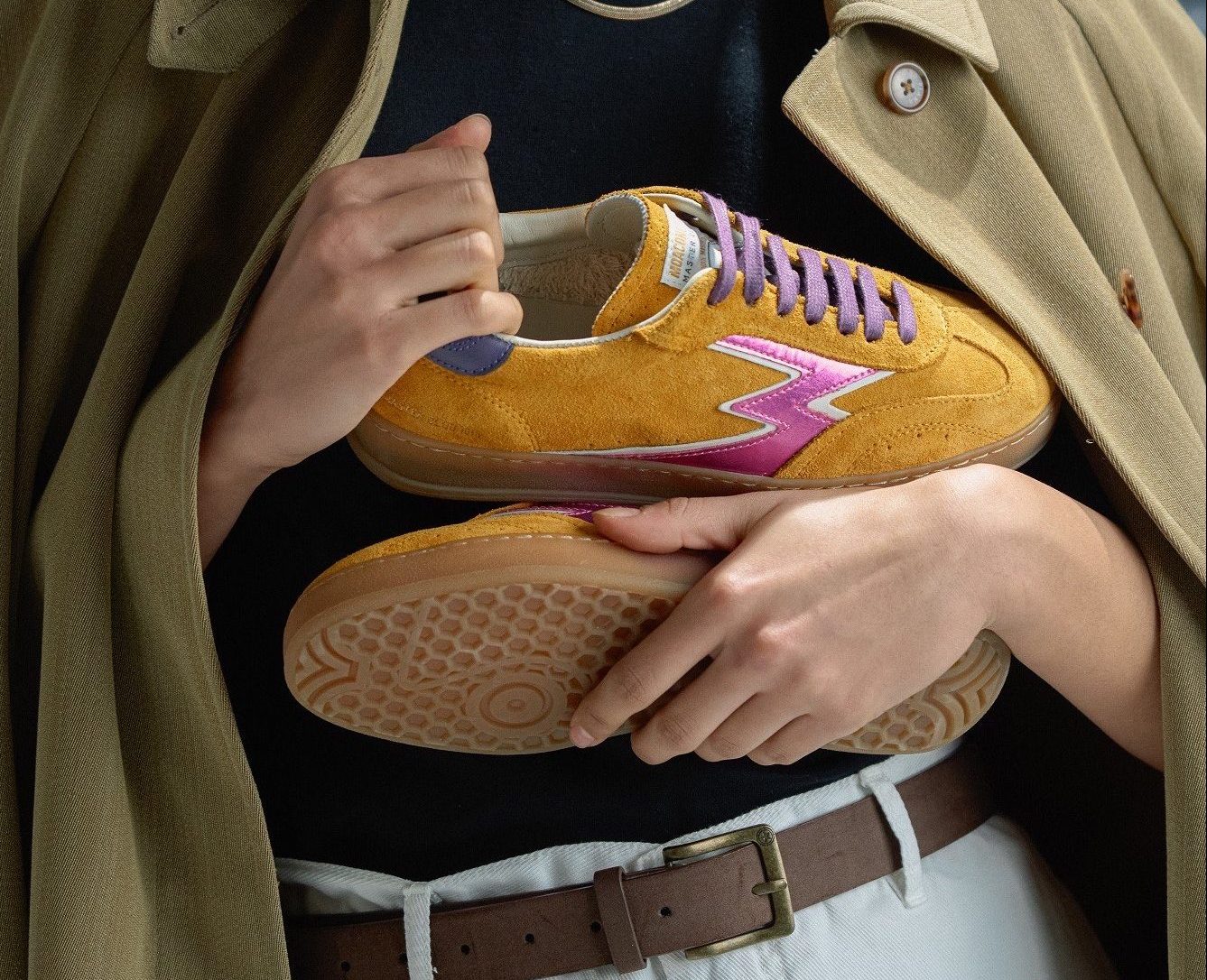 Si chiama 'My Own Action' ed è un inno al riciclo virtuoso il nuovo progetto green lanciato da Moaconcept. Il brand fiorentino di urban footwear, nonché società benefit, lancia un appello ai consumatori: raccogliere le sneakers usate per dare loro nuova vita.
Prima tappa del progetto, il cui nome stesso ("la propria azione") allude al potere trasformativo del contributo di ciascuno alla salvaguardia del pianeta, ha raccontato a Pambianconews il titolare e CEO Matteo Tugliani, parte proprio da Firenze.
A ospitare il primo punto di raccolta è infatti The Social Hub, in via Spartaco Levagnini, all'interno della 'Break out area', in cui Moaconcept ha installato il suo 'User sneaker collector', contenitore appositamente creato e destinato alla raccolta di calzature sportive usate e che sosterà nell'hotel e spazio ricreativo per tre mesi.
Chiunque voglia consegnare le proprie scarpe riceverà, attraverso la scansione di un Qr code, un free drink nel rooftop del The Social Hub e un buono sconto per l'acquisto di un nuovo paio di sneakers targate Moaconcept.
Ma l'ambizione del marchio toscano è quella di espandere 'My Own Action' anche ad altre città, presso punti vendita, spazi di coworking e aree pubbliche. Le sneakers raccolte verrano in parte destinate al riciclo, grazie al sostegno di società specializzate nel riciclaggio e nella trasformazione di specifici componenti (tra cui la gomma delle suole) e in parte destinate al riuso, attraverso la collaborazione di associazioni (tra cui Retake Roma) che si occupano di igienizzare e in seguito ridistribuire le calzature a coloro ne abbiano più bisogno.
"Il progetto 'My Own Action' – ha raccontato Tugliani – rappresenta il nostro impegno concreto nella divulgazione dell'importanza della riduzione dell'impatto ambientale causato dalla fashion industry. Vogliamo coinvolgere attivamente la nostra community in questo progetto di economia circolare e per far questo è necessario agire in maniera responsabile e sostenibile collaborando sinergicamente. La partnership con The Social Hub è solo il primo step di un progetto che speriamo di riuscire ad ampliare al resto d'Italia e d'Europa".
"L'idea della sostenibilità l'ho sempre avuta – ha proseguito Tugliani – da quando è nato il brand nel 2013, ma allora non c'era tanta sensibilità ecologica e non trovava spazio. Poi le cose hanno iniziato a cambiare". E il vero spartiacque è stata la crisi pandemica, che ha rappresentato anche per l'azienda un momento di svolta.
"Non trovavo più la motivazione per ricominciare – ha raccontato l'imprenditore – finché non l'ho riscoperta proprio nella sostenibilità. L'obiettivo era, seppur nel nostro piccolo, fare qualcosa di concreto per il pianeta e le persone, oltre le chiacchiere del greenwashing".
Sulla scia di questi cambiamenti è arrivata 'My Own Action', campagna innanzitutto di sensibilizzazione, dunque, il cui spirito è riassunto dal claim "Let's Pair Up!", che ne esprime l'intento comunitario: come un paio di scarpe, spiega il brand, le persone devono "appaiarsi" con il pianeta, per poter garantire a tutti un futuro migliore.