Lous and the Yakuza, la cantante belga di origini afferma di essere stata fermata dalla polizia aeroportuale di Milano per aver sbagliato percorso. La polizia l'ha "strattonata come una bambina e le ha urlato contro in italiano e insultata", secondo la storia postata qualche ora fa sul suo profilo Instagram. "Mi hanno trattenuta per oltre 20 minuti non spiegandomi il perché, poi hanno capito che non potevano fermarmi perché conoscevo i miei diritti", continua la cantante. "Per un attimo ho dimenticato di essere nera", continua nella sua storia, con un tono ironico.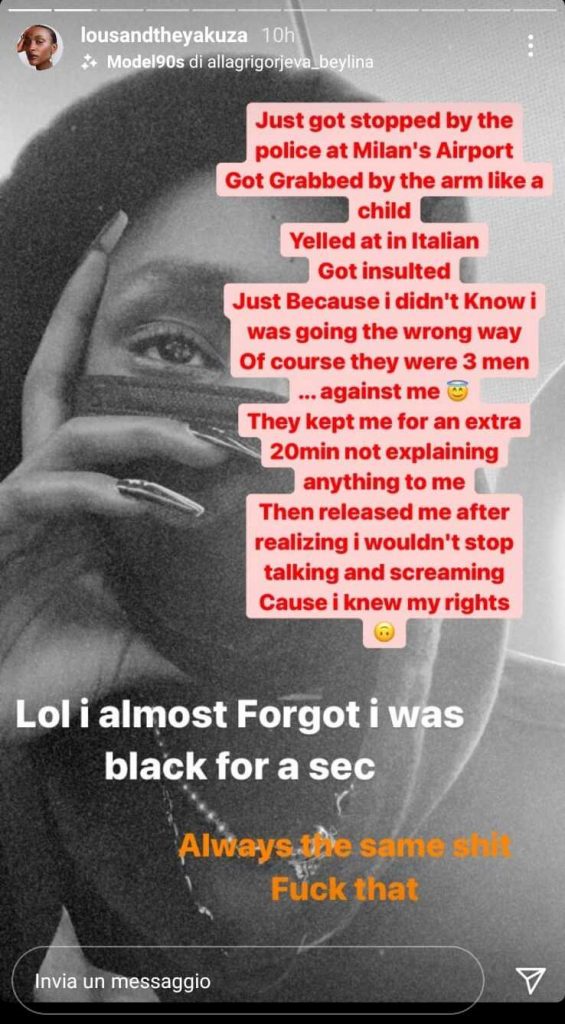 La cantante ospite a Sanremo
Pseudonimo di Marie-Pierra Kakoma, è una cantautrice e modella della Repubblica Democratica del Congo naturalizzata belga, è stata ospite di Gaia nella terza puntata di Sanremo 2021. Con la canzone "Mi sono innamora di te" di Luigi Tengo del 1969, hanno cantano nella serata dei duetti con grande successo del pubblico.
Chi è Lous and The Yakuza
Lous and The Yakuza ha debuttato nelle radio italiane con il singolo "Dilemme", che è attualmente al #6 della Viral 50 Italia di Spotify e nella Top 50 della classifica Shazam Italia, a dimostrazione di come il suo sound unico in lingua francese catturi chiunque lo ascolti. Il testo di "Dilemme" riflette la profondità dell'universo della cantautrice: emozioni pure racchiuse in un'anima, forte ma allo stesso tempo delicata, che traspare dalle sue parole e dalla sua voce. Lous è una donna, un'artista, una combattente. Lous ha colmato di forza e determinazione il suo corpo e il suo cuore, entrambi feriti da una serie di esperienze dolorose che l'hanno segnata nel profondo. A 19 anni ha dovuto imparare a vivere senza l'appoggio della sua famiglia. Si è iscritta alla facoltà di filosofia, ha studiato solfeggio, la scrittura dei testi, ha iniziato a incidere i suoi brani ma si è anche trovata a scoprire la generosità della strada.
POTREBBE INTERESSARTI: Incidente Palermo-Catania, auto cade dal viadotto e fa un volo di venti metri