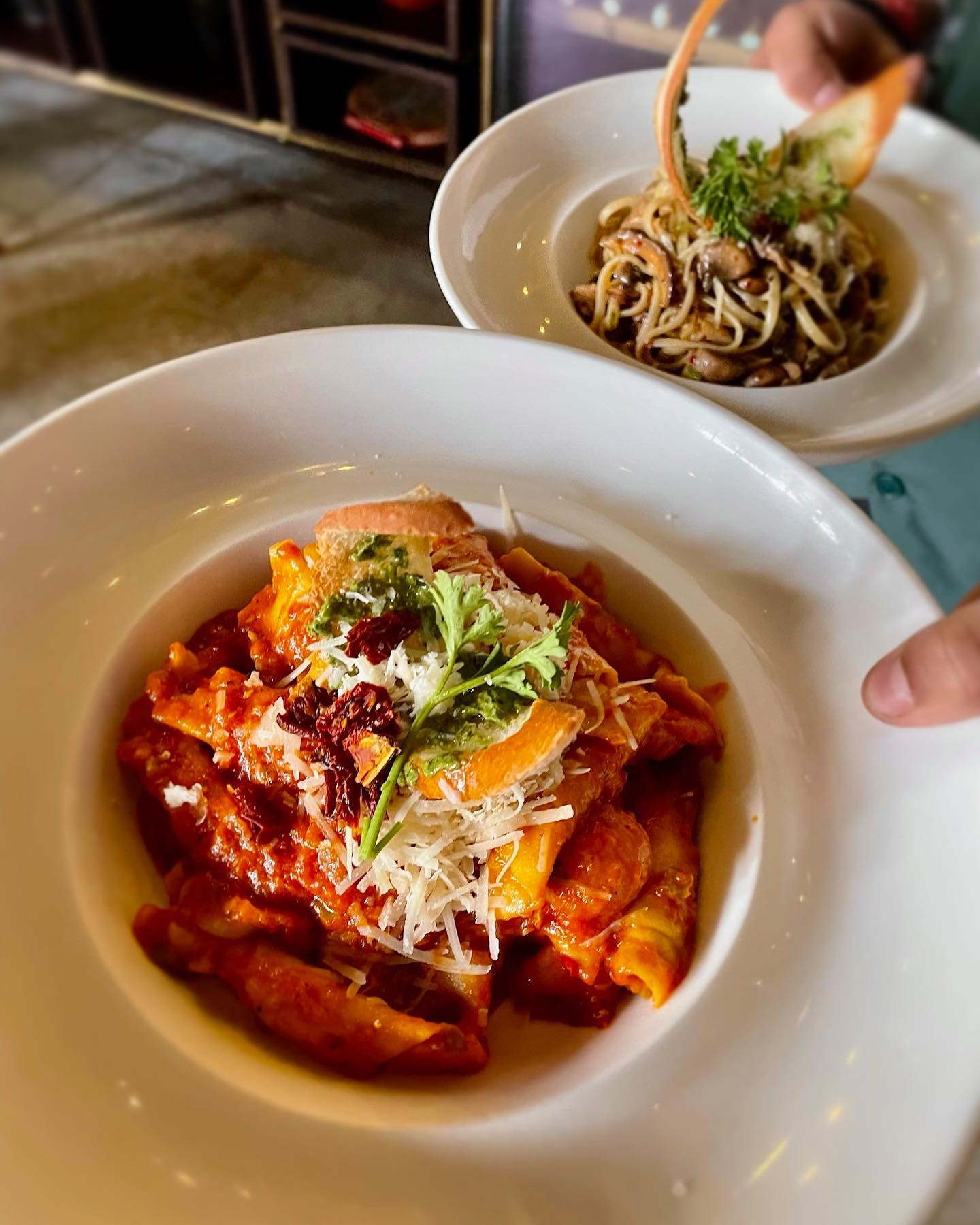 Your guide to the best Italian restaurants in Delhi NCR that will open a whole new palate of pasta-bilities for you! 
Italian cuisine, or Cucina Italiana, as Italians will call it, is one of the most famous gastronomies worldwide. One of the unique things about Italian cuisine is that they believe in simplicity. With most dishes made up of only a few ingredients, Italian cuisine is all about the quality of the ingredients, rather than the complexity of preparation. Vegetables, grains, fish, potatoes, rice, corn, sausages, pork, and different types of cheese are mostly the base ingredients in this cuisine.
From the classics like pizza and pasta to some more exotic offerings, we have rummaged through the best restaurants in the city to bring you some of the finest flour-work that craft Italian delicacies with finesse.
Bookmark these best Italian restaurants in Delhi NCR
Not a lot of people are in favour of mall restaurants, but wait till you visit Andrea's Eatery at Select Citywalk Mall in Saket. You can soak in the charming bistro feel while you wait for your food to arrive. A tapestry of delicacies around the world, this place is particularly known for its Italian offerings. With rustic pizzas, perfect Al Dente pastas, and the aged Parma ham with a layer of tuna redefined Bruschetta, this place is to die for.
Image: Courtesy Instagram
Address
Select Citywalk Mall, Shop No. 48-51, First Floor, Saket, New Delhi, Delhi 110017
Phone
+91 85888 23873
One of the go-to Italian restaurants in the city, Tonino's should be on your list if you are looking for some authentic Italian cuisine in Delhi. You will instantly fall in love with its elegant decor, but wait till you try their food. The Marechiaro Pizza and the Gluten-Free Pasta are unmissable, among many others on the menu. Do not forget to indulge in the lip-smacking Tiramisu before you sign off, and you will definitely want to come back again!
Image: Courtesy Instagram
Address
Khasra No.76/27, Mehrauli-Gurgaon Road, Near Metro Pillar No.38, New Manglapuri, Mehrauli, Gurugram, 110030
Phone
+9111 2680 1588
Co-founded by India's superstar chef Ritu Dalmia, it's hard for anything to go wrong at Diva- The Italian Restaurant. The restaurant is divided into two parts — the ground floor is the café, and the first floor houses the fine dining section. Keeping the Italian tradition alive, Diva changes its menu according to the season as well. The Salsiccia-filled ravioli, Gorgonzola apple walnut pizza and their entire antipasti spread is to die for and something you must try out if you visit this place.
Image: Courtesy Instagram
Address
M-8A, M Block Market, Greater Kailash II, New Delhi, Delhi 110048
Phone
+9111 4163 7858
To get the quintessential Tuscan feels while staying in Delhi, head to La Piazza. Start with the Insalata Di Legumi Salad and the Bruschette Miste as your appetisers, and then move onto their range of pizzas and pastas for your main course. In case, you were wondering, Chef Alessandro Sandrolini, from Bologna, Italy is the man behind all these delectable dishes that will treat your tastebuds to the most authentic Italian food.
Image: Courtesy Instagram
Address
First Floor, Hyatt Regency, Ring Rd, near Fire Station, Bhikaji Cama Place, Rama Krishna Puram, New Delhi, Delhi 110066
Phone
+91 98184 77234
With floral cushioned chairs, specials on chalkboards and a warm welcoming vibe, Spago is one of the favourite spots for the best Italian fare in Delhi. The Ombrina, the Exotica Pizza, Spinach Cannelloni, Saltimbocca and the Formaggio e Pollo are some of the highly recommended dishes that you need to try here. The Creme Brulle and Torta Royale are also highly recommended if you want to end your meal on a sweet note.
Image: Courtesy Instagram
Address
1st Floor, Kasbah, N – 2 Market, Greater Kailash-1, New Delhi, Delhi 110048
Phone
+91 85888 54072
When it comes to Italian comfort food, Evoo serves one of the best in town. From flavour-packed pizzas, sandwiches and pastas to delectable desserts, they have it all. A kind of Italian Sandwich called the Panuozzo is one of their most authentic offerings, and you cannot miss that! Customers seated at this eatery can get a view of their wood-fired pizza oven, where they bake your pizzas right in front of you.
Image: Courtesy Instagram
Address
B-2 Ground Floor Main Road Shivalik, Shivalik Colony, Delhi 110017
Phone
+91 83684 28737
Apart from being a set menu that offers quite a lot to choose from, this place is pretty and affordable, given the variety of food you will get here. From hors d'oeuvres to desserts, you will find everything here. Their cocktails are to die for too! End your meals on a sweet note with the Truffle Tiramisu and the Viennese Raspberry Choco Mousse.
Image: Courtesy Instagram
Address
R-1, MRTS, Epicuria Mall Nehru Place Metro Station, New Delhi, Delhi 110019
Phone
+91 78279 00141
Undoubtedly one of the prettiest places in Delhi, Diggin also offers great options when it comes to Italian food. Their Artichoke and Mushroom Pizza, Spaghetti Alla Pomodoro Basilico, and Pesto Prawns are served on a bed of buttered fettuccine are some of the dishes that you cannot miss!
Image: Courtesy Instagram
Address
Santushti Shopping Complex Shop No-10 Opp Samrat Hotel, New Delhi, Delhi 110003
Phone
+9111 2611 0788
Excellent food, amazing breakfast options, warm interiors, that's Smoke House Deli summed up for you. The subtle Chilli Crusted Cobbler, the Turmeric Risotto, The Tiramisu are all about authentic taste and huge portion sizes that will fill you up and your heart.
Image: Courtesy Instagram
Address
Shop no.252,253, DLF Avenue mall, Saket, 110017, Delhi, 110017
Phone
+9111 4103 4314
Headed by Michelin-star man Adriano Baldassarre, Perbacco at the Lodhi is for the Italian-cuisine fan with a more refined taste palette. This casual dining restaurant is all about subtle flavours and bold food. Some of their dishes that you must try are Octopus Guazzetto and Trottole with Cheese, Pepper and Mussels, Ricotta Ravioli with Spinach Butter and Cured Confit Duck.
Image: Courtesy Instagram
Address
170, South Ave, CGO Complex, Pragati Vihar, New Delhi, Delhi 110003
Phone
+91 81712 30414
The post Life is full of pasta-bilities at these 10 Italian restaurants in Delhi NCR appeared first on Lifestyle Asia India.