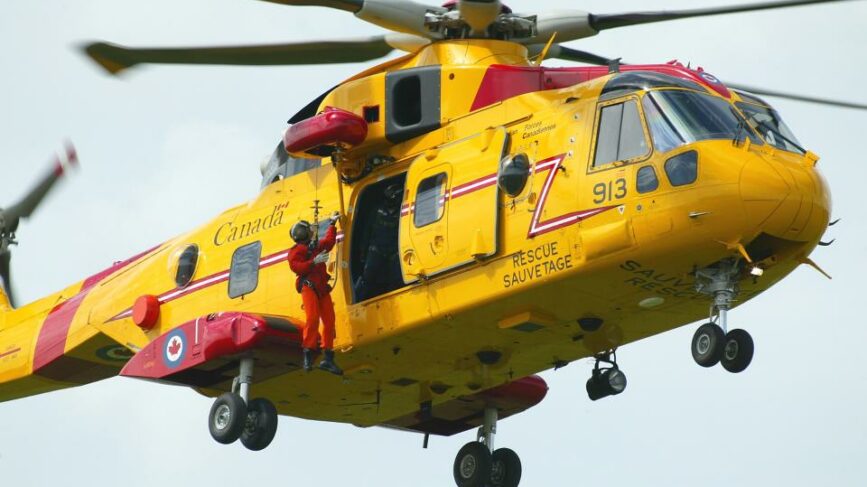 Leonardo si aggiudica un contratto del valore di 1 miliardo di dollari canadesi (690 milioni di euro) per il programma di ammodernamento degli elicotteri AW101/CH-149 SAR "Cormorant" del Canada. In luce il titolo a Piazza Affari
Leonardo decolla in Canada.
Giovedì il Dipartimento della Difesa Nazionale Canadese ha assegnato due contratti del valore di 1,24 miliardi di dollari canadesi per supportare la flotta di elicotteri CH-149 Cormorant, che contribuisce alle operazioni di ricerca e soccorso.
E il contratto maggiore se lo è aggiudicato Leonardo (attraverso Leonardo U.K. Ltd – Yeovil) mentre l'altro la società canadese Cae Inc. Il gruppo dell'aerospazio italiano ha ottenuto un contratto del valore di 1 miliardo di dollari canadesi (690 milioni di euro) per il programma di ammodernamento ed espansione della flotta di elicotteri AW101/CH-149 SAR (Search and Rescue) "Cormorant".
Nello specifico il contratto include l'ammodernamento dei 13 elicotteri Cormorant esistenti impiegati per ricerca e soccorso e l'aggiunta di ulteriori tre aeromobili.
"Il Cormorant è l'elicottero ideale per il Governo Canadese, in grado di soddisfare i requisiti  delle proprie Forze Armate, con importanti ritorni per l'industria canadese e i migliori vantaggi economici per i cittadini" ha commentato l'ad di Leonardo Alessandro Profumo.
La notizia della commessa della difesa canadese fa brillare le azioni di Leonardo a Piazza Affari (+1,16% alle ore 14.30).
Tutti i dettagli.
LEONARDO A GUIDA DEL PROGRAMMA DI AMMODERNAMENTO
Il programma di ammodernamento della flotta di CH-149 Cormorant sarà realizzato dal Team Cormorant guidato da Leonardo e composto da IMP Aerospace and Defence, GE Canada e Collins Aerospace Canada.
La maggior parte delle attività del programma di ammodernamento (denominato CMLU – Cormorant Mid-Life Upgrade) saranno svolte in Canada, principalmente presso IMP.
I BENEFICI PER LA FLOTTA CANADESE CH-149 CORMORANT
Secondo il gruppo di Piazza Monte Grappa "il programma di ammodernamento porterà la flotta di elicotteri AW101/CH-149 SAR "Cormorant" del Canada ai più elevati standard di capacità operativa, gli stessi che caratterizzano gli AW101 SAR norvegesi, in assoluto i migliori elicotteri per ricerca e soccorso al mondo".
Inoltre, aggiunge la nota di Leonardo, il programma includerà: avionica di ultima generazione, un nuovo cockpit digitale, motori più potenti, comunicazioni wireless in cabina, l'ultimo standard di sensori per ricerca e soccorso tra i quali un sistema elettro-ottico ed uno per la localizzazione di telefoni cellulari. Tali capacità consentiranno di ridurre il tempo necessario alla ricerca e aumentare la capacità di soccorso.
"La flotta di elicotteri AW101/CH-149 "Cormorant" fornirà alla forza aerea canadese capacità di ricerca e soccorso solide e tecnologicamente avanzate, per operare in qualsiasi condizione meteo su tutto il territorio canadese. Il programma di ammodernamento, attraverso il Team Cormorant, ridurrà i costi di gestione della flotta e allo stesso tempo ne aumenterà ulteriormente l'affidabilità, le capacità e la sicurezza, a vantaggio dei cittadini canadesi" ha commentato Gian Piero Cutillo, Managing Director di Leonardo Helicopters.
ISCRIVITI ALLA NOSTRA NEWSLETTER
Iscriviti alla nostra mailing list per ricevere la nostra newsletter
Iscrizione avvenuta con successo, ti dovrebbe arrivare una email con la quale devi confermare la tua iscrizione. Grazie da EnergiaOltre!
Errore