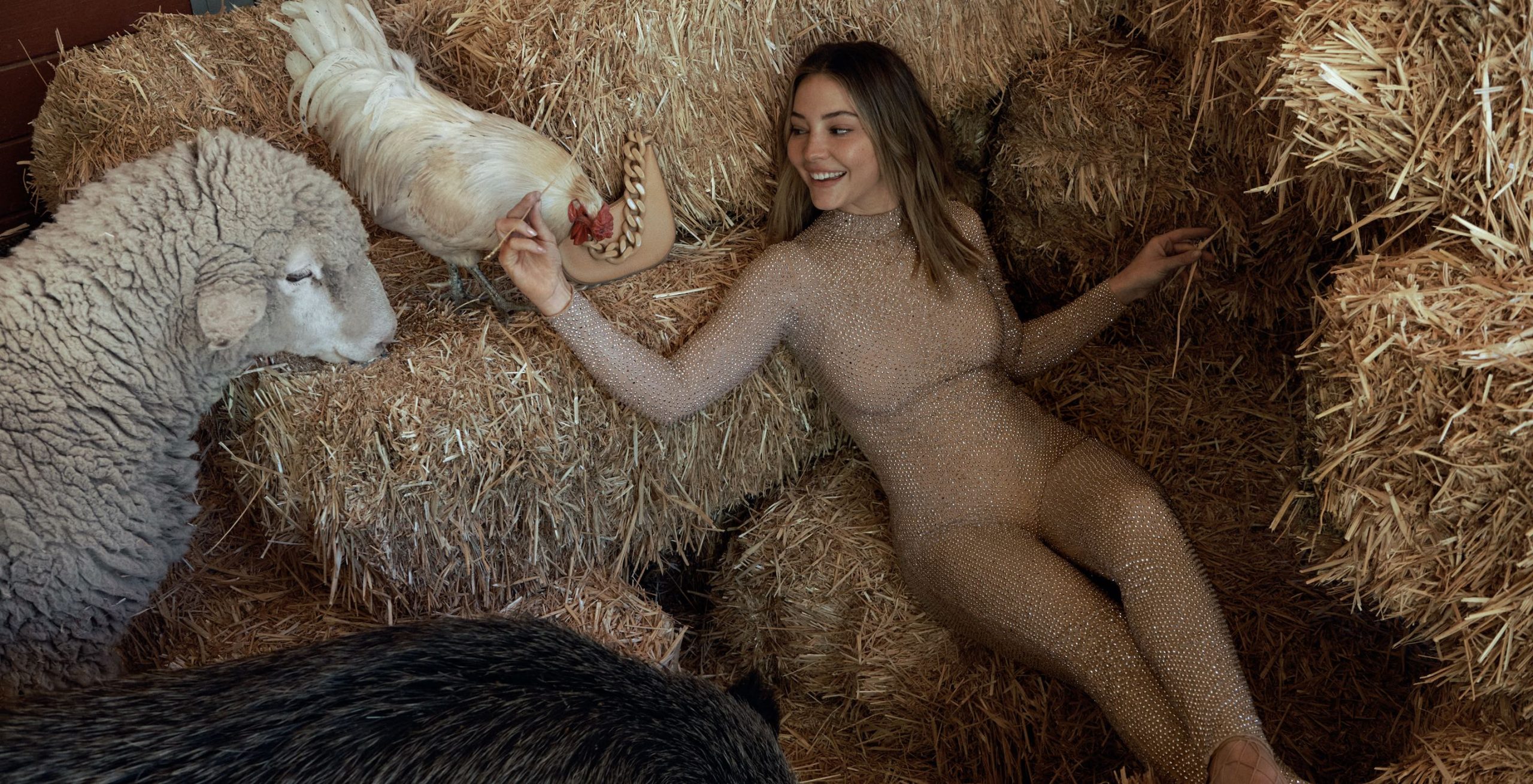 Stella McCartney ha scelto la giovane attrice e amante degli animali Madelyn Cline per la campagna estiva 2023. Lo shooting è stato realizzato presso il santuario per animali The Gentle Barn a Santa Clarita, in California, ispirandosi allo slogan attivista 'Change the History' dell'artista giapponese Yoshitomo Nara, le cui illustrazioni e dichiarazioni punk sono presenti nella collezione.
Ciò serve come un invito ad una nuova generazione di fautori del cambiamento, a sollevare la propria voce per i nostri simili e per il Pianeta. "Solo nel Regno Unito – riporta una nota del brand – ci sono più di 600mila vegani, quadruplicati nell'ultimo decennio (The Vegan Society). Man mano che sempre più persone riconsiderano le proprie abitudini alimentari, questo dovrebbe estendersi ai loro guardaroba. Lo stesso complesso industriale agricolo che alleva e uccide oltre 92 miliardi di animali terrestri ogni anno per il cibo (Humane Society International), alimenta anche la fame dell'industria della moda per la pelle, oltre a inquinare le vie d'acqua, avvelenare i lavoratori delle concerie e guidare la distruzione di ecosistemi vitali, tra cui la foresta amazzonica".
"Cosa è più punk che sconvolgere l'intero complesso industriale alimentare e della moda, rimuovendo i prodotti animali dall'equazione? La mia frase d'ordine al momento è: 'Siamo ciò che mangiamo, siamo ciò che indossiamo'. Le nostre scelte hanno impatti interconnessi e se vogliamo cambiare la storia e proteggere Madre Terra per le future generazioni, dobbiamo agire: dal smettere di mangiare carne, fino a porre fine alle morti inutili di animali per la moda", ha dichiarato Stella McCartney.
Presentata originariamente al Centre Pompidou durante la settimana della moda di Parigi, la collezione estiva del 2023 è priva di pelle, piume, pellicce e pelli esotiche, con l'offerta di prêt-à-porter realizzata con il 91% di materiali responsabili. La collezione include il primo capo di abbigliamento di lusso al mondo realizzato con cotone rigenerativo, proveniente dal progetto 'Soktas' di Stella McCartney in Turchia. Lanciato nel 2019, il progetto è ora gestito in collaborazione con Lvmh e collabora con la Commissione economica delle Nazioni Unite per l'Europa per sviluppare la tecnologia di tracciabilità blockchain.