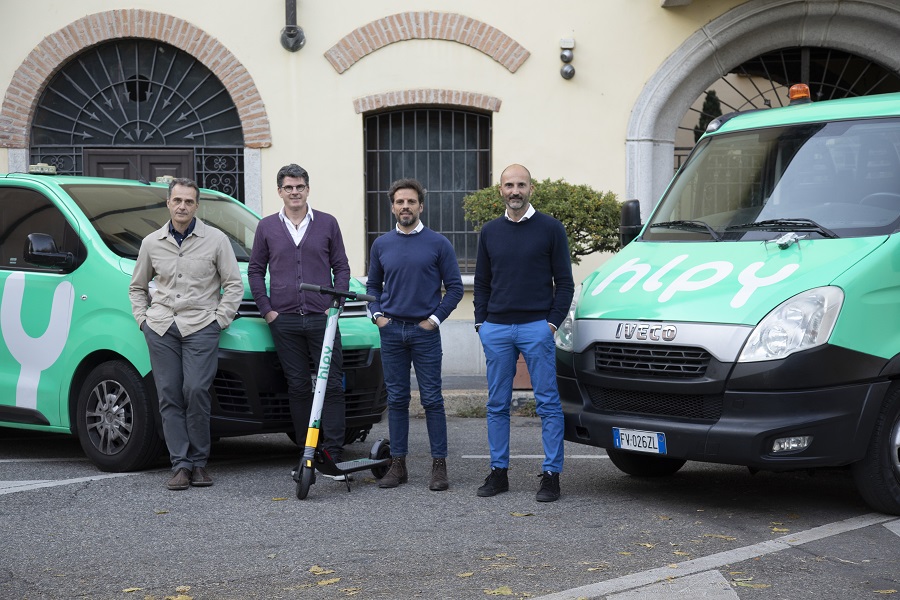 hlpy, startup che fornisce servizi di assistenza al veicolo, ha completato un round di raccolta di quasi 7,5 milioni di euro che si è concretizzata con un series A oversubscribed di 5,1 milioni di euro guidato da Synergo Capital cui hanno aderito come co-investor CDP Venture Capital attraverso il comparto Service Tech del Fondo Corporate Partners I e The Techshop, strumenti convertibili e debito.
Il finanziamento consentirà a hlpy di dare un boost al piano di sviluppo internazionale e di incrementare i servizi offerti dalla piattaforma digitale, con l'obiettivo, dichiarato, di diventare un player sempre più centrale all'interno del nuovo scenario mobility 4.0.
Che cosa fa hlpy
hlpy integra all'interno della sua piattaforma digitale front-end, clienti, piattaforma operativa e rete di soccorso in modalità nativa digitale. Fondata nel maggio 2020 da Valerio Chiaronzi, Graziano Cavallo ed Enrico Noseda, lo scorso agosto ha visto l'ingresso nel founding team anche di Stefano Sarti. Con alle spalle una lunga esperienza e profonda conoscenza dei settori insurance e automotive dei founders, hlpy è nata dall'idea di reinventare l'assistenza al veicolo.
"È con estremo piacere che diamo il benvenuto ai nuovi soci e ringraziamo gli azionisti che hanno creduto in noi sin dal principio. Tutti insieme iniziamo un nuovo percorso di crescita e sviluppo – ha affermato Valerio Chiaronzi, Ceo e founder di hlpy. – A meno di due anni dall'inizio della partenza operativa sul mercato italiano, stiamo vivendo una fase evolutiva che vedrà la trasformazione della società in SpA, con la conseguente adozione di un modello di governance maggiormente in linea con le best practice internazionali. Le nuove sfide legate all'elettrificazione dei veicoli, all'evoluzione della diagnostica ed alle nuove forme ed esigenze di mobilità ci trovano già pronti grazie ad un continuo lavoro di innovazione della gamma d'offerta e l'espansione a livello internazionale è già diventato un dato di fatto in questi giorni."
"I cambiamenti innescati nel settore dell'automotive dai macro-trend relativi l'elettrificazione, la connettività e la mobilità condivisa impongono ai principali player del settore (produttori di automobili, compagnie assicurative, società di noleggio a breve e lungo termine, società di drive sharing) di ripensare la loro filiera ed i loro prodotti e servizi in chiave digitale e sostenibile – hanno commentato Simone Cremonini e Giacomo Picchetto, managing partner di Sinergia Venture Fund – In hlpy abbiamo trovato una piattaforma digitale all'avanguardia per la gestione dell'assistenza stradale end-to-end, che riduce i tempi di intervento, i costi di esercizio ed incrementa il valore e la qualità percepite dagli utenti finali. Siamo orgogliosi di diventare soci di Valerio e del suo team e di poterli aiutare a crescere in Italia e a livello internazionale."
"Questa operazione è la prima sottoscritta dal comparto service tech del nostro fondo, che vede una stretta collaborazione fra l'investment team e i nostri corporate partners per lo sviluppo di soluzioni di transizione digitale, soprattutto rivolte ad aziende con need nei settori dei servizi finanziari e assicurativi – hanno dichiarato Laura Scaramella, Responsabile comparto Service Tech del Fondo Corporate Partners I di CDP Venture Capital Sgr e Marino Giocondi, Responsabile del Fondo – In questo senso il servizio di assistenza stradale che propone hply è un potenziale game changer per le società assicurative operanti in ambito mobility, proponendo significativi miglioramenti in termini di user experience, di riduzione di costi ma anche di controllo della supply chain".
"hlpy sta portando nei servizi alla mobilità un approccio data-driven e customer- oriented, per fornire servizi di soccorso stradale e riparazione top class nel minor tempo possibile, sgravando i suoi partner commerciali dalla "gatta da pelare" dell'assistenza e permettendo loro di concentrarsi sulle core competence – hanno concluso Gianluca D'Agostino e Aurelio Mezzotero founder di The Techshop SGR – Dal punto di vista del nostro portafoglio, apprezziamo particolarmente il lavoro di Valerio Chiaronzi, Graziano Cavallo e dell'intero team per avere completato, a pochi mesi dal nostro primo investimento, un Serie A così qualificato e significativo".
Seguici sui nostri canali social: Facebook e Twitter 
Leggi tutte le nostre notizie cliccando QUI