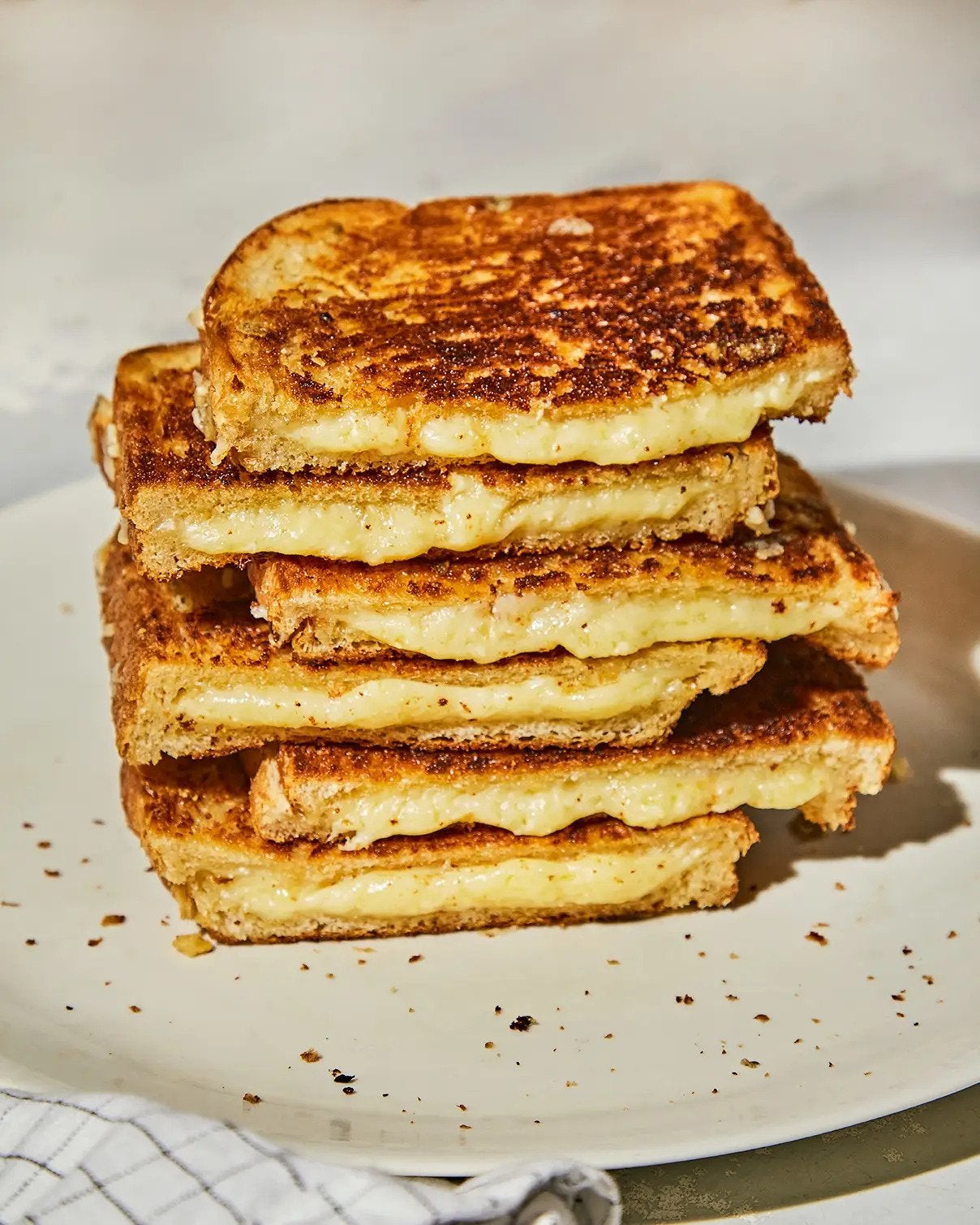 Gluten and dairy intolerances aside, it's hard to argue with the comforting, oozy goodness of melted cheese between—or atop!—slices of crunchy, griddled, fried, or toasted bread. Here are some of our favorite grilled cheese recipes from around the world.
The type of cheese, bread, and wine used to assemble the most basic version of this common Swiss comfort food, which is effectively cheesy toast, can vary depending on which region you happen to be enjoying it in. Photographer Simon Bajada, who visited and interviewed several Alpine cheesemakers, uses a splash of Fendant—a crisp and mineral white wine from Valais—in his recipe, but feel free to swap in any dry white wine. Get the recipe >
People have strong opinions about the Monte Cristo sandwich, a double-decker of Swiss cheese, ham, and chicken or turkey, which is battered, fried, dusted with confectioners sugar, and served with a side of tart red jelly. Some consider it a marvel; others, an absurdity. Divisiveness aside, this perfect Monte Cristo recipe is an impressive one. Get the recipe >
Pressing down on this sandwich with a spatula while it toasts in the pan is the key to achieving the outer crispness and well-melted cheese we look for in this classic deli sandwich. Get the recipe >
Some say that the patty melt—a griddled sandwich of ground beef, caramelized onions, cheese, and rye bread—isn't technically a burger, because it has no bun. We love it just the same. Get the recipe >
The secret to making a perfect grilled cheese sandwich is cooking it over low heat, which brings out the subtle flavors of a cheese. Nutty and complex Comté, made in the Jura region of the French Alps, is particularly well suited to grilling. Get the recipe >
This specialty of Çesme, a small beach town in Turkey, is one of the world's great grilled cheese sandwiches. The cheese itself is grilled before getting slipped into toasted bread with raw tomato and optional (but highly recommended) toppings of griddled sausage and pickled cucumbers and chiles. Get the recipe >
The egg-topped counterpart to France's ham-and-cheese-stuffed croque monsieur is worth the extra step. Get the recipe >
The diner classic is easy to master with a few key ingredients—and a generous helping of cheese. Get the recipe >
This all-day-appropriate sandwich was born out of the staff meal at Mokonuts in Paris. Crisp and airy leftover waffles are griddled around cecina (a smoky cured beef from Spain), melty cheese, arugula, and avocado. Get the recipe >
A medianoche (literally "middle of the night") is the kind of sandwich you eat after hours of partying in Miami's Cuban dance clubs. With roast pork, ham, Swiss cheese, and pickles, it's almost identical to a Cuban sandwich, save for the sweet and eggy bread. Get the recipe >
The post Grilled Cheese Recipes From Around the World appeared first on Saveur.