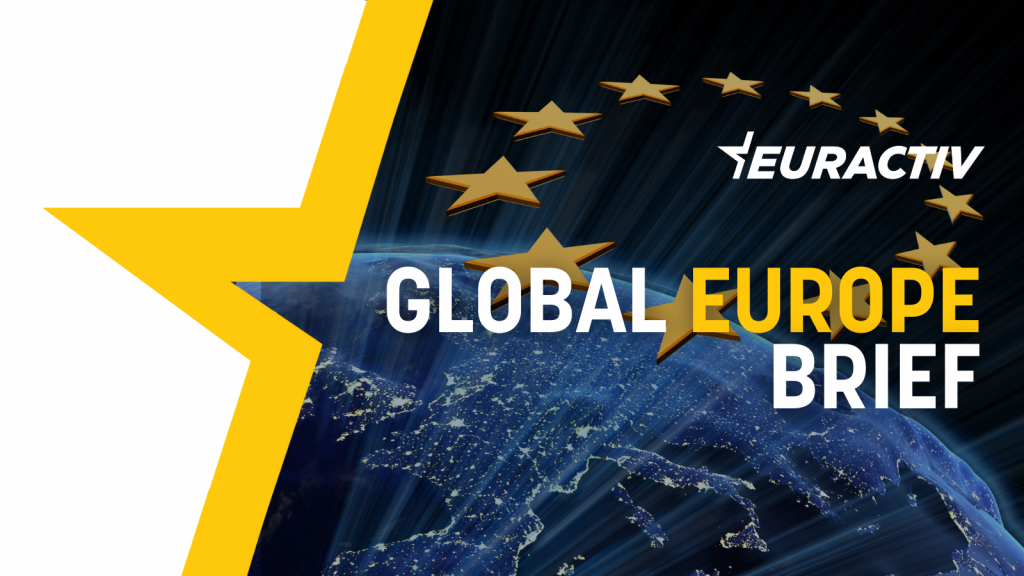 Welcome to EURACTIV's Global Europe Brief, your weekly update on the EU from a global perspective.
You can subscribe to receive our newsletter here.
In this week's edition: A run-down of the EU's foreign policy hot topics for 2023.
---
What will matter in 2023? This week, we look at the key foreign policy issues that will shape the political agenda of the EU over the coming year.
But as Brussels buckles up for a busy agenda, it will also be the last year before Europe gears up for the next European elections and a change in administration.
---
EU IN THE WORLD
UKRAINE WAR | With Ukraine demonstrating it is able to push Russia back from its territory, Western support continuing to flow, and the EU evaluating its response to Russia's aggression against Ukraine, it will remain the dominating issue this year.
This year is likely to be all about demonstrating support. The EU-Ukraine summit, which is likely to take place somewhere in the war-torn country, is set to be used for further support announcements and a chance to revisit the country's progress into the bloc. Especially, should it be accompanied by European Commission-to-government back-to-back consultations with a range of '10 to 15 Commissioners' on the spot, an idea that is currently floated by Brussels officials.
The EU is also working on its 10th sanctions package on Russia, which EU diplomats hope could be finalised by 24 February, the war's anniversary. The key question for all following packages this year will be how to close loopholes Moscow is still exploiting.
The Russia emerging from the war in the long term is likely to be militarily, economically and geopolitically weak (but not less challenging). How will EU-Russia relations shape up in the long term?
DEPENDENCIES | In the past few months, Europeans have expressed increasing concern about economic dependencies not only with Russia but also with China, saying they needed not to repeat the same mistake with Beijing as was the case for more than a decade with energy reliance on Moscow.
Worth to keep an eye on how the bloc looks to diversify its economic ties this year, and whether this means it will need to become more pragmatic when choosing not-always flawless partners.
Key dates:
3 February: EU-Ukraine Summit (likely Ukraine), accompanied by European Commission-UKR government back-to-back consultations
9-10 February: Extraordinary European Council (migration, competitiveness)
14 March: European Commission publishes Critical Raw Materials Act
18 April: EU-Latin America strategy
11-12 May: Foreign Affairs Council Gymnich (Stockholm)
28 June: European Commission proposal for a sanctions' framework targeting corruption
30 June; Sweden hands over EU presidency to Spain
TBC: EU-Latin America Summit, including trade agreements
TBC: EU-China Summit 
DEFENCE CORNER
NATO ENLARGEMENT| Russia's President Vladimir Putin wanted less NATO, he'll get more soon. But the hopes for a speedy ratification from the current 30 alliance members were quickly dashed by Hungary and Turkey.
After Budapest dragged announced it will let its parliament deal with the issue next month, with Hungarian officials speaking more of a voting formality than a major obstacle to be expected, all eyes are now on Ankara.
Turkey agreed to give a green light as long as they both took a number of what it sees as anti-terrorism measures, to which there has been some progress, also through written commitments. But Turkish President Recep Tayyip Erdoğan is looking to fight a crucial presidential election in June, with the NATO enlargement question likely to become a key issue. Will the emotions calm down quickly enough after so that the July NATO summit in Vilnius sees the two Nordic countries become full members? And what about Ukraine and Georgia, who hope for a Membership Action Plan (MAP), a sort of pre-accession NATO program of advice, assistance, and practical support tailored for a prospective member?
EU DEFENCE | As a consequence of Russia's invasion of Ukraine, European defence last year had seen its bigger push to date, with an emergency fund providing weapons to Ukrainian forces, joint military acquisition no longer being a taboo, and the EU's military missions being transformed in an emergency to monitor the Armenia/Azerbaijan border.
Plus, never before has there been the level and intensity of consultation between Europeans and NATO members, which has led the bloc to redefine its talk of strategic autonomy.
In 2023, the EU will mark the first anniversary of the Strategic Compass in March, which will include a review of the document's threat analysis, several new proposals on space and maritime security as well as the first wave of EU live exercises for its EU Rapid Deployment Capacity during the second half of the year.
Key dates:
25 January: European Commission proposal on EU disaster resilience goals
17-19 February: Munich Security Conference
February: Hungary's parliament set to vote on Sweden/Finland NATO bids
March: Strategic Compass one-year review 
1 March: EU maritime security strategy
21 June: European Commission's space and defence package
11-13 July: NATO Summit (Vilnius)
after summer: EU Rapid Deployment Capacity live exercises
TBC: EU-Eastern Partnership Summit
ENLARGEMENT LATEST
MIND THE PROCESS | 2022 has unarguably been quite a year for EU enlargement.
In large part due to Russia's war on Ukraine, the process has suddenly been resuscitated after almost a decade of stagnation, partly with the realisation that for the EU, enlargement can no longer be a one-way street.
Ukraine and Moldova were granted EU candidate status only three months after the trio applied for membership in the wake of Russia's invasion of Ukraine, Georgia has been placed one rung below as a potential candidate country. This spring, the European Commission will give an update on how the trio is doing. Some EU officials don't exclude that member states could decide that Ukraine and Moldova can start to negotiate and Georgia could become a candidate country.
Bosnia followed in autumn, as part of a carrot-and-stick approach for the country's leaders to show more progress than they have so far.
Albania and North Macedonia received the green light to start accession talks that could ultimately lead to EU membership.
The European Commission's autumn enlargement reports, the first ones to include all old and new candidate countries and aspirants, will be closely watched.
While the Western Balkans have welcomed the EU's new mindset to strengthen ties with the region, but new candidates also mean increased pressure for the ones longer in the waiting room to deliver. Plus, what does this mean for the future of the EU's Eastern Partnership?
BELGRADE-PRISTINA | Since last year, Serbia and Kosovo are on the brink of a dangerous crisis, with roadblocks set up by ethnic Serbs in the northern part of the country.
While the frequent flare-ups have both Brussels and Washington worried, EU officials hope to see potential outcomes towards a political deal in "much less than a year" and both EU and US officials are traveling to the region this month.
The EU has recently handed over an updated draft of its proposal for the normalisation of ties to the two Western Balkan countries, with a timeline and an outline of actions. Will it fly?
Key dates:
TBC: Spring assessment for Ukraine
1 June: European Political Community Summit (Chisinau)
autumn: European Commission enlargement package, first including new candidates
EURASIA DIGEST
AT ARMS LENGHT | Since the outbreak of the war in Ukraine, Central Asia's five former Soviet republics find themselves in a difficult position trying to balance their economic dependency on Russia and their strong support of territorial integrity. It has become unmistakably clear that the region is increasingly slipping out from Russia's thumb. As Central Asians have started to look elsewhere for cooperation, can the EU offer a viable alternative?