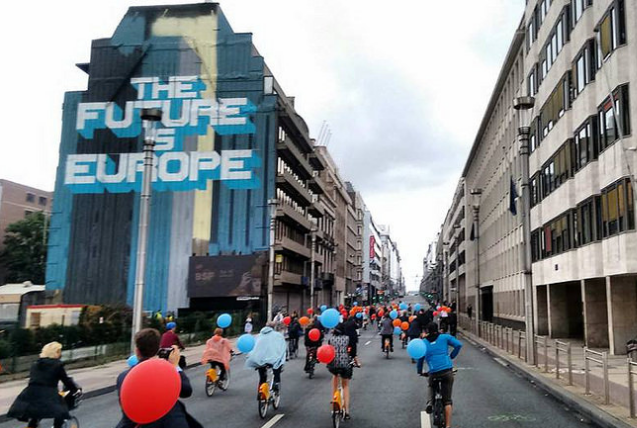 Più piste ciclabili, ma anche sovvenzioni alle due ruote a pedali "made in Europe" e tagli dell'Iva. Cosa prevede il piano bici dell'Ue approvato dal Parlamento europeo
A fare caso alla concomitanza dei provvedimenti, sembriamo nel pieno di una decrescita nemmeno troppo felice, considerando che ci ritroviamo anche nel pieno della austerity energetica imposta dalla rottura dei rapporti con Mosca. Poche ore dopo la decisione di bandire dal Vecchio continente i motori a benzina e diesel dal 2035, il Parlamento Europeo ha approvato un "Cycling strategy" per spronare i Ventisette ad aumentare gli investimenti nel mondo delle due ruote a pedali.
COSA PREVEDE IL PIANO BICI DELLA UE
Di fatto, Strasburgo vuole più ciclabili nel Vecchio continente e un fiorire di bonus per sostenere l'intero comparto. L'approvazione è arrivata dopo che la Commissione Trasporti e Turismo del Parlamento Europeo ha stilato la Strategia Europea della Ciclabilità, con lo scopo di dare alla Commissione Europea e agli stati membri una serie di obiettivi per sviluppare l'utilizzo e l'economia della bicicletta in tutti gli Stati membri.
We celebrate the @Europarl_EN passing a resolution calling for a European Cycling Strategy 🇪🇺🚲

This historic resolution recognises cycling as the fully fledged mode of transport it is! #EUCyclingStrategy

Read more 👇https://t.co/G0jYmLTKkm pic.twitter.com/JkYLyNRWgk

— ECF (@EuCyclistsFed) February 16, 2023
Più che un piano bici, un vero e proprio manifesto in diciotto punti, che parte da un assunto: nella Ue la bicicletta deve essere riconosciuta come un mezzo di trasporto a pieno titolo, sostenibile e produttivo, che possa essere inforcato da un numero crescente di europei per concorrere all'abbattimento delle emissioni del Fit for 55 e, contemporaneamente, migliorare condizioni di salute e stili di vita.
COSA CHIEDE BRUXELLES AI 27
Come? Agendo sulla connettività tra le aree suburbane e i centri urbani con le "cycle highways" e puntando sulla multimodalità, ovvero la creazione di sinergie tra la ciclabilità e altri mezzi di trasporto, come la disponibilità di più spazi per le biciclette sui treni e l'incremento di aree di parcheggio presso stazioni e centri di mobilità.
Già adesso alcune metropolitane, pure in Italia, sono state dotate di appositi binari per accompagnare le bici lungo le scale che portano ai binari, ma gli interventi si sono limitati a questo: lo spazio nei vagoni è sempre lo stesso, i ciclisti quindi continuano a dare fastidio a bordo, occupando troppo spazio e venendo esclusi dai mezzi nell'ora di punta. L'Ue col suo piano bici chiede appunto che si cambi registro e che si prevedano spazi ad hoc sui mezzi del tpl per il ciclista che ha necessità di condividere determinate tratte.
METTERSI IN SCIA AL PORTOGALLO
E poi naturalmente si vuole incentivare l'attuazione di politiche industriali che favoriscano la filiera e i marchi europei. Secondo i dati Eurostat, il Vecchio continente negli ultimi 12 mesi ha prodotto un totale di 13,5 milioni di pezzi, con un aumento dell'11% rispetto all'anno prima.
Bruxelles chiede ai Paesi membri azioni concrete volte a stimolare il reshoring e la occupazione nella filiera, incoraggiando corsi di aggiornamento per posti di lavoro di alta qualità, la creazione di poli ciclistici e il miglioramento della formazione professionale legata all'industria. Nulla di diverso rispetto a quanto non si chieda in tutti gli altri comparti per la digitalizzazione e il passaggio all'Industria 4.0, ma appunto declinato secondo esigenze ambientali. Il Piano bici Ue si sostanzia anche tramite bonus lato consumatori che potrebbero avere natura tutt'altro che temporanea, come la riduzione dell'Iva sulle biciclette, già sperimentata in Portogallo dove il governo ha tagliato l'Iva dal 23 al 6%.
ISCRIVITI ALLA NOSTRA NEWSLETTER
Iscriviti alla nostra mailing list per ricevere la nostra newsletter
Iscrizione avvenuta con successo, ti dovrebbe arrivare una email con la quale devi confermare la tua iscrizione. Grazie da EnergiaOltre!
Errore
Rispettiamo la tua privacy, non ti invieremo SPAM e non passiamo la tua email a Terzi