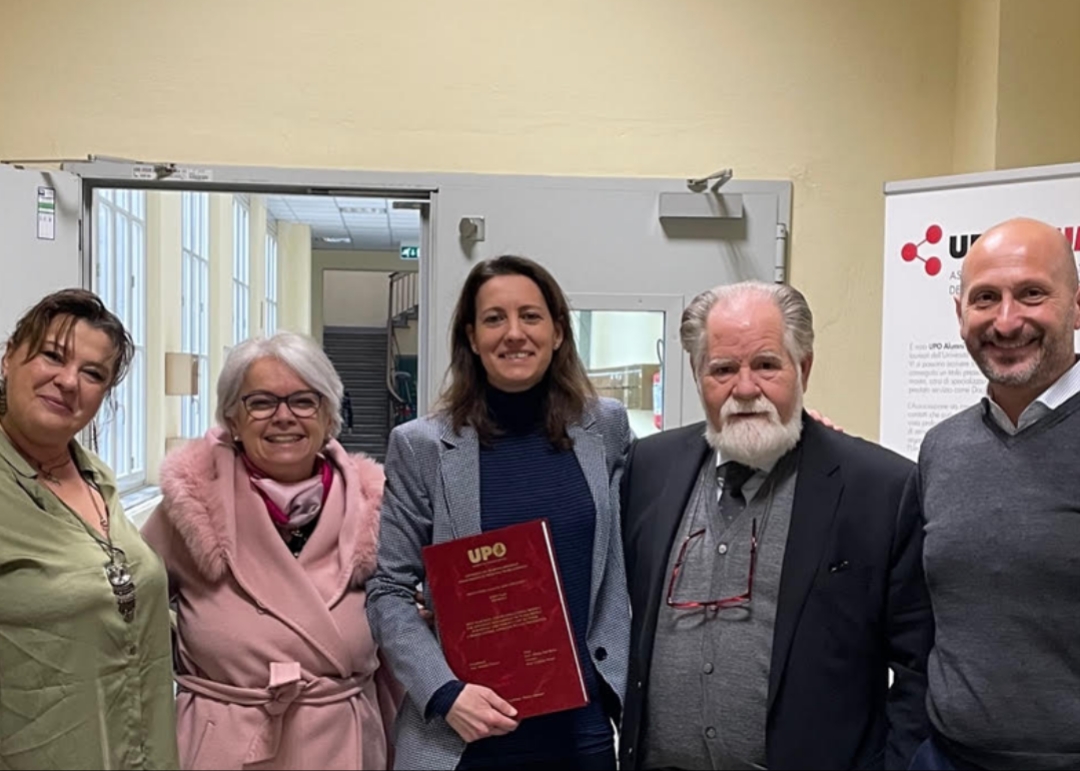 Ecco Damiana Campani (OPI Milano) prima Infermiera con Dottorato in Food Health and Longevity.
La collega Daiana Campani, Commissario d'Albo Infermieri dell'Ordine delle Professioni Infermieristiche di Milano Lodi Monza Brianza, è la prima (e unica) infermiera a conseguire il titolo di dottorato in "FOOD, HEALTH AND LONGEVITY". Un percorso innovativo, in quanto interprofessionale e multiprofessionale, attivato a Novara dall'Università del Piemonte Orientale.
Un lavoro di ricerca che si è concentrato sui modelli organizzativi e implementazione di buone pratiche a livello ospedaliero e territoriale, ricerca che vede il ruolo dell'infermiere di famiglia e comunità come figura strategica per la salute, dal titolo: "Best practices and organizational models for advanced management of older people in hospital and primary care settings: a translational approach to fall prevention" (Buone pratiche e modelli organizzativi per la gestione avanzata degli anziani in ospedale e nelle cure primarie: un approccio traslazionale alla prevenzione delle cadute).
Il focus trattato nella ricerca ha messo in evidenza come sia fondamentale implementare nuovi modelli in un sistema che cambia rapidamente e di come, al contempo, è importante rendere fruibili le migliori conoscenze che derivano dalla ricerca e valorizzare le competenze ma anche le abilità dei professionisti.
Una tematica d'attualità, quindi, che si dimostra fondamentale alla luce delle nuove prospettive legate alla figura dell'infermiere nel campo dell'assistenza e cura in ambito territoriale. Una lavoro di ricerca che mette in evidenza come sia importante una visione multidimensionale per dare forma a nuovi modelli multidisciplinari e a un nuovo approccio al "sistema salute e sociosanitario", con risposte univoche a problemi complessi a favore di cittadino e assistito per lo sviluppo di un sistema sanitario sempre più complesso che richiede attenzione a fattori sinergici come l'efficacia, l'efficienza e la sostenibilità.
"Ho scelto questo corso dottorale perché è interdisciplinare, multiprofessionale e internazionale. È connotato da una forte innovatività che lo rende unico nel suo genere – afferma Campani -. La collaborazione e la formazione interdisciplinare sono state per me fonte di crescita e di ispirazione, se penso al futuro della nostra professione lo vedo orientato alla contaminazione delle competenze fra professionisti diversi, medici e infermieri insieme, e non solo. E l'apertura all'internazionalità è un confronto imprescindibile. Fare parte della comunità scientifica significa anche questo, essere uniti e cercare insieme delle soluzioni per la salute dei cittadini e per lo sviluppo di un sistema sanitario sempre più complesso che richiede attenzione alla sostenibilità".
_______________________
AVVISO!
Consigliati da AssoCareNews.it: