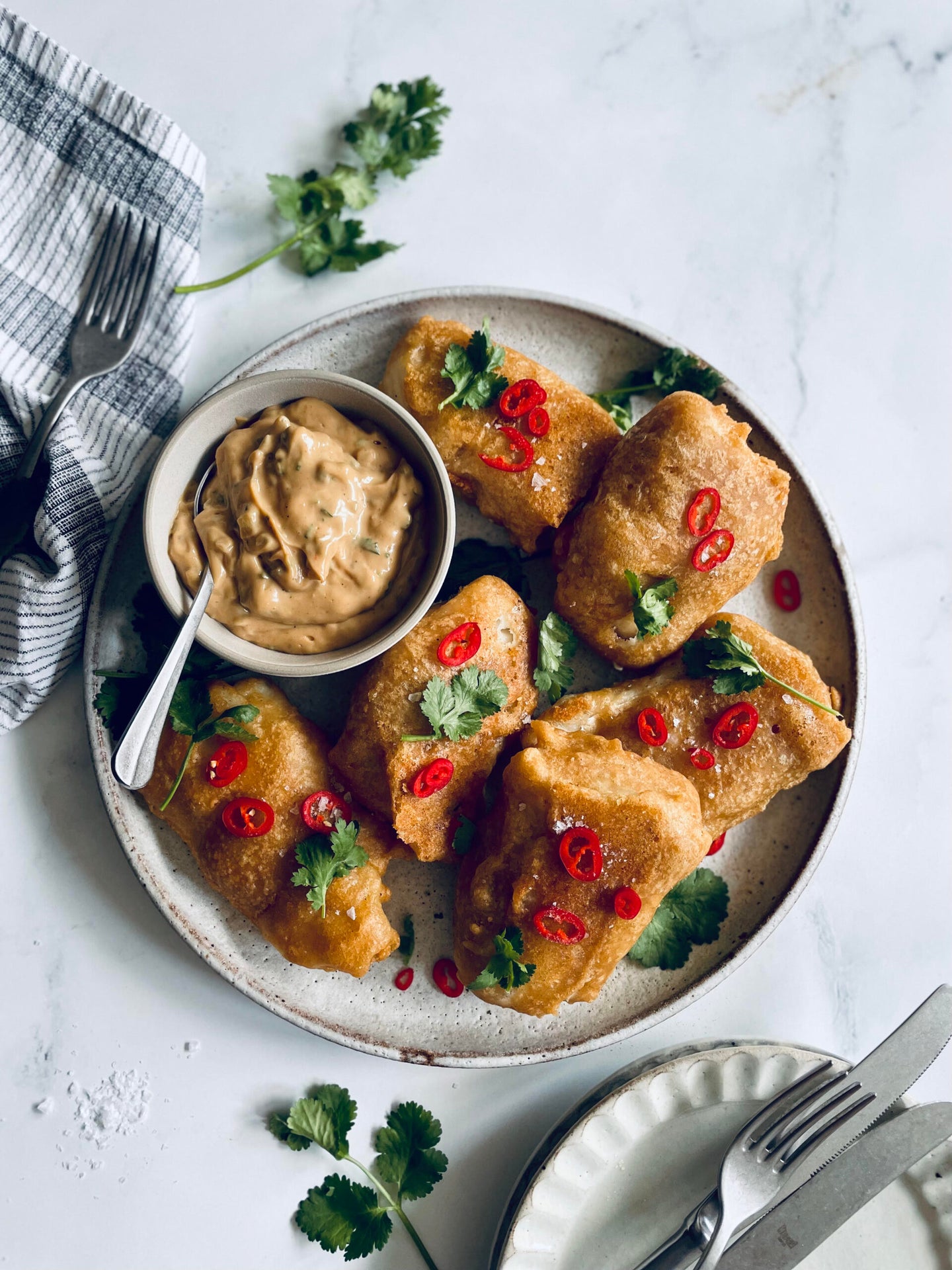 Listed in my grandma's recipe notebook as "Jow Crispy Fry Mix for Western Appetites Developed from a Secret Chinese Recipe," the old-school mixture used to encase the fish in this Chinese battered cod recipe is wonderfully versatile. Use it to coat vegetables and virtually any kind of meat, seafood, or poultry. 
Featured in, "For Me, Self-Care Means Deep Frying for One," by Peter Som.
Yield: 4
Time: 30 minutes
Ingredients
For the sauce:
¾ cup mayonnaise
⅓ cup finely chopped dill pickles
1 Tbsp. finely chopped cilantro
1 Tbsp. hoisin sauce
1 Tbsp. grated onion
1 tsp. fish sauce
½ tsp. kosher salt
Pinch ground white pepper
For the fish:
½ cup all-purpose flour
¼ cup rice flour
¼ cup yellow corn flour
1 tsp. baking powder
1 tsp. five-spice powder
1 tsp. kosher salt
1 tsp. sugar
1 cup cold club soda or seltzer
¼ cup cornstarch
Vegetable oil, for frying
1½–2 lb. cod fillets, divided into 4 pieces total
Flaky sea salt and ground white pepper
Coarsely chopped cilantro, for garnish
1 small red chile, very thinly sliced (optional)
Instructions
Make the sauce: In a small serving bowl, stir together the mayonnaise, pickles, cilantro, hoisin, onion, fish sauce, salt, and white pepper. Cover and refrigerate until ready to use.
Make the fish: In a large bowl, whisk together the all-purpose flour, rice flour, corn flour, baking powder, five-spice, salt, and sugar. Add the club soda and whisk until smooth.
To a large pot or Dutch oven set over medium-high heat and fitted with a deep-fry thermometer, add the oil to a depth of 1½ inches. While the oil heats, pat the fish dry with paper towels and season generously with salt and white pepper. In a shallow bowl, place the cornstarch, then add the fillets and turn to coat. When the temperature reads 350ºF, dredge half of the fillets in the batter, allowing any excess to drip back into the bowl. Gently lower into the oil and fry, turning halfway through cooking, until the batter is puffed and golden brown, 6–8 minutes total. Transfer to a rack set over a paper-towel-lined baking sheet and season with flaky salt and white pepper. Repeat with the remaining fish.
To serve, transfer the fish to a platter and garnish with the cilantro and sliced chile. Serve immediately with the tartar sauce on the side.
The post Crispy Battered Cod with Creamy Hoisin Tartar Sauce appeared first on Saveur.