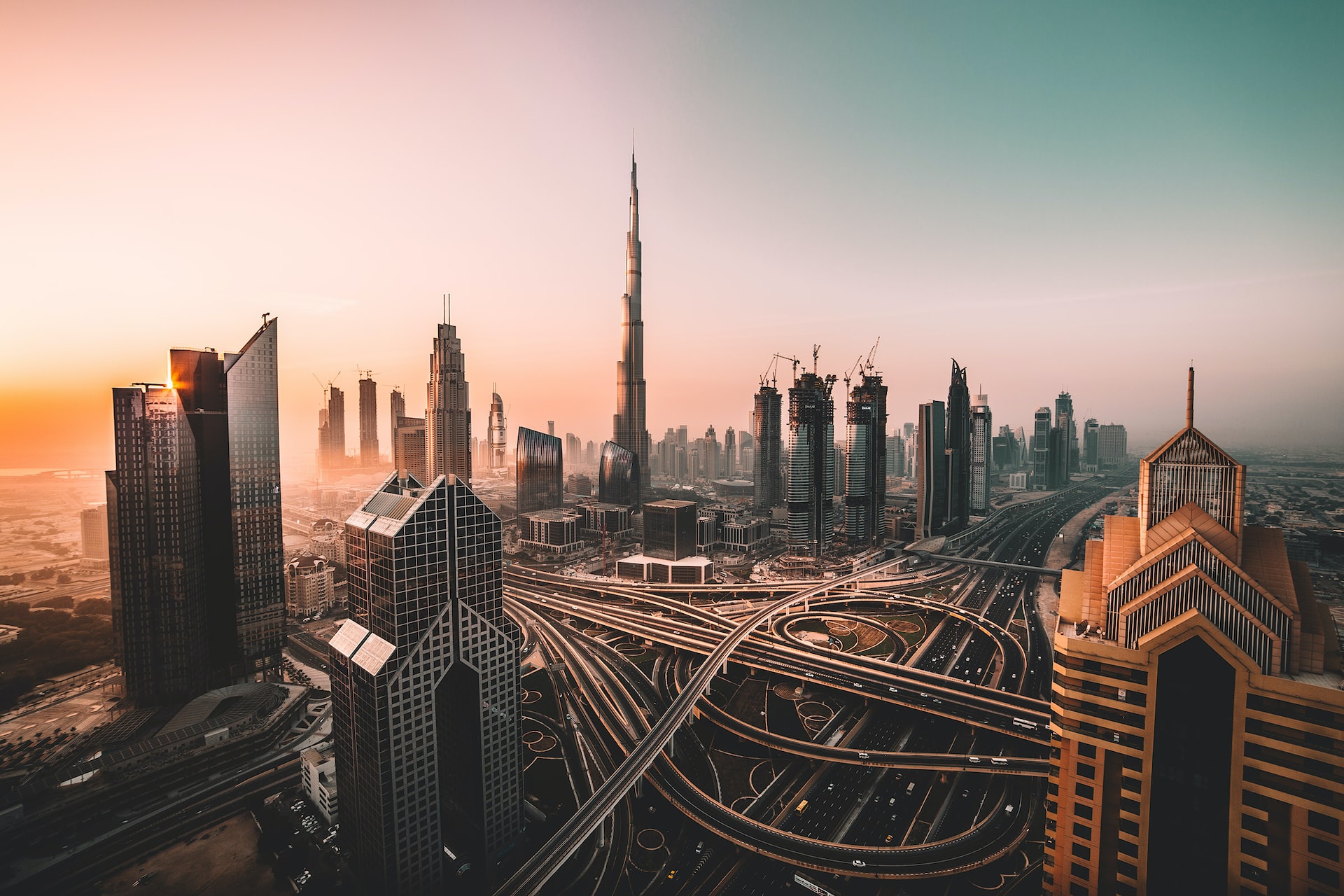 Sapere cosa vedere a Dubai vi permetterà di vivere un'esperienza indimenticabile. Contrariamente a quanto si potrebbe sentire, Dubai non è solo centri commerciali e hotel appariscenti. Questa città tentacolare nel deserto aggiunge sempre istituzioni culturali di rilievo, gallerie e negozi di design, il tutto per attirare una nuova generazione di visitatori.
Se invece preferite una scarica di adrenalina, c'è sempre il brivido di scivolare tra gli alti piani di un grattacielo di vetro o di saltare nella piscina subacquea più grande del mondo. Quasi tutto è possibile in questa città e noi abbiamo un elenco che lo dimostra. Ecco le nostre scelte per alcune delle migliori cose da fare a Dubai, sia di vecchia data che nuove.
Aura Skypool
È la piscina a sfioro a 360 gradi più alta del pianeta, arroccata a 200 metri in cima alla The Palm Tower. L'Aura Skypool offre non solo una vista ininterrotta dell'emirato, ma anche un'esperienza unica di giornata in piscina. Da 50 piani di altezza, le ampie vedute di The Palm, del Burj Al Arab e del golfo sono un modo incredibile per vedere Dubai dall'alto e modificare la propria prospettiva.
I biglietti costano circa 46 dollari a persona per una delle tre sessioni e si possono acquistare online.
Moschea di Jumeirah
Essendo l'unica moschea di Dubai aperta ai visitatori non musulmani, la Moschea di Jumeirah è molto popolare tra i viaggiatori ed è anche la più fotografata. È una delle più belle dell'emirato, interamente realizzata in pietra bianca in stile medievale fatimide e particolarmente suggestiva al tramonto. L'ingresso è consentito sei giorni alla settimana (il venerdì è dedicato alla preghiera) e le visite sono condotte da guide esperte che rendono l'esperienza indimenticabile.
Immersione profonda a Dubai
È la piscina più profonda del mondo, con una profondità di 60 metri. Vanta una città sommersa da esplorare per gli appassionati di immersioni e contiene 14 milioni di litri d'acqua. Pensata interamente per gli amanti dell'acqua, l'immersione profonda è riservata a chi è in possesso di una certificazione, mentre lo snorkeling in superficie e le immersioni subacquee fino a 12 metri possono essere effettuate da chiunque abbia più di 10 anni.
Dato che Deep Dive Dubai funge anche da studio cinematografico subacqueo più grande della regione, con 56 telecamere e la possibilità di creare diverse atmosfere, è sicuramente un'esperienza da provare. I biglietti sono obbligatori e possono essere acquistati in anticipo o online.
Pista dei cammelli di Al Marmoom
Al Marmoom è una popolare destinazione del patrimonio culturale e attira gli appassionati di corse di cammelli di ogni tipo, locali e non. Una giornata alle corse dei cammelli è un'esperienza che rappresenta bene la cultura mediorientale, che risale al VII secolo. Le tribune sono spesso piene di proprietari di cammelli, allenatori e conduttori, e la maggior parte dei posti a sedere offre una buona vista dell'azione. Ricordate che le gare iniziano presto, tra le 7.00 e le 9.00, e che i commenti e gli annunci vengono fatti in arabo.
LEGGI ANCHE: