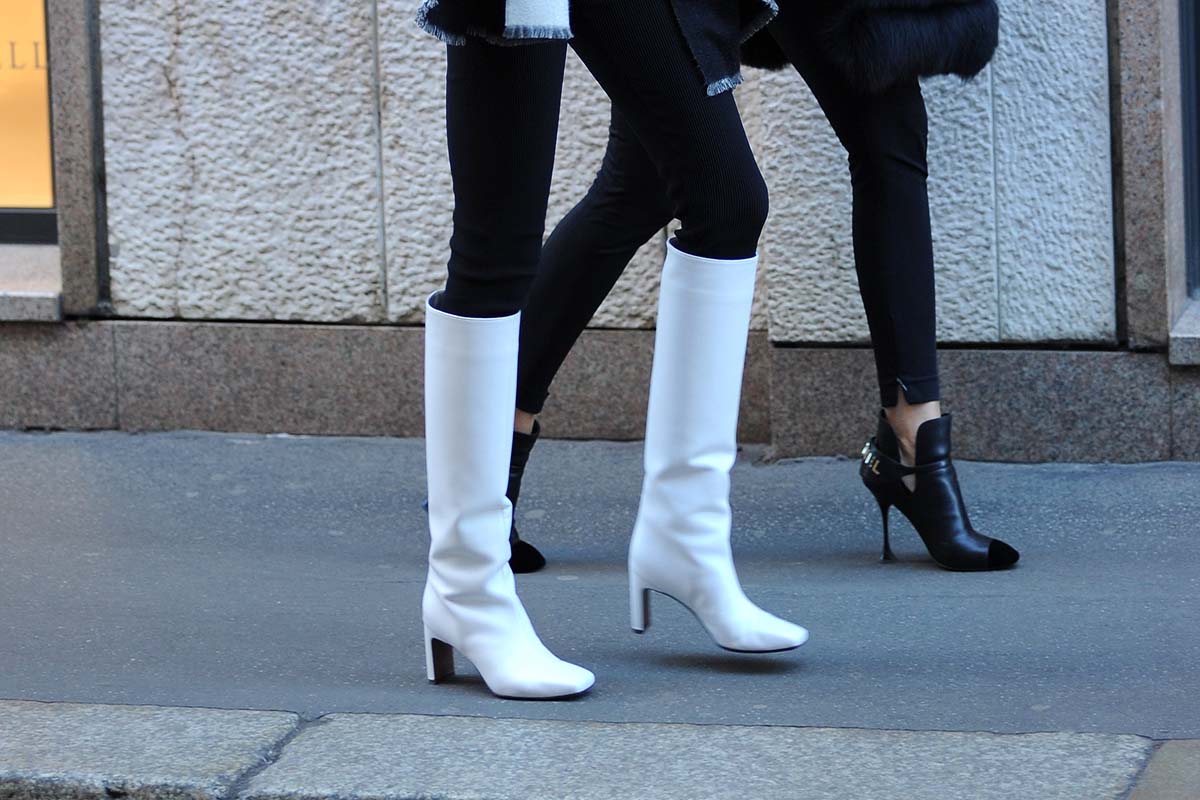 La primavera 2023 regala tendenze una dopo l'altra. Sapevate che tra i must have della bella stagione ci sono gli stivali bianchi? Ebbene sì, per quanto molte di voi possano essere scettiche a riguardo, sappiate che la vostra scarpiera non potrà proprio farne a meno. Scopriamo come indossarli al meglio e come abbinarli per essere sempre al top.
Stivali bianchi a primavera: i modelli e gli abbinamenti migliori
Se ancora non avete acquistato un paio di stivali bianchi, questo è il momento adatto. Con l'arrivo della bella stagione le tendenze si fanno sempre più vive ed ecco che tra i must have primaverili arrivano loro, gli stivali bianchi. Inizialmente potrebbero sembrare difficili da abbinare e da indossare, ma con qualche consiglio di stile riuscirete a trovare il vostro equilibrio fashion e finirete per innamorarvene. Il fatto stesso di essere bianchi, infatti, consente di poterli abbinare con tantissimi capi differenti e di ottenere, sempre e comunque, un ottimo risultato.
Stivali bianchi: i modelli più gettonati per la primavera 2023
Tra i modelli che andranno per la maggiore nella bella stagione primaverile, sicuramente lo stivaletto con tacco è il più gettonato. Se non siete particolarmente amanti del tacco stretto e alto, puntate su un modello più semplice e più comodo: tacco max di 6 cm e largo, punta leggermente squadrata e cerniera a lato super pratica da indossare. L'altezza dello stivale? Poco sopra la caviglia.
Un altro grande modello che continua a essere tendenza anche per la primavera 2023 è quello al ginocchio extra bold. Il gambale è alto e la suola è a carrarmato: in questo caso otterrete un outfit super originale e starete comode senza dovere impazzire. Accanto allo stivale massiccio alto fino al ginocchio, c'è una versione simile ma un po' più bassa e un po' più "rock". Si tratta dello stivaletto in stile "anfibio o Dr.Martens". Il modello è rock e audace, ma al contempo è adatto a look da tutti i giorni: impossibile non notarvi con questi ai piedi.
Per le vostre serate più eleganti, invece, che ne dite di un bel paio di stivali alti fino al ginocchio con tacco? Non sono altro che la versione alta dei classici stivaletti sopra la caviglia e sono perfetti per un'occasione speciale o un look un po' diverso dal solito. Non esiste primavera senza texani, se bianchi soprattutto. Non abbiate paura di osare, perché i texani bianchi saranno in cima a tutte le tendenze per la primavera 2023.
Infine, ma non per importanza, un grande classico, ma in bianco: i Chelsea Tire, must have assoluto della bella stagione. Minimali ma di impatto, con questi otterrete dei look straordinari.
Come abbinare al meglio gli stivali bianchi
In base al modello che più si addice alla vostra personalità, abbinare gli stivali bianchi non sarà poi così difficile. Si parte dal classico jeans, t-shirt e blazer oversize, fino ad arrivare a minigonne e mini-abitini abbinati a giacche in pelle o giacche in jeans. Il bianco si abbina molto bene a ogni colore, perciò non abbiate paura di osare con la palette cromatica: pensate a un bell'abito corto con stampa floreale e ai piedi un bel paio di texani bianchi, il risultato sarà fantastico! La primavera 2023 non vede l'ora di essere vissuta e farlo con uno dei must have di stagione sarà ancora più divertente. Scegliete ciò che vi fa sentire più a vostro agio e il gioco sarà fatto.