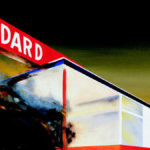 La collezione offerta da Christie's New York è guidata da Burning Standard di Ed Ruscha (stima: $ 20.000.000 – 30.000.000), un dipinto del 1968 che è considerato una delle opere storicamente più importanti nell'opera dell'artista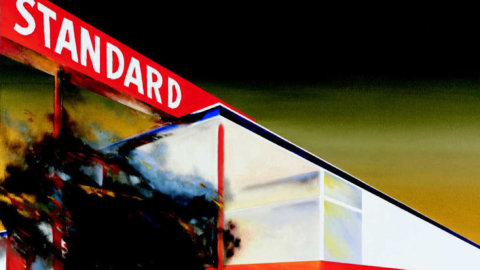 La collezione di Alan e Dorothy Press va in asta da Christie's. Il gruppo è composto da opere esemplari di Ed Ruscha, tre capolavori di Philip Guston ed esempi eccezionali di luminari artistici del ventesimo secolo: Man Ray, Henri Matisse e Ken Price.
Burning Standard: uno dei cinque dipinti della Stazione Standard anni '60
Questo dipinto singolare e rivoluzionario è ora considerato un'icona dell'arte del dopoguerra del ventesimo secolo, alla pari delle lattine di zuppa Campbell di Andy Warhol e delle eroine dei fumetti di Lichtenstein. Questo maggio sarà solo la seconda volta nella storia che un dipinto della Standard Station verrà messo all'asta: la prima è stata in una vendita serale di Christie's a New York nel novembre 2007, quando il lotto ha superato la sua stima massima di vendita per $ 6.985.000 e ha stabilito un nuovo record per l'artista di allora. Il presente esemplare sarà venduto nell'Evening Sale insieme a due opere aggiuntive dell'icona contemporanea, Do You Think She Has It (stima: $ 1.500.000 – 2.000.000) e Business # 1 (stima: $ 250.000 – 350.000).
Altri otto lavori di Ruscha nella Post-War and Contemporary Art Day Sale
Questa occasione offre ai collezionisti un'opportunità unica di acquisire i migliori esempi di Ruscha prima del suo attesissimo tour retrospettivo al MoMA e al LACMA che inizierà questo autunno.
Tre iconici dipinti Guston della collezione saranno un altro momento clou della Evening Sale, guidata da Chair (stima: $ 12.000.000 – 18.000.000) che è stata vista l'ultima volta dal pubblico durante la mostra "High and Low: Modern Art and Popular Culture" del MoMA nel 1991. Tra i suoi dipinti figurativi più importanti, opere paragonabili a Chair, sono conservati in istituzioni come The Museum of Modern Art, New York, Tate Gallery, Londra, The San Francisco Museum of Modern Art e National Gallery of Art, Washington D.C. Gli altri due Guston nella collezione – Pull (stima: $ 6.000.000-8.000.000) e Bricks (stima: $ 6.000.000-8.000.000) – sono altrettanto nuovi sul mercato e non sono stati visti dal pubblico da più di due decenni. La vendita di questo gruppo coinciderà con la retrospettiva Guston della National Gallery of Art a Washington DC, che sarà visitabile fino ad agosto 2023.
Chi era Alan Press e come è diventato collezionista
Alan Press era un commerciante di materie prime di grande successo presso il Chicago Mercantile Exchange e il suo profondo amore per il commercio si è trasferito nel suo collezionismo d'arte. Il suo interesse per l'arte iniziò probabilmente durante il suo periodo nell'esercito mentre era di stanza in Germania negli anni '50. Alan e Dorothy si sono conosciuti nel 1968, si sono sposati nel 1970 e subito dopo hanno iniziato a collezionare opere dell'espressionismo tedesco, principalmente stampe e xilografie di Munch e Kirchner. Negli anni '70 hanno viaggiato frequentemente in Svizzera e Germania e alla fine hanno accumulato una delle principali collezioni statunitensi di questi artisti. Quasi nello stesso periodo, hanno iniziato a collezionare H.C. Westermann, alla fine facendo crescere quella che sarebbe diventata una delle collezioni esistenti più approfondite dell'artista.
Tra la metà e la fine degli anni '80 la coppia vendette l'intera collezione di arte espressionista tedesca e passò all'acquisto di oggetti moderni e contemporanei in profondità, con una forte attenzione a Ed Ruscha, Philip Guston, Ken Price e Henri Matisse. Alan e Dorothy Press hanno sostenuto diverse istituzioni artistiche locali tra cui l'Art Institute of Chicago, il Museum of Contemporary Art di Chicago e lo Smart Museum nel campus dell'Università di Chicago, sviluppando stretti rapporti con i curatori che sarebbero durati per tutta la vita.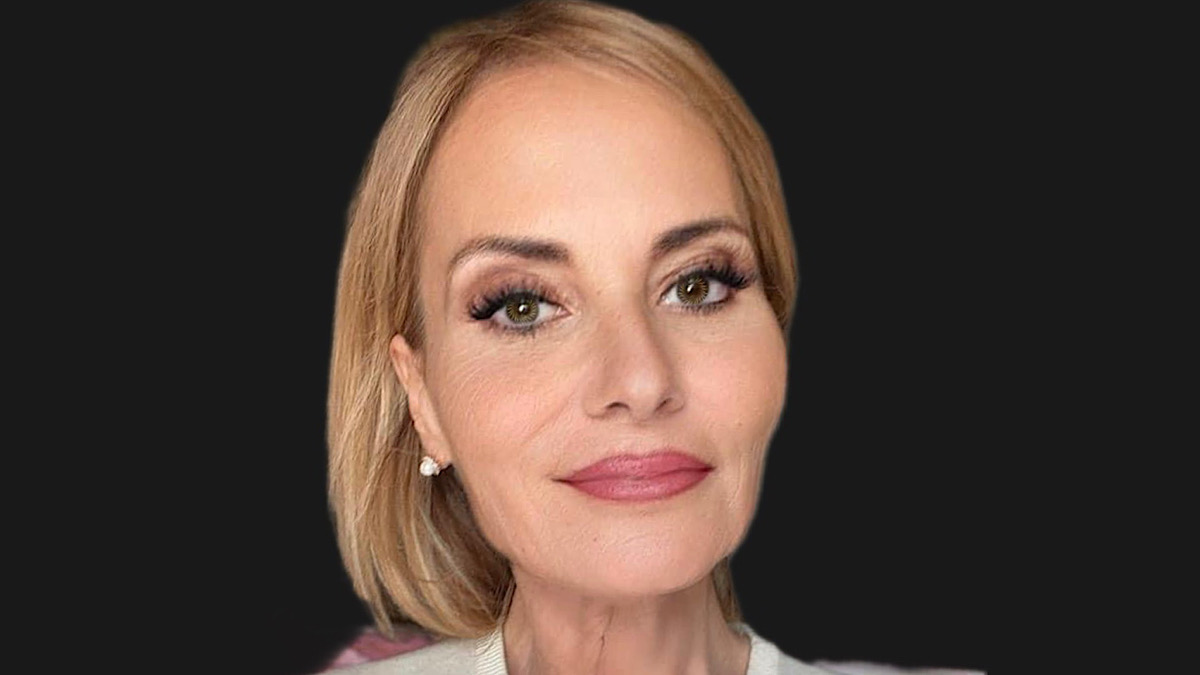 Responsabile dal 2011 di FIRSTArte. Lunga esperienza nella Comunicazione Pubblica Istituzionale, Public Affairs. Dal 2001 opera da indipendente nel settore del Wealth Management e nello specifico per family office, collezioni e patrimoni familiari-privati. Docente universitario in Economia dell'Arte, Marketing e Comunicazione degli eventi culturali e Strategie di comunicazione per la valorizzazione e promozione di patrimoni artistico culturali. Autore di libri e responsabile di collane editoriali dedicate all'arte e mercato. Collezionista.