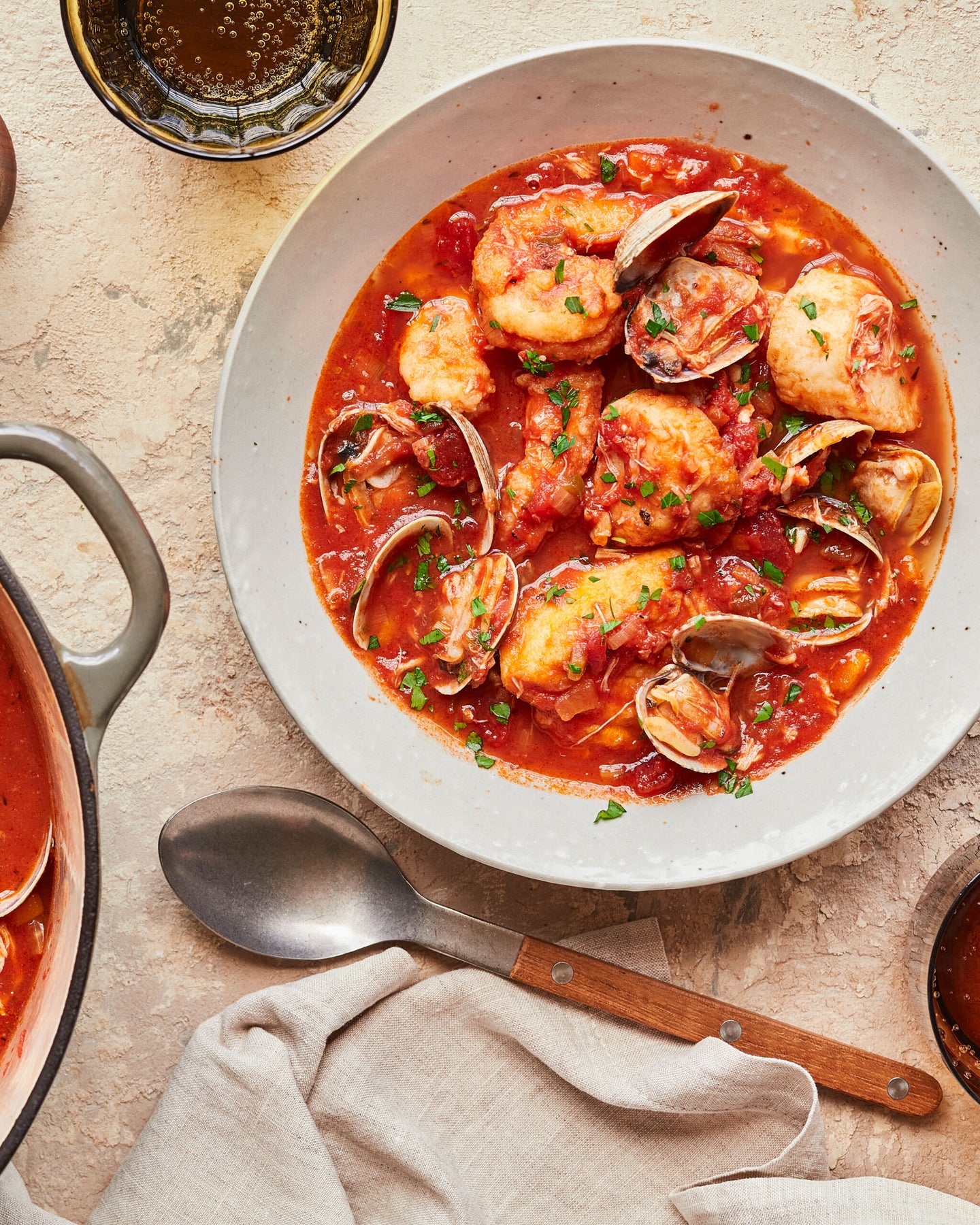 This Cioppino recipe is undeniably a San Francisco original, made famous in the 1850s by Genoese immigrant Giuseppe Bazzuro at his eponymous restaurant. Derived from the traditional ciuppin—which means "little soup" in the Genoese dialect—the tomato-based seafood stew was originally a purée of cooked vegetables and leftover fish scraps. Over the years, Bay Area chefs transformed it into a more luxurious dish using local delicacies such as Dungeness crab, as in this version from the city's legendary Tadich Grill.
This recipe originally ran alongside Thomas McNamee's 2001 article, "Big Soup."
Yield: 8
1 cup extra-virgin olive oil, divided
16 Tbsp. unsalted butter, divided
1 medium yellow onion, finely chopped
2 medium carrots, peeled and finely chopped
1 medium green bell pepper, cored, seeded, and finely chopped
1 celery stalk, finely chopped
1 medium leek, white part only, trimmed, cleaned, and finely chopped
½ small fennel bulb, trimmed and finely chopped
Two 28-oz. cans crushed Italian tomatoes
2 Tbsp. tomato paste
4 bay leaves
1 tsp. dried basil
1 tsp. dried oregano
1 tsp. dried thyme
2 pinches cayenne pepper
1–2 cups all-purpose flour
1½ lb. halibut fillets, cut into large pieces
16 sea scallops
16 large raw shrimp, peeled and deveined
½ lb. raw bay shrimp, if available, or smallest shrimp available, peeled
2 garlic cloves, finely chopped
12 oz. crabmeat, preferably Dungeness
2 cups dry white wine
16 Manila clams, scrubbed
½ bunch parsley, chopped
Kosher salt and freshly ground black pepper
Toasted sourdough bread, for serving (optional)
Instructions
In a large pot set over medium heat, combine ½ cup of the olive oil and half the butter and heat until melted. Add the onion and cook, stirring frequently, until just starting to soften, about 2 minutes. Add the carrots, bell pepper, celery, leek, and fennel and cook, stirring frequently, until the onions are translucent, about 5 minutes. Add the crushed tomatoes, tomato paste, 4 cups water, bay leaves, basil, oregano, thyme, and cayenne, and season to taste with salt and black pepper. Bring the liquid to a boil, then turn down the heat to low, and cook at a gentle simmer, stirring occasionally, for 2 hours.
Into a large shallow bowl, pour the flour. Working in batches, dredge the halibut, scallops, and shrimp in the flour, shaking off any excess. Set the seafood aside.
In a large skillet set over high heat, heat the remaining olive oil and butter until melted. Add the garlic and cook, stirring frequently, until fragrant, 1–2 minutes. Working in batches, fry the floured seafood, turning frequently, until each piece is golden brown, 1–2 minutes. Use a slotted spoon to transfer the seafood to the pot with the soup. Add the crabmeat, cover, and continue cooking at a gentle simmer for 10–15 minutes.
Return the now-empty skillet to high heat. Add the wine, scraping any browned bits stuck to the bottom of the pan. Add the clams, cover, and cook until their shells open, about 5 minutes. (Discard any clams that don't open.) Stir the clams and their resulting broth into the soup, and season with salt and black pepper to taste. Ladle the cioppino into large bowls, garnish with parsley, and serve with toasted sourdough bread, if you like.