BAFTA 2023, i più bei look sul red carpet: Julianne Moore regina di eleganza
Dall'abito "riciclato" di Cate Blanchett all'eleganza senza tempo di Julianne Moore, i più bei look visti sul red carpet dei BAFTA 2023
Si è svolta ieri sera a Londra la cerimonia di premiazione della 76ª edizione dei British Academy of Film and Television Arts, che ha visto trionfare "Niente di nuovo sul fronte occidentale". Per il red carpet dei BAFTA 2023, Cate Blanchett, premiata come miglior attrice protagonista, ha riciclato un abito Maison Margiela già indossato agli Oscar 2015.
Potrebbe interessarti anche
Il premio all'eleganza va senza dubbio alla 62enne attrice Julianne Moore, semplice ma sofisticata nel suo abito nero Saint Laurent. L'abito più stravagante invece è quello indossato dalla fashion blogger e influencer Andreea Cristea. Ecco i migliori look sul red carpet dei BAFTA 2023.
Cate Blanchett in Maison Margiela
In occasione dei BAFTA 2023 alla Royal Festival Hall di Londra, Cate Blanchett ha indossato un abito in velluto di seta nero. Un capo creato appositamente per lei da John Galliano per Maison Margiela. L'attrice aveva già sfoggiato questo abito agli Oscar 2015. Gioielli Louis Vuitton.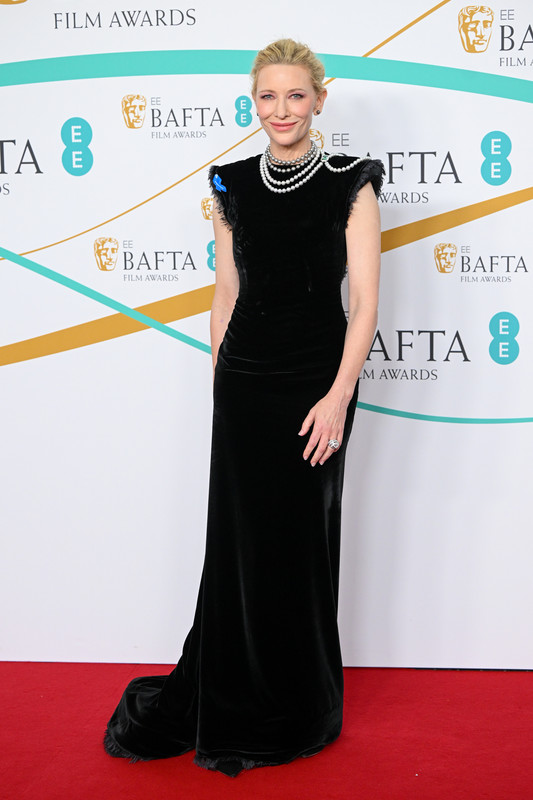 Julianne Moore
La classe non è acqua: Julianne Moore ha conquistato tutti con la sua eleganza disinvolta nel lungo abito nero di Saint Laurent. Un modello senza spalline con maniche di piume bianche.
Anya Taylor-Joy
Anya Taylor-Joy ha indossato un abito bustier con un voluminoso mantello in velluto color champagne Schiaparelli Haute Couture sul red carpet dei BAFTA 2023. Disegnato da Daniel Roseberry, l'ensemble fa parte della collezione SS23 di Schiaparelli, diventata virale per le riproduzioni realistiche di teste di animali ispirate all'Inferno di Dante. Scarpe Aquazzura e gioielli Tiffany & Co.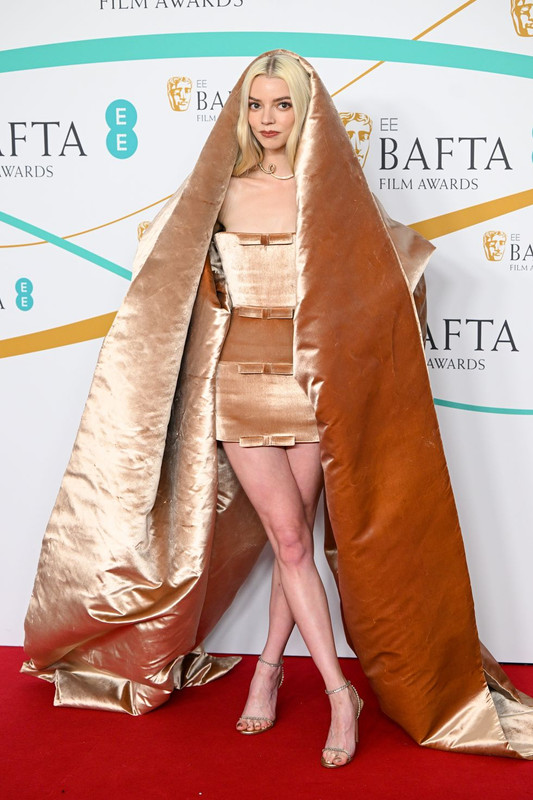 Jodie Turner-Smith
La star di Anna Bolena Jodie Turner-Smith ha calcato il red carpet dei BAFTA 2023 con un abito lilla Gucci, con piume e paillettes. L'outfit è stato esaltato dal trucco di Smith: ombretto viola intenso con un perfetto occhio di gatto e strass scintillanti punteggiati sul suo viso.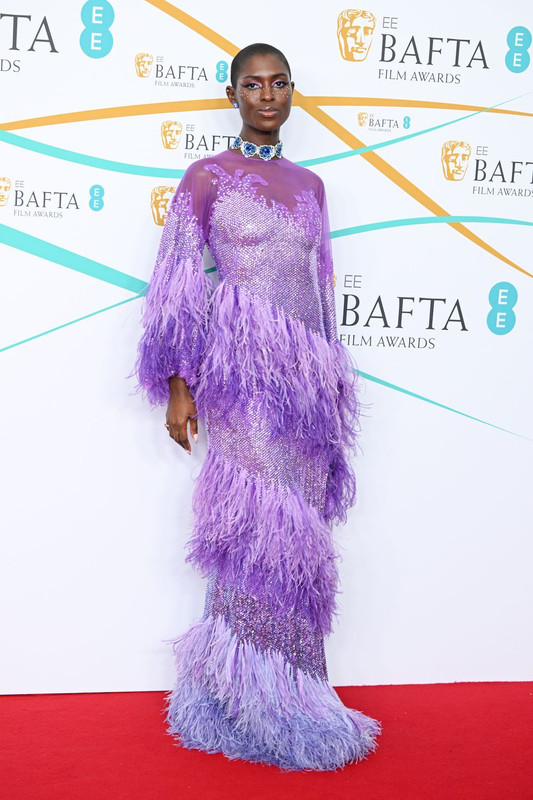 Le star in Luois Vuitton sul red carpet dei BAFTA 2023
Numerose le star che per il red carpet dei BAFTA 2023 hanno indossato abiti della maison In Louis Vuitton. Tra loro Cynthia Erivo, che ha indossato un abito asimmetrico color bronzo con frange luccicanti. L'attrice ha completato il look con gioielli Tiffany & Co.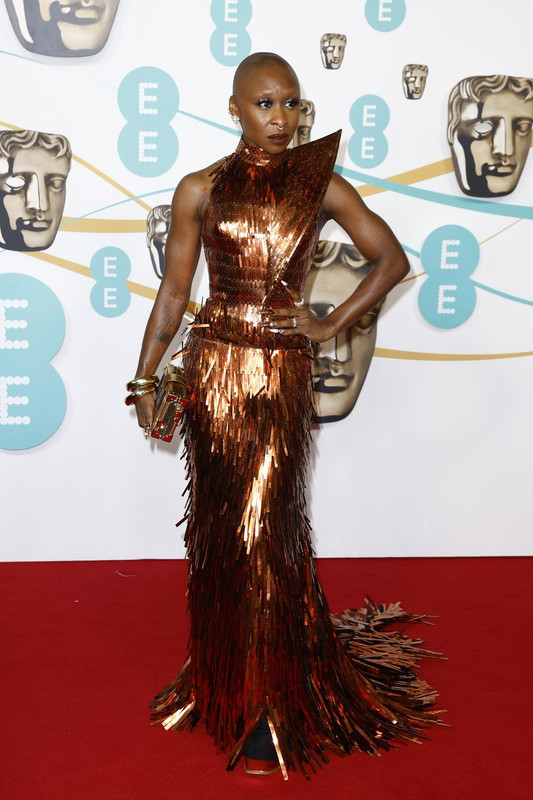 Ana de Armas, che sceglie abiti Louis Vuitton praticamente per ogni red carpet, ha indossato un abito rosa con spalle scoperte e lungo strascico e scollatura a cuore con dettagli di rouches.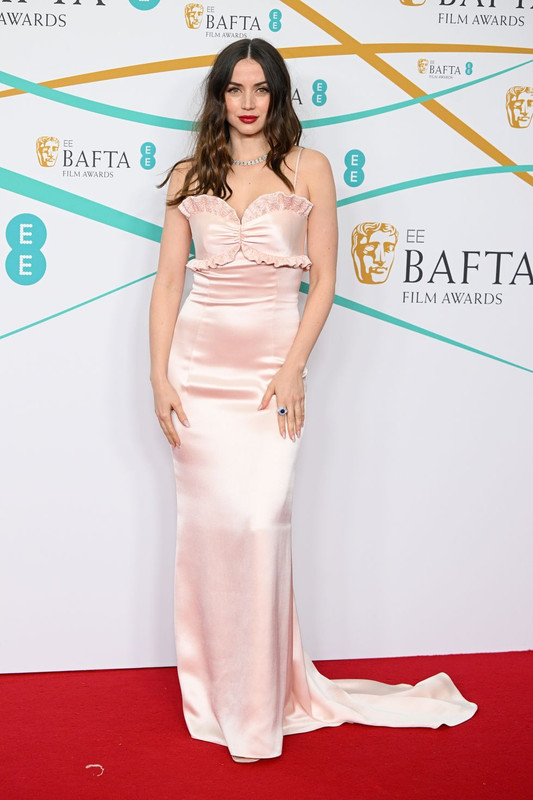 La star di "Squid Game"Jung Ho-yeon, global ambassador Vuitton, ha indossato un disegnato da Nicolas Ghesquiere. Un modello con scollatura curva senza spalline, corpetto stretto e strutturato che si allargava in una gonna a sfera lunga fino al pavimento. L'intero abito era ricoperto da strati di paillettes luccicanti. A completare il look, una preziosa collana di diamanti, sempre Vuitton.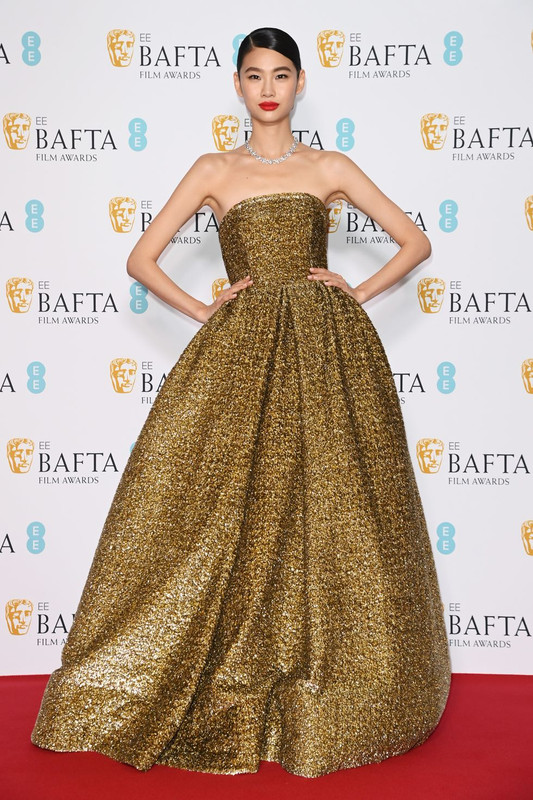 Anche Sophie Turner ha indossato una creazione Louis Vuitton sul red carpet dei BAFTA 2023: un abito nero a maniche lunghe, impreziosito da gioielli di diverse forme e colori.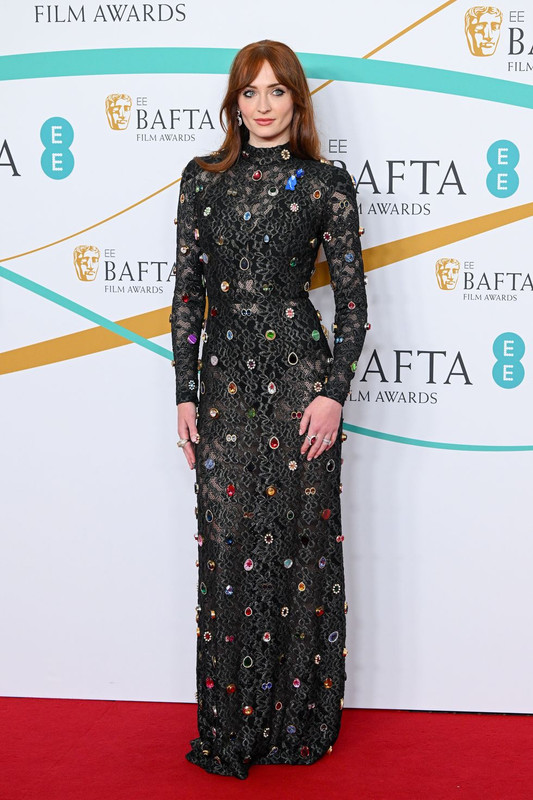 Andreea Cristea in Rahul Mishra
La blogger di "Stiletto Shades" Andreea Cristea ha indossato uno scenografico miniabito nero e oro con maniche esagerate, della collezione Couture Fall/Winter 2022 del designer indiano Rahul Mishra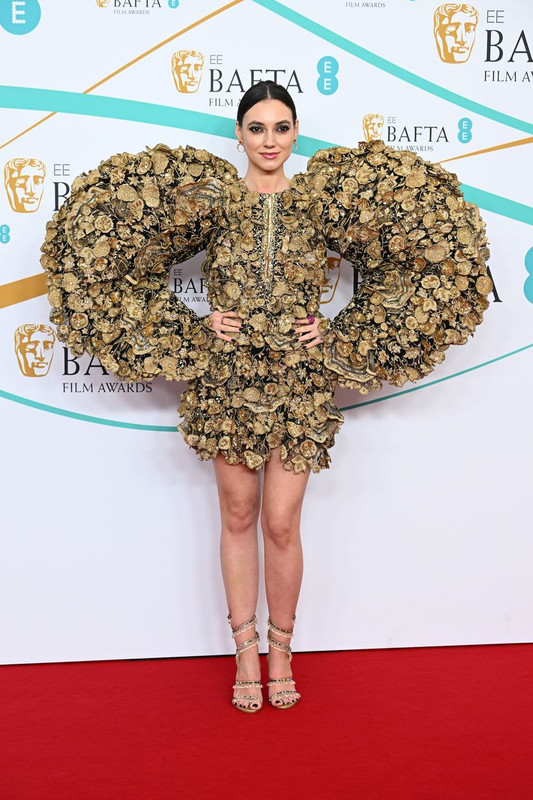 BAFTA 2023, le star in Valentino
Aimee Lou Wood
L'attrice britannica, nota per il ruolo di Aimee Gibbs nella serie televisiva Sex Education e in nomination nella categoria Stella Emergente, ha indossato un abito Valentino Haute Couture look dalle collezione Le Club Couture Spring/Summer 2023.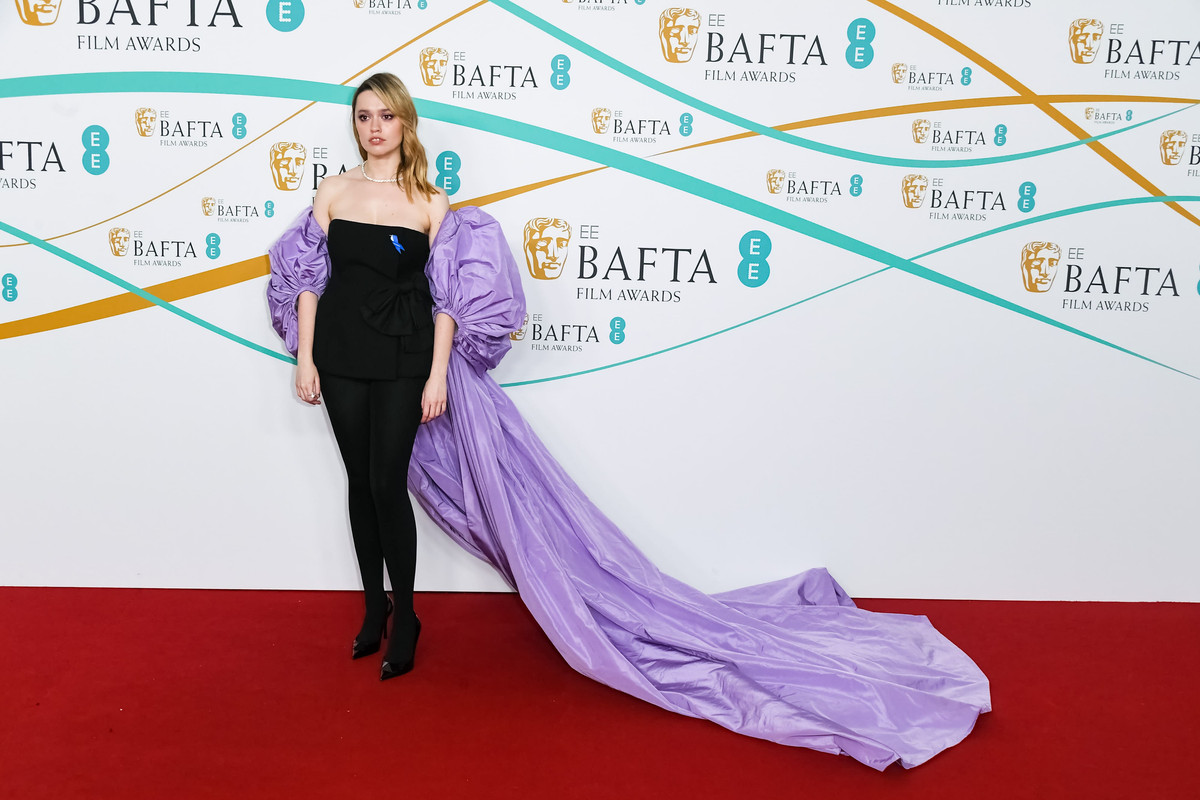 Nicola Coughlan
La star di Bridgerton, per il suo primo red carpet ai BAFTA Film Awards, ha scelto un abito Valentino con stampa floreale della sfilata Anatomy of Couture Primavera/Estate 2022. Uno stile che ricorda i look anno '60 di Jacqueline Kennedy Onassis.