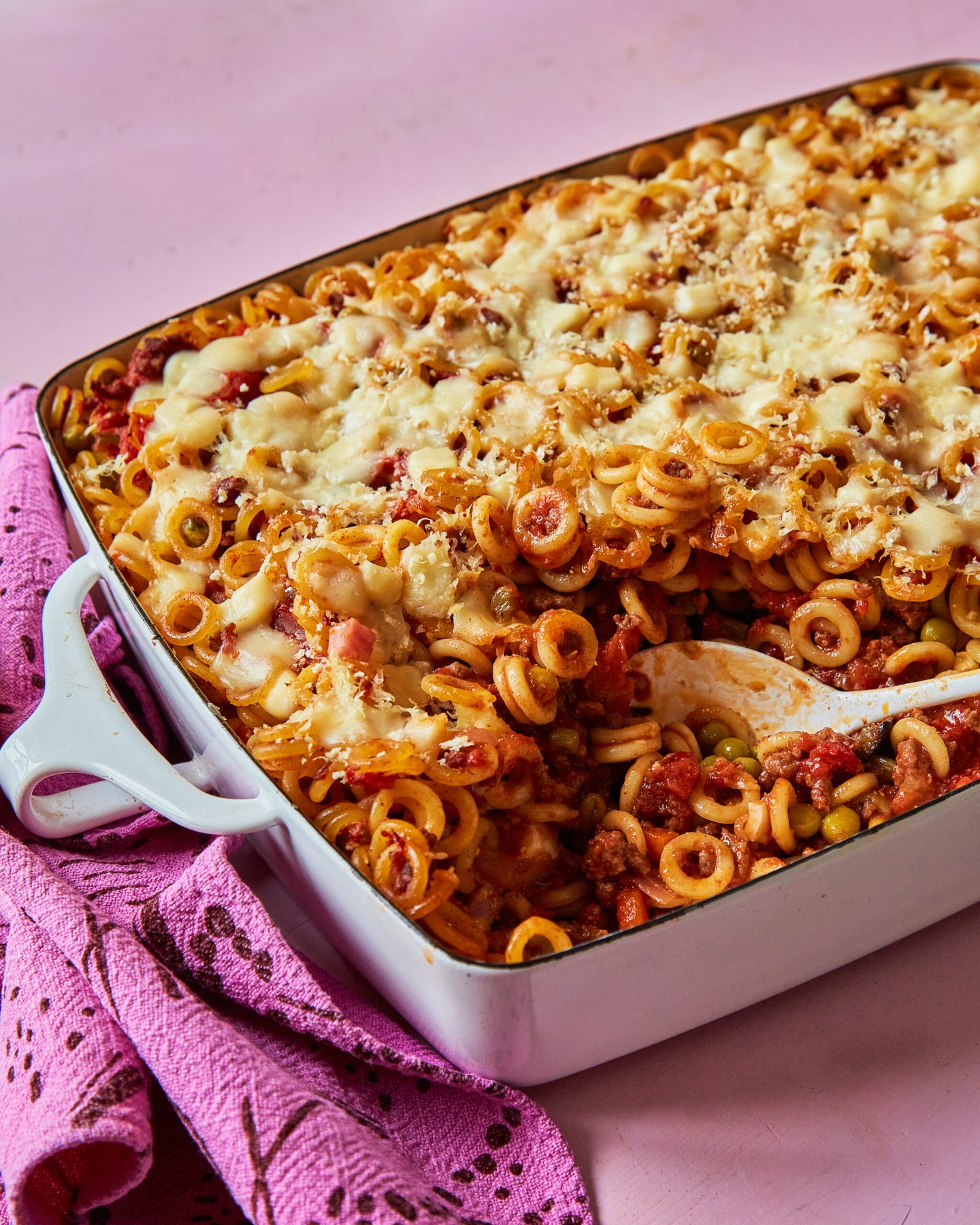 This anelletti al forno recipe is primo Sicilian comfort food: cheesy baked pasta coated in rich, meaty ragù. The dish is adaptable, so feel free to make substitutions. Asparagus, mushrooms, or cubed cooked potatoes can be swapped in for the vegetables, while ground poultry makes a fine replacement for the meat.
Featured in: "This Saucy Sicilian Baked Pasta Is My Favorite Blank Canvas," by Katie Parla.
Yield: 6–8
Time: 3 hours
2 Tbsp. extra-virgin olive oil or lard, plus more for greasing
1 medium carrot, peeled and finely chopped
1 medium celery stalk, finely chopped
½ medium onion, finely chopped
Sea salt and freshly ground black pepper
8 oz. ground beef
8 oz. ground pork
½ cup dry red wine
½ tsp. ground cinnamon
Pinch finely grated nutmeg
1½ (28-oz.) cans whole peeled tomatoes, tomatoes coarsely chopped, juice reserved
¾ cup peas, frozen or fresh
1 medium eggplant (12 oz.), cut into ½-in. cubes
Vegetable oil, for frying
2 Tbsp. bread crumbs
2 lb. dried anelletti, or other small pasta
4 large hard-boiled eggs, coarsely chopped
One 6-oz. slice deli ham, cut into ¼-in. cubes
12 oz. primosale or provolone cheese, cut into ¼-in. cubes
½ cup finely grated caciocavallo or Pecorino Romano cheese
Instructions
To a large pot set over medium heat, add the olive oil, carrot, celery, and onion and season with salt. Cook, stirring occasionally, until the vegetables are soft but not beginning to brown, about 20 minutes.
Add the beef and pork, season generously with salt and black pepper, and turn the heat to medium-high. Cook, using a spoon to break up any large chunks, until browned, 5–8 minutes. Add the wine and stir, scraping up any browned bits from the bottom of the pot, and cook until most of the liquid has evaporated, about 6 minutes. Stir in the cinnamon and nutmeg, then add the tomatoes and their juices and bring to a simmer. Turn the heat to low, partially cover, and cook at a bare simmer until the meat is very tender and the sauce has thickened, about 2 hours. Stir in the peas and season with salt and black pepper.
While the ragù cooks, place the eggplant in a colander in the sink. Sprinkle generously with salt and toss to coat. Place a plate atop the eggplant and top it with a heavy jar, then set aside to drain for 1 hour.
Into a deep skillet set over medium-high heat, pour 1 inch of vegetable oil. When it's shimmering but not yet smoking, add enough eggplant to fit in a single layer without crowding the pan and fry, stirring and turning the eggplant occasionally, until deep golden brown, 8–10 minutes. Transfer to a paper-towel-lined plate, then repeat with the remaining eggplant, adding more oil as needed.
Position a rack in the center of the oven and preheat to 350°F. Oil a 9-by-13-inch baking dish, then add the bread crumbs and shake to coat the pan (shake out any leftover crumbs and reserve); set aside.
Bring a large pot of generously salted water to a boil, then add the pasta and cook until al dente, about 8 minutes. Drain, then transfer back to the pot and stir in 4 cups of the ragù (reserve any left over for another use).
Spoon half of the pasta into the baking dish, then top evenly with the eggs, ham, half of the primosale, and half of the caciocavallo. Top with the remaining pasta, spread it in an even layer, and sprinkle with the remaining primosale, caciocavallo, and (if any remain) breadcrumbs.
Bake until the cheese is melted about 30 minutes. Set aside for at least 15 minutes before serving.
The post Anelletti al Forno appeared first on Saveur.