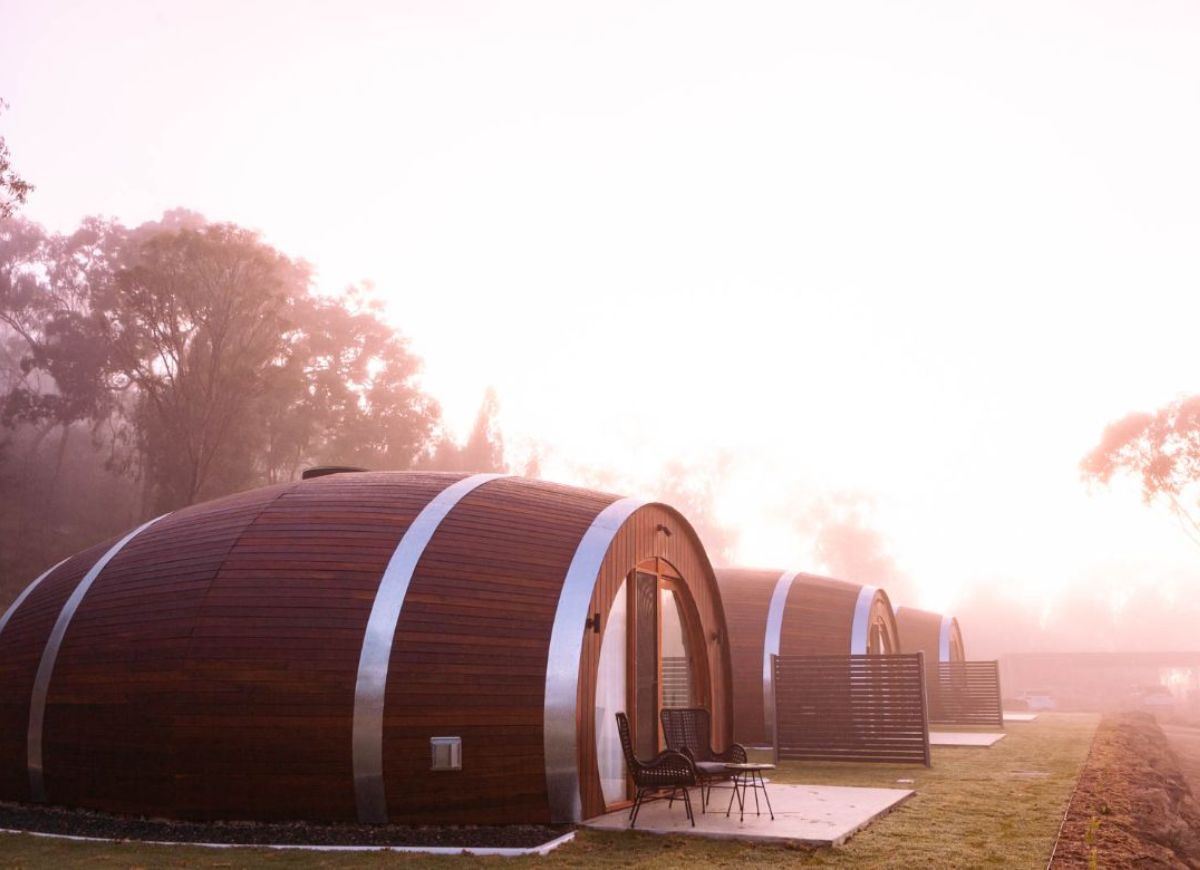 In the heart of Queensland's Granite Belt wine country, Barrel View Luxury Cabins in Ballandean are a wine-lover's dream accommodation.
Driving the winding dirt road up to my destination, I'm keenly aware of the stillness outside. The newest luxury accommodation to land in the Granite Belt opened its doors in Ballandean in October, and I'm eager to experience this new getaway. Perched atop a rocky outcrop, overlooking Girraween and Sundown National Parks, Barrel View Luxury Cabins are swathed in solitude. The accompanying serenity hits me hard when I exit my car, strolling the dimly lit pathway that guides me past the cabins.
In a nod to the 50-plus wineries that pepper the Granite Belt, these luxe cabins have been crafted into the shape of wine barrels—they are the first of their kind in Australia.
Just three wine barrels are nestled into the ridge, each named after some of the region's famed Strange Bird wines: Barbera, Tempranillo, and, my cabin, Saperavi.
Barrel View Luxury Cabins are only a short distance to some of the finest wineries and cellar doors in the region. Ballandean Estate is one of the longest running in the Granite Belt.
Perfecting their wines since 1932, Ballandean Estate is the quintessence of the region's wine making history. Five generations have played a part in producing their award-winning wines.
With 150-year-old wine barrels the centrepiece of The Barrelroom wine lounge, I sit with a selection of their Strange Bird varietals that warm me from the inside out with their complex and elegant aroma, a grazing platter adorned with local fare beside them. 'Local' is strongly characteristic of Ballandean, something the Estate sincerely observes. Everything on my platter has low food miles, sourced from either in town or just a couple of hours away.
The Granite Belt is home to a diverse mix of innovative growers beyond the grape vine. Close to 900 metres above sea level, Ballandean enjoys dry, hot summers and frosty winters: the optimal conditions for growing truffles.
Queensland's first black truffle farm, The Folly Truffles—owned and operated by the Edgerton family—planted their first French Oak trees in 2016. One of two truffle varieties grow beneath them; a symbiotic relationship exists between the two that results in the precise conditions for these pungent delicacies to flourish.
Growing and hunting truffles is an art. One Ben and Maple Edgerton share with visitors on their experiential truffle hunts.
Trailing behind Maple through her grove of French Oaks on a drizzly afternoon, I'm sodden from top to toe with a sheet of mist blinding me and the sky above threatening another downpour. But none of that matters; I'm enamoured by The Folly's truffière and Maple's passion for this elusive ingredient. She tells me that rain through spring and summer means bigger truffles; the largest her farms produced was a colossal 400 grams. We don't dig up any truffles this time, as harvesting season is winter. Today, I happily settle for a tour of the grove before we escape the drizzle to enjoy fresh-cooked pasta drenched in truffle butter and cheese in the cosy confines of the farm's Truffle Cottage.
Belly full, I venture back to the seductive arches of Saparavi through the rain where I delight in a long hot waterfall-shower before wrapping myself in a fluffy dressing gown.
Design notes
Barrel View Luxury Cabins are a heady mix of luxury and comfort, with a contemporary structural design softened with sumptuous finishings inside. The overall aesthetic is sleek yet intimate. Polished concrete floors, made from rock unearthed in the Granite Belt, creates a stylish base. Neutral tones mingle with deeper hues throughout, while layered textures and curved finishings make for a lavish and dreamy space in which to unwind. At the centre is a plush king size bed draped in velvety soft blankets, which I am happily enveloped in each night.
Sustainability
Designed with local materials, the barrels' framework is made from wood sourced just outside Warwick, a short drive from Ballandean. True to a wine barrel's design, no windows are cut into the sides of the cabin, yet a skylight above the bed keeps things bright while awarding you a starry view when the lights go out. Coupled with a wide arching glass door that frames the fiery sunsets that light up the mountain-range view in the evenings, the cabins are bathed in plenty of natural light. This daily spectacle, I discover, is best enjoyed from the patio, accompanied by my complimentary bottle of saparavi and grazing platter of local fare.
Savina Lane Wines
Savina Lane Wines is a luxury winery that welcomes visitors by appointment only. Perched on a hilltop, their cellar door offers sweeping views across their vineyard where five emerging wine grape varieties and a handful of the Granite Belt's oldest Shiraz vines flourish.
Balancing Heart Vineyard
Balancing Heart Vineyard is the perfect cellar door for an evening of fine wine, good music, and even better pizza. Home to award-winning wine maker Mike Hayes, their wines are sustainably produced and with a subtle aroma, they're incredibly palatable.
Tobin Wines
Tobin Wines handcraft premium edition wines made the traditional way. They let the grapes work their magic, guiding them along the way to create a truly divine drop. Their cellar door sits in beautifully manicured grounds with rows of grapevines punctuated by flowering garden beds.